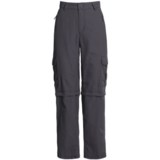 Closeouts. Comfortable, quick-drying nylon is a must-have for your summer ventures, and 10,000 Feet Above Sea Level's nylon capris feature a soft, UPF 40+ nylon that you'll love to make a warm-weather wardrobe staple.
Average Rating based on
41
reviews
3.926829
0
5
Verified Buyer

Reviewed by Neenglo from NE Ohio on Saturday, February 7, 2015

I bought these for hiking and fishing.I had bought the shorts they make in the past as well.Very comfortable and true to size. They are a little short for me but given where I will wear them, that is not a bad thing.If I want to wade out from shore,or it gets hot, the zip off feature will come in handy.

Reviewed by Dee from Ca on Saturday, July 26, 2014

Poor Quality would have been great if lasted longer, lightweight

Reviewed by rockyacre from Montana on Tuesday, August 13, 2013

I had just got online to look for some pants where the zippers were lower to make a longer pair of shorts and these came up. What a find! Only available in size 10 but I had recently been able to wear that size in some pants so I took a chance. They fit perfectly! I am 5'6" and the shorts come to mid knee. I love the length of the shorts! This pants/shorts combo will be a summer staple.

Reviewed by malaria from Alaska on Monday, August 12, 2013

They are definitely nicely made for the money. The legs are straight up and down wide. The fit is fine but for me the length was a little short. It would have cost me money to send them back so I kept them. I figured I could definitely use the shorts if not the whole pants. They are lightweight. I am sure for the right person they would probably do the job.

Reviewed by Laeken Runner from Lenoir, NC on Wednesday, August 7, 2013

I would rate this product at 4.5 stars because of the sizing. Run large. I normally wear a 14-16. Needless to say first time i ordered 16s as cargo pants usually run a bit small. Kept them in case they shrunk and got 2 pr size 14. again - just a bit large. now have 4 pr size 12 and fit good. (would fit just a bit better if I lost a few pounds!) Ample zip and velcro pockets - light weight, well made and soooo comfortable! I have both colors offered and wear them for everything including herding and other dog sports. I would probably order more if they came in other colors... And they wash and dry fantastically.
You can't go wrong with these pants once you figure out the correct size.

Reviewed by Sharkey47 from NW Florida on Monday, August 5, 2013

FINALLY! I found a pair of pants that are a perfect fit that fit at the natural waistline! I love everything about these--numerous pockets, perfect length! And, now there are no more available or I would order each color! I got them at a fantastic price and the shipping was very fast. Great bargain. This was my first purchase from Sierra but I'm now a fan for sure! Just please stock more pants from this company--even if they are of a different material. It's almost impossible to find a pair of pants styled like this that fit at the waistline for those of us over 60 that no longer wear lower cut pants.

Reviewed by Michele from Maui, HI on Sunday, July 14, 2013

I was hesitant on buying these online without trying out the fit first, but was pleasantly surprised by the fit, quality
and overall design of these convertible pants. I'm sure I could have spent three times as much and maybe not been as
pleased.
Thank you so much for the great deal. I can't wait to try them out on my week long backpacking trip in the Beartooth mountains
in Montana!

Reviewed by Zee from MT; AZ; & Hermosa Beach, CA on Thursday, July 11, 2013

way to big!, but would have kept them if they fit!

Reviewed by Wanderer from New Jersey on Tuesday, July 9, 2013

I purchased 2 pair of these pants to take to Thailand in September. I like the feel and workmanship, but unfortunately noticed a difference in how the two different colors fit.
Don't want the expense of trying to exchange and possibly end up with no better fit with a second pair.

Reviewed by SJinCA from California on Monday, July 8, 2013

These pants are nice with the leg length and the ability to use them as shorts too is an added bonus. The shorts hit me just where I like them, at the knee so if I want them shorter, I can always roll them up. The fabric is lightweight for our hot desert summers and I don't have to worry about getting sunburned with the UPF rating. The color is good, a dark shade of olive so I can wear many other colors with them. I am at the stage of wearing either a size 8 or 10, so to be on the safe side, got the 10 and they fit perfectly. They don't sag and flatter my rear and then are loose from there on down camouflaging thigh size. Glad I got them.