361 Degrees

Style

Gender

Colors

Reviews

Events

Prices

Search Within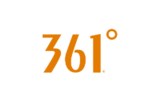 About

the

361 Degrees

Brand
Always focused on innovation and pushing boundaries, 361 Degrees goes beyond expectations to provide hard-working athletes the best possible footwear and apparel. When it comes to research and development, 361 Degrees running shoes and apparel go through a rigorous process of engineering, prototyping, testing and enhancing to offer exceptional performance, mile after mile. Featuring innovations like encapsulated Quickfoam technology for enhanced support and a QDP System for responsive cushioning, 361 Degrees shoes are light, nimble and incredibly comfortable. Built for maximum breathability, moisture management and lightweight comfort, 361 Degrees clothing is equally advanced. Go one degree beyond ordinary.
Reviewed by Ee Wan Law from California on Saturday, November 19, 2016

I never could run without my heels and ankles screaming out in pain into the first 5 minutes and that was why I hated running. I was having tremendous pain on my feet as well even when I was only wearing renowned hiking boots. After a client who is a world-class hiker recommended Altra trail hiking shoes, I tried to get one from here but they didn't have my size so by chance I saw this item and thought why not give it a chance? That was a few months back and I am very pleased and overjoyed that I did, I hiked Vasquez Rocks with them and it was featherlight and my feet thanked me! I ran in them on the pavement for at least 3 miles each time and I never once suffered that kind of pain that I did before; running seems so much more attainable and enjoyable with them! I'm grateful to this company for carrying them here at a reasonable price, I can now say goodbye to those heavy and pain-inducing shoes that have not served me well. Just like how my client cared enough to share his experiences with me, I hope my review will help you with a better hiking and running experience.





Verified Buyer

Reviewed by Shoe Person from Tennessee on Thursday, November 17, 2016

Light weight but they definitely fit small!

Verified Buyer

Reviewed by Annekim from Brooklyn, NY on Sunday, November 13, 2016

Have not stopped wearing them everywhere! Great cushion-y feel!
Receive email updates for new 361 Degrees items