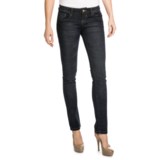 2nds. The Frank Skinny denim jeans from 702 Vegas are styled for the discriminating fashionista in a cross-hatch dirty denim fabric with antique gold stitching and copper-tone rivets and button.
Average Rating based on
14
reviews
3.642857
0
5
Verified Buyer

Reviewed by tee from GA on Sunday, May 25, 2014

These jeans are comfortable and cute for a great price. I like the amount of stretch but recommend getting a little on the smaller side of you normal sizing. For me they stretch enough in the leg, but getting them a size smaller ensures the waist fits well and will not slip like some jeans can. They have a very short rise so its important that they don't slip "immodestly!" The fabric is relatively sturdy and I like the dark denim. these are not heavyweight like say, Levis can be but who wants that in a skinny jean anyway. Overall, if you find the right size and fit, these are a great buy. I didn't want to invest heavily in the skinny jean pant type in case its a fashion trend on its way out, so getting both the 702 vegas at STP was perfect. They look great with boots are surprisingly flattering for my petite frame. Thanks STP for a super deal.

Reviewed by PBarnabyG from boston on Wednesday, December 18, 2013

Ordered my regular size and couldn't get them over my thighs. Ugh. Material very stiff. Good price but didn't even give to a friend. Sent back.

Reviewed by LK from Pa on Tuesday, December 17, 2013

These jeans are big around the waist and small on the butt. I am sending them back for a second time. I tried a different size and still was not a good fit. I am 5 8" and 133lbs.

Reviewed by STP Shopper from California on Thursday, November 28, 2013

I was really happy when I tried these jeans on. I wear a women's 12 and bought the size 32 pair. The color is a nice deep blue jean. They are skinny at the ankle and there is a lot of room for a curvy body. They really are a good looking pair of jeans. Really.

Reviewed by Synjonpc from Park City on Monday, November 25, 2013

Seriously, I loved these so much a bought two. Fit is amazing, great length for flats, if you wear them, (which I don't). I bought them to tuck in to the 3 pairs of boots I bought from STP. Just enough stretch. Nice dark color, easy to dress up for work or date night! I bought a 30, I'm 5'10, and a size 8-10.

Reviewed by Bee Club from Colorado on Thursday, November 21, 2013

These jeans are difficult to review. I like them...now. At first I ordered a size 25. I am 5'6 and weigh about 100 pounds. The 25 was too big so I ordered a size 24. When they arrived and I tried them on there was virtually no difference in how they fit. I took a chance and ordered another 24. They fit better and the price was unbeatable so I am keeping them. I have tried enough pairs of jeans on to know that the same size in the same jean can fit differently. It was a pain because it was online shopping, but if you are willing to do the work, I would recommend them. Just a note...they are in between a skinny and a straight leg

Reviewed by Lifes2good from Oklahoma on Tuesday, November 19, 2013

These jeans are very flattering, even on my 'older' body. I normally wear size 6 or 28, and the 28 fits fine, maybe very slightly large. They will probably be perfect after a few washings. Love the cross-hatch fabric and the extra stretch.

Reviewed by Synjonpc from Park City on Monday, November 11, 2013

Wonderful fit and length. I'm 5'10" and a size 10. The 31 fit perfectly. Not all "blinged" out like most jeans today. The rise is pretty low, but not embarrassingly low. Perfect to wear inside my boots.

Reviewed by kaymore from Milwaukee, WI on Tuesday, November 5, 2013

I had no problem with getting the right size. They are a bit snug around the calves, but not uncomfortably so. They have just the right amount of stretch and look relatively good. My only problem (but it is a deal-breaker) is the constant sagging because there is no waist. Honestly, what to people do with low rise jeans? They drive me nuts!

Reviewed by Renee from LI, NY on Saturday, October 26, 2013

The were a little long, and they do not have any stretch- so felt tight on my calves. The cut was low rise and straight, made my butt look square shaped and flat. Sent them back since they did not flatter my curvy shape.