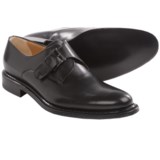 Closeouts. Impeccably handcrafted of the finest leather, A. Testoni buckle slip-on shoes reflect handmade Italian construction applied to a monk strap design.
Average Rating based on
3
reviews
4.666666
0
5
Verified Buyer

Reviewed by no style without quality from boston on Thursday, December 18, 2014

i have a lot of fantastic shoes (tricker's, crockett&jones, church's, handmade german and austrian, bally suisse when that meant something, j.m. weston). these are really beautifully made. workmanship is superb, leather too. they are a bit narrow in the toe box. more problematic: you feel the height of the heel inside, as a kind of plateau, and then it drops off, which is surprisingly uncomfortable, pushing your foot forward off the heel plateau. what a shame. otherwise absolutely gorgeous. of all those brands, the only one that is clearly better (besides the handmades) is jm weston.

Reviewed by Jm from pennsylvania on Wednesday, September 3, 2014

Beautiful monkstraps. I will wear them for with suits, dress pants and with jeans. Extremely versatile. I find that the cost works out similar to cheap throwaway shoes, because I have shoes similar to these for 10 to 15 years if not longer, because of refurbishing. I found the sizing to be correct if not a little small. I kept the 11's and normally wear a 10.5.

Reviewed by dan459 from SoCal on Tuesday, August 12, 2014

Full disclosure- I am a die hard Testoni Black Label fan and own 50+ Italian shoes of all makes and models. This monk strap also happens to be my 7th pair of Testoni Black label shoes. Is it worth the dough? I believe it is. Here's my opinion after 1 week of ownership.

Before I get started, I have seen recently a trend with Testoni's "Black Label" line of mens shoes over the last year or two. Specifically, they are getting much lighter in weight and invariably much more comfortable to wear straight out of the box. This of course is by design but there is something to be said for a shoes heft, that inert feeling you get when you hold a really solid and substantial weighted shoe. This shoe is what I would consider a medium weighted shoe.

This modern day Monk strap is what I would consider a truly utilitarian shoe. I'm a blazer kind of guy, and wear blazers with jeans, wool slacks, and everything in-between. Other than a suit, this monk strap really shines with everything you can throw at it. dark jeans- no problem. Canali blazer and tie- impressive. Its strength though is in its simplistic and understated design. Not flashy nor trendy. That said, what this shoe does exceptionally well is compliment everything you are wearing with timeless design and understated elegance. I once read that a mans shoe tells more about him than all the clothes in his closet combined, a belief I firmly believe in.

Typical with Black Label shoes, comfort is second to none out of the box . Compliments to Testoni for carving a shoe that conforms to your feet fast and efficiently. Leather is soft and luxurious. I am small framed guy, 5'9 and 158 pounds and wear a size 9M. This shoes run a full size large so I ordered a size 8 and they are perfect. Size 8 dimensions are 12 1/4'' long and 4 3/8'' wide.

The shoe is typical Testoni-narrow. The strap itself is beautifully functional. I have several monk straps and one of my frustrations is that the strap is believe it or not either too long or too short. This strap is precise and by far the easiest to buckle up. After wearing for just 30 minutes it felt completely broken in and velvet soft. This shoe will never replace a classic black cap toe lace up, nor should it. I believe it was made to capture the more casual side of a mans wardrobe with an equally powerful presence. A feat it accomplishes very well I might add.

Shortcomings? besides the hefty price, I can't find a single one. Are there better monk straps out there? Yes, but your going to pay for that quality dearly with little to show for it IMO.

Overall, its just a wonderful shoe that will look great now and 25 years from now if you take care of it. Keep a good cedar shoe tree in it, polish it correctly once a month and your good to go.