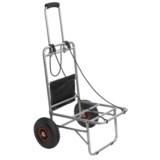 Closeouts. ABO Gear's Beach Lugger pull cart allows beach goers to pack all of their summertime essentials into one place for easy transport. Carry coolers, chairs, sun shades towels and more on smooth rolling wheels that perform great on sand.
Average Rating based on
30
reviews
4.000000
0
5
Verified Buyer

Reviewed by Gone Fishing Sam from NY on Thursday, September 10, 2015

It's a lot sturdier than I thought. And it can carry a bunch of stuff. The only issue is the smell of the tires! WOW! hahaha. I'm pleased with the product though.

Verified Buyer

Reviewed by The Barker Family from Utah on Monday, August 31, 2015

Great light weight cart. I bought two to haul our coolers into the amusement park and take coolers and chairs to the beach. Easy to pull or push.

Verified Buyer

Reviewed by Teresa from Richmond on Monday, August 17, 2015

Just purchased this beach lugger & totally love it! We were attending a big beach get together and we put 2 very big coolers on here, 4 chairs, and 2 bags. We were totally loaded down but it was soooooo easy to pull across the sand beach. My only question is "Why did we wait so long to buy this thing?!!"

Verified Buyer

Reviewed by fortified from Kansas on Monday, August 3, 2015

The construction is just ok I would have liked a better wheel retention and a tighter fit all around. Any hunters thinking of using this it rattles. It holds enough for 1-2 people having a day out. Retention of cargo such as coolers is sketchy in off camber situations. It does fold flat and is fairly light and easy to handle with decent balance. This isn't a dolly though it's not going to carry full file boxes all day.

Reviewed by River Dog from Wisconsin on Sunday, July 26, 2015

I purchased this after wresting with a small wheeled cart at dog shows. I couldn't even get over the electrical cords. This has solved the problem and then some. Used it at an outside show this weekend and it was super easy to set up, load and maneuver. Love it!

Verified Buyer

Reviewed by robh693 from FLORIDA on Tuesday, July 14, 2015

This cart is an affordable option for those looking for something to carry a couple of chairs and a cooler while at the beach. The air filled knobby tires make it easy to pull through moderate to hard packed sand but will still require some serious effort to get through soft patches. Material quality is okay, the paint was already rubbing off along the top where the velcro strip holds it closed when not in use so a thorough rinsing after a day near salt water is highly recommended. Given the generally high cost of other beach carts, f this one lasts a few years I will be highly satisfied with the purchase.

Verified Buyer

Reviewed by MV from Fair Haven on Thursday, July 9, 2015

Purchase this cart to haul our marine cooler. Works well hauling our cooler, beach chairs and beach tote. The wheels work okay on sand but could be better -- that's to be expected since it's not one of those huge inflated beach cart wheels. Overall I like the cart and think it will hold up for a few seasons.

Verified Buyer

Reviewed by fast_sas from Tennessee on Monday, June 15, 2015

I was tired of trying to haul chairs, umbrellas, coolers, towels, etc...down to the beach by hand. This cart was perfect. 3 chairs, umbrella, cooler and beach bags and all the other stuff were easily loaded and worked great on the beach. It took a little time to figure out how best to secure the umbrella but finally worked it out. The only complaint would be for it to have some sort of holder for the umbrella and poles built on to the cart. Otherwise it was good.

Verified Buyer

Reviewed by Christie from North Carolina on Sunday, June 14, 2015

The cart was shipped to my residence direct from the manufacturer. The cart is pre-assembled, once removing from the box all that is remaining is to place a tire rod through the bottom and attach the tires on both sides. My cart was shipped without the tire rod. I sent an email to customer service at Sierra noting the missing piece. I received a response stating they would attempt to contact the manufacturer and would email me if it was available or not. I waited a week and never heard from anyone. Due to the fact the shipping company sent the cart to me with lots of packaging tape on a box that was obviously damaged before leaving their facility, I had to purchase a new shipping container for ten dollars from UPS to return to merchandise to Sierra. Once the merchandise was received by Sierra Trading I was charged a return shipping fee of 6.95. Out of a 40 dollar purchase, it cost me 16.00 to order this cart, receive it not complete and return it to the company, which I do not feel is fair. A week after I returned the cart, I received the replacement tire rod in the mail. Sierra or ABO had never notified me the piece was available or being shipped. I would not recommend purchasing any of ABO's merchandise. After my issues, I returned to Sierra Trading's website and read all the reviews on this product, I was not the only one that had this same issue

Verified Buyer

Reviewed by Not the best experience from South Carolina on Wednesday, June 10, 2015

I ordered the Gear Beach Lugger Pull Cart after doing quite a bit of research online for the best beach carts. I decided to purchase this straight from Sierra Trading Post since it was about 10 to 15 dollars cheaper than any for sale on Amazon or elsewhere.

Shipping speed was good, I received it fairly quickly.

When I opened up the box after delivery, the directions looked simple enough, put the wheels on the axle and insert the axle.

Problem:

There was no Axle in the box. I looked all over, double, triple checked... to make sure it wasn't just me being confused. Nope. Not there. There was also a little damage to the top handle. Not the end of the world, but the handle will not stay in the upright locked position.

I ended up driving to Lowes later that night, buying a 24inch threaded rod with washers and nuts, using that as the axle for the wheels and cutting off the excess with a hack saw. It cost me about $8 or so and a bit of my time.

I'm not sure why the parts were missing and the cart was slightly damaged, but I will keep it as is. I figured since it was 10 -15 dollars cheaper than on amazon, I'll take the slightly damaged cart and the $8 dollar loss at lowes.

I think the cart will work out just fine. Based on my research, it's a decent cart.