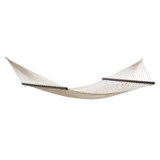 Closeouts. String up your ABO Gear Canberra hammock on the porch, deck or out in the yard and let your dreams unfold. (Get the stand, too, if you're short on trees! Item #98045.)
Average Rating based on
112
reviews
3.535714
0
5
Reviewed by Kevin from Boston, MA on Monday, September 16, 2013

I was very pleased with this purchase. Great quality hammock at an amazing price. Easy to set up and begin to enjoy immediately. Bought with the ABO Gear Hammock stand. Highly recommended.

Reviewed by Dagnat from Kentucky on Friday, August 9, 2013

I have ordered several of these Canberra cotton hammocks over the last several years. The first ones lasted 2 years each, and they were well made.

Recently, the last 3 that I bought have worn out much more quickly. This is in part due to the abrasive holes on the spreaders. These holes are not sanded down to a smooth finish like they used to be, so they tend to cut the rope at its most vulnerable point. The other problem is that the weave of the rope is much looser now. It doesn't support my body well ( I weigh only 120 lbs), and my elbows, feet, etc, tend to slip through the holes. Also, the quality of the cotton rope is much worse. It even arrived with frayed parts on some strands of rope!

I am not going to buy any more of these hammocks. Instead,I am going to shop for polyester or nylon substitutes such as Duracord. These are more expensive, but I want to feel good about lying in the hammock. I don't want to have complaints.



Reviewed by Karen from New York on Saturday, July 27, 2013

I have had 4 hammocks made by ABO in the past 5-7 years. They do not hold up to time and weather. I left my 3rd one out last winter and it all but disintegrated. I took the fall for that one because it should have been put away in the fall. This spring I ordered my 3rd and hung it out. We used it twice and in less than two months the strings came unraveled and untied. Sierra Trading Post was very understanding and sent me my 4th and final hammock right away. I hung it up and it came unraveled in less than a week. Not one person even sat in it. So this hammock is also being returned for a refund.

In a nutshell: HORRIBLE PRODUCT, but AWESOME CUSTOMER SERVICE FROM SIERRA TRADING POST!!!

Reviewed by Finchlake from Michigan on Tuesday, July 23, 2013

Overall we like it but it has very large holes when you lay on it. It stretches almost to the ground on the same hooks we had for our old one.

Reviewed by Jeff from Seattle on Thursday, July 18, 2013

I've bought the same hammock here a couple times (over time, and leaving it in the elements, I give them hard use - no fault of the product that the way I use them they need replacing after a few years).

So got my most recent one and was disappointed to find they've replaced the cording with something very stretchy. Completely changes the mechanics - the fixation points must be higher and when in it, the person is lower, creating less of an almost-flat lying-down experience, and more of a sitting upright in a mesh trap experience.

With this much stretch, it can't be made of cotton as described. There must be some synthetic in it, and it must be a lot.

Can't recommend this anymore for any hammock use. Maybe repurpose it as a trawler-net for fishing?

Reviewed by Airmedic1 from Nebraska on Sunday, July 14, 2013

Well made but my only complaint would be that it isn't long enough for me, I'm 6'4" and too long. My wife is 5'4" and it works great for her.

Reviewed by Susan in the Sierra from Northern California on Wednesday, June 19, 2013

Got the hammock today & hung it right away, using 2 big S-hooks which we had (no hooks come with the hammock). Comfortable, sturdy. Very soft. Yes, it's stretchy, so we moved the hooks higher up on the chains on our 2 trees. Can't beat the price. We have had problems with squirrels scavenging for their nests, chewing at our earlier hammock ropes, so I sprayed this one with a Pinesol solution & have crossed my fingers. If the squirrels nibble on this one, their nests will be lined with soft cotton and will also be flea- and tick-free, I guess.

Reviewed by Victoria from So.Lake Tahoe CA on Thursday, June 13, 2013

This is my second time purchasing this hammock. I purchased the collapsible hammock and in months it shredded.. So I'm trying this one.. Ropes are too stretchy.. Doesn't fill secure, when your in it..

Reviewed by Eric from Idaho on Saturday, June 8, 2013

Nice construction, soft and strong, like the hardwood spreader bars . . . can support and hold two easily

Reviewed by Just as it shows from Colorado on Wednesday, June 5, 2013

This hammock is exactly what I expected. Cotton rope and wood supports. It could have included s hooks but works perfectly.