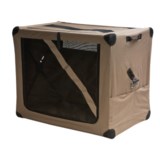 Closeouts. Keep pets safe and happy at home or abroad with an ABO Gear Dog Digs pet travel crate.
Average Rating based on
139
reviews
4.223021
0
5
Reviewed by nope from New Hampshire on Monday, June 13, 2016

With my coupon code, we got this for about $15 less than a similar size on Amazon. It goes up & down quickly & easily. Fits our 75-lb pup comfortably. Got it so she has her own "safe space" to retreat in to when we're camping so she can (hopefully) relax. I'm a tad concerned about the quality, but if it turns into an issue, I will edit accordingly.

Verified Buyer

Reviewed by TT from ME from ME on Monday, May 23, 2016

This was easy to set up - it is like a tent for our furry friend - I do have one concern - we have a very active dog - I wonder if she will be able to damage the screening in the front - so far so good - we are getting her used to using it - my mom stopped by with her dog - who is not as active as ours. They took shelter in the "tent" and seemed to be very happy in it!

Verified Buyer

Reviewed by melisa from Texas on Thursday, May 19, 2016

Easy lightweight portable fold up the size of a foldable chair and I love it.

Verified Buyer

Reviewed by Pets like comfort too from Colorado on Monday, January 4, 2016

This travel crate is exactly what I was looking for. Perfect for a dog of about 50 lbs with plenty of room to move around. Easy to set up and is now taking the place of my old plastic crate. The price was also a lot less than expected for a product of this quality. This is one of the best bargains I've found in a long time.

Verified Buyer

Reviewed by Barbara from Mexico on Friday, December 11, 2015

Works really good, easy to handle and light weight, just be sure your dog knows how to behave while crated.

Reviewed by junervy from MA on Wednesday, November 11, 2015

My two dogs, who are 12 and 17 pounds, have scratched and separated the mesh front panel from the zipper twice. Sierra replaced the crate since I had it less than six months, and even though I covered all the mesh with gorilla and duct tape, they did it again. Back it goes for a refund. Also, although opening and closing are fairly simple, I found the crate collapsed on one side or the other when I thought it was open. I really wanted to like it - because it's much easier than having to bring a wire crate to Agility trials- and the price was good- but it's not sturdy enough for my dogs.


Verified Buyer

Reviewed by Still Waters from New England on Tuesday, November 3, 2015

I have a 40-lb American Eskimo. I bought this as a potential carrier in the car and also for temporary housing when we travel and she needs to be in a crate. It seems sturdy and was certainly easy to set up and take down. But my biggest complaint is the smell. Take this with a grain of salt because I am very sensitive to smells. But out of the box, this had an overwhelming petroleum-like smell. I tried airing it out but that didn't work. So thankful for Sierra Trading Post for taking it back. Again, I'm sure my dog would have been fine with it, but as the human, I was not!

Verified Buyer

Reviewed by Linda from Florida on Saturday, August 29, 2015

I bought this just to fulfill the requirement my golden retriever needed to be in a crate when we went on a short boat trip to the Keys. It's plenty large and easy to setup. My only objection is that it stinks. We've had the carrying bag and the crate set up on the lanai for over a week due to the odor. It still smells, but it's gradually getting better. I still am glad I got it. The price is great compared to similar crates.

Verified Buyer

Reviewed by AmyAZ61 from Arizona on Friday, July 17, 2015

This crate is light weight. It is easy to set up & take down. It folds up and fits into a stuff sack for easy carry. Works Great for a calm and crate trained dog. Not the crate for crate training a new dog or a nervous dog. It would be easy for a dog to chew right threw as it is a soft sided crate made of Polyester and Nylon. It works GREAT for my dog during long days at the dog training center. It gives her a quiet and comfortable place to rest. She loves it.

Verified Buyer

Reviewed by German Shepherds rock! from White Mountains of NH on Monday, June 29, 2015

The large size is a little snug for my German Shepherd at 80lbs ...but I don't intend to keep him in it for more than a couple hours at a time. It easy to set up and seems to be rugged enough for anything but a determined escape artist!