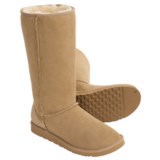 Closeouts. These plush Acorn Aussie Origin tall sheepskin boots are the perfect place for your feet to hibernate comfortably.
Average Rating based on
117
reviews
4.512820
0
5
Reviewed by Happy Shopper from New York on Tuesday, March 4, 2014

These boots are a greaat value for the money. They make my feet feel like I'm walking on a cloud! I will spray them with sealer before wearing them in the snow. The boot should feel snug at first because they really do mold to your foot. I have been wearing Acorn boots for about five years, and I continue to buy them against other brands.

Reviewed by Therese from NC on Thursday, December 26, 2013

I was very influenced by the excellent reviews of this product. I was looking for Uggs but when I saw the price of these I decided to try them. I am delighted. I have hyperhidrosis and wondered if these would make my feet sweat excessively. NO, they do not.

Reviewed by Fandango from California on Friday, November 22, 2013

These Acorns are of average quality with loose, uneven stitching and an extremely lightweight sole. The sheepskin feels scratchy to me. The fit is good. At first it feels too tight, but quickly "gives" to accommodate your foot. They seem overpriced for a non-shearling product. I don't like them. I waterproofed them after I checked for fit but before I wore them long enough to realize how miserable the sheepskin was for me, so I can't return them. Someone with a size 8 foot is getting a nice present for Christmas this year.

Reviewed by mom on the go from Manitoba, Canada on Monday, November 18, 2013

I have a pair of acorn boots very similar to these that I will keep wearing to walk the dog, etc, because they are so long lasting and warm, but they are older and I wanted a newer, cleaner pair (and a pair that fits better as I bought a size too big last time) to wear shopping. They are super comfortable and warm for our cold winters. I wear them almost everywhere I go because they are so warm and comfortable....like wearing slippers outside, with the added bonus of looking good. They are perfect for running errands and shopping and going for walks on cold days. They stay quite clean, but I wouldn't wear them on slushy, wet days. They are also very durable. My old ones still look and feel great! My biggest concern about this new pair is the sole. I prefer a rubber sole for traction. That is why I gave them a 4 star rather than 5.

Reviewed by PlainJane from USA on Thursday, October 10, 2013

Bought for my teenage daughter who is very pleased with them. Nice and plush. But the sole is just wrong, it should be a grippier rubber sole, and instead it just looks like a lug-ish sole and is very smooth hard plastic that I think is going to be very slippery. She is normally a 6.5 and the size 7 fits fine.

Reviewed by Cold Feet Lady from New York on Tuesday, April 23, 2013

These boots are great. The size 9 fit well with some space left for a thin sock. Boots are fully fur lined from toes to back, insole, and completely to top.
The sheepskin fur is very plush and warm. I would buy a second pair of these boots in another color.

Verified Buyer

Reviewed by Deb from Atlanta, GA on Thursday, February 14, 2013

Bought these boots for my daughter who wanted a much more expensive brand and she loves these. Great quality and style for a fabulous price!

Verified Buyer

Reviewed by Gottismamma from Halifax, Nova Scotia, Canada on Wednesday, February 13, 2013

I use these boots as my everyday, lazy wear. Shopping, in and out of the car, with jeans and a sweatshirt. I wouldn't suggest in wet weather as they are sheep skin and light in color, but I have weather treated them and just brush them after each use to prevent staining.

Verified Buyer

Reviewed by Sally Forth from Esparto, CA on Wednesday, February 13, 2013

I wear these boots all the time, in town and at home. Warm and good looking. These are timeless!

Verified Buyer

Reviewed by Rice from St. Louis, MO on Tuesday, February 12, 2013

Very comfortable boots. Got brown ones last year, and when these went on sale again, I jumped on the price. The only bad thing is that the soles seem to wear down quicker than expected. I wear them for shopping and walking the dog.