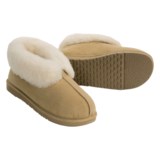 Closeouts. Acorn's Ram Island slippers could very well be personal paradise for your feet. Not only are they lined in cushy sheepskin — a fiber that's cooling in warm temperatures, and cozy when it's cold — they also have a memory foam midsole that molds to your foot's exact shape for custom comfort.
Average Rating based on
346
reviews
4.491329
0
5
Reviewed by Anonymous from Louisiana on Thursday, March 6, 2014

does the job of keeping feet warm, however the slippers seem to be on the smaller side. Would recommend ordering a size up.

Reviewed by Danette from West Virginia on Monday, December 30, 2013

Don't know yet if the sizing is right as I purchased these as a gift. Like all Acorn products I've purchased over several years, these are well constructed, real sheepskin, sofe and comfy although the soles are thick with a good tread. I'm pleased.

Reviewed by Eryan from New Jersey on Sunday, December 29, 2013

Ran small...Glad I bought the men's size for my niece. She says they are nice and soft and warm

Reviewed by North Orchard from Endless Mountains, Pennsylvania on Thursday, December 26, 2013

My husband loves these slippers. They are warm and comfortable, with a crepe sole so when he goes out for firewood, they don't get all sopping wet.

Reviewed by Mr. Polarized from Michigan on Thursday, December 19, 2013

I've worn this type of Acorn slipper for I don't know how many years; this is my fourth pair. I always wound up trashing them before they wore out. Be cautious, though, as this current version runs small. I wear a 9 shoe, but needed a 10 here. (STP was very good about exchanging for the correct size.)

Reviewed by malfan from Wyoming on Thursday, December 5, 2013

Bought these for my husband to use after surgery and he has loved them. The fact the cuffs can be turned up made them easier for him to pull on when he wasn't as mobile and he can wear them to physical therapy. They were a bit tight at first, but then the memory foam conformed to his feet and he now lives in them.

Reviewed by Kris from Cincinnati, Ohio on Wednesday, October 16, 2013

UGG has discontinued this style, so finding a replacement slipper for my husband has been a challenge. These are almost perfect. The sole is not as flexible as an UGG, but they are warm and come high on the ankle like the old UGG design. Initially, they seemed to run small, but it could be that the lining is very thick. Once it compacts a little, I think that they will be less snug. Definitely order a size larger if you want to wear socks with them.

Reviewed by Willie in the Woods from New Jersey on Tuesday, June 4, 2013

My husband has worn these slippers for years and swears by them! Comfortable and sturdy.

Reviewed by wolf from NJ on Monday, April 29, 2013

The most prevailing thing is the hard soles, acorn not only dropped the ball, but they dribbled it down the court on this one. They might as well be made of wood with regard to flexibility, and the sound they make on a hardwood floor. Don't even think of getting a 2am snak or using the bathroom in the middle of the night without waking up the whole house.. also some flexibility is useful for walking comfort. The sheepskin itself is good and comfy, as is the memory foam. the color is good.
I would be good if they looked a little less like uggs, and more masculine.
Size wis, I wear a 9.5, and ordered a 10. they re a bit big, I don't know weather or not a 9 would have been better.
for a slipper that retails for $100, I'd expect better.
Al

Verified Buyer

Reviewed by Bill from Colorado springs, CO on Friday, February 15, 2013

used around house

Verified Buyer

Reviewed by CTSJerseyshore from Berkeley,NJ on Tuesday, February 12, 2013

I am a 9.5 wide and I ordered a 10, and a they fit great.Warm, soft and a good sole. Home Run

Verified Buyer

Reviewed by Bill from San Jose, CA on Tuesday, February 12, 2013

Am a repeat customer at Sierra Trading for this brand of slipper.

Verified Buyer

Reviewed by Paige from New york on Monday, February 11, 2013

The sole is so stiff that you can't bend your foot! Acorn, what happened? I've already returned them

Verified Buyer

Reviewed by wl from Portland,OR on Tuesday, February 5, 2013

High quality lambswool. Very cozy and quality, thick suede. Very pleased.

Verified Buyer

Reviewed by Peg from Reno, NV on Tuesday, February 5, 2013

This is the third pair of these slippers I've ordered. They wear reasonably well, although sometimes one slipper wears out faster than the other. The soles are great and very thick and can be worn outdoors, even in winter. The slippers are very warm and fit well. Eventually, the fleece will wear on pressure points inside the slipper so you will end up with "bald" spots, mainly at the heel. I've washed them and thrown them into the dryer and they've survived, although it would probably be better if you cleaned them with suede cleaner to preserve the oils in the sheepskin.

Reviewed by LeftyOTM from Madbury, NH on Tuesday, February 5, 2013

Very warm, toasty and comfy! Just received them today. I wear 8 1/2 and the 9 is a tiny bit snug. I'm sure they'll break in just fine. The "collar" did turn up without having to snip any threads.

Verified Buyer

Reviewed by Ed from NC on Monday, February 4, 2013

great in house

Verified Buyer

Reviewed by Giddy-Up from Rifle, CO on Sunday, February 3, 2013

I bought a mens for myself(woman) because they were out of my size in women's...so obviously they are a little wide for my foot. Other than that, I love them. Acorn slippers are my favorite!

Verified Buyer

Reviewed by Mindi from Lake Charles, LA on Thursday, January 31, 2013

My other sheepskin slippers finally were warn out. These were the perfect replacement.

Reviewed by chef from Brooklyn on Monday, January 28, 2013

I am a chef and stand all day. Putting these slippers on feels great but walking in them is another story. Why Acorn decided to put a super hard sole with no padding on a pair of house slippers I can't begin to imagine.

Verified Buyer

Reviewed by Bill from ukraine on Wednesday, January 23, 2013

works good for cold excellent

Verified Buyer

Reviewed by Truth from DE on Sunday, January 20, 2013

Customer service was excellent. Their assistance resulted in this great selection thanks to Melissa Klassy

Verified Buyer

Reviewed by LoriAnn222 from Salinas, CA on Saturday, January 12, 2013

Christmas gift for our daughter. She absolutely loves them. Men's sizing offer a wider width, and usually men's shoes are made better than women's.

Thank you Sierra Trading Post for the fabulous prices!

Verified Buyer

Reviewed by SBPengy from Saint Paul, MN on Wednesday, January 9, 2013

My husband's old slippers finally gave out and he wanted a new pair that were similar but not exactly like his old ones. He choose the chocolate color ones rather than the usual tan color (which is what he had before). His only complaint is the bottom is harder than his old slippers so he makes more noise around the house. The inside of the slipper shaped to his feet and he is happy with the comfort level of the slipper. He works from home, so he tends to wear his slippers most of the day, so comfort is key, and these fit the bill.

Verified Buyer

Reviewed by currently barefoot from PA on Monday, January 7, 2013

beautiful slipper, but it runs very small.

Verified Buyer

Reviewed by lizmayb from North Carolina on Monday, January 7, 2013

These are very nice, toasty slippers, but in the end my husband felt the 10 (his usual size) was too small and the 11 was too big.

Verified Buyer

Reviewed by Andisue from Santa Rosa CA on Saturday, January 5, 2013

Exactly what my husband wanted!

Verified Buyer

Reviewed by Trish from Chicagoland on Wednesday, January 2, 2013

These slippers were purchased for my husband, and, I must admit I was nervous about the order because I was not sure the size 13 would fit my husband comfortably, particularly since they were from China. Any concerns I had were erased when my husband put the slippers on - they fit beautifully. The only problem - 2 weeks after receiving the slipper I decided to purchase another pair - but they are gone, and, it sounds like they do not expect them back in.

Verified Buyer

Reviewed by Mike from Rockfrd,IL on Sunday, December 30, 2012

Very warm and comfortable

Verified Buyer

Reviewed by Orange Dragan from CA on Thursday, December 27, 2012

Cozy and warm! So fabulous!