Acorn Reviews

Popular Acorn Products

Popular Acorn Searches
From humble beginnings handcrafting slipper socks to present-day factory production by skilled craftsmen, Acorn has always had one thing in mind: Comfort. Acorn slippers are so incredibly warm and comfortable that astronauts take them to space and Sherpas pack them along on expeditions in the most extreme of conditions. Acorn sheepskin shoes and boots are naturally breathable, wicking and great for warming chilly feet around the fire or after a surfing session. And while nowadays there are many different designs and innovative features, the constants are the lightweight, soft, and unbelievabl
... Learn more about Acorn
y cushioned interiors produced using only the finest materials. With this degree of comfort, it's certainly no wonder Acorn customers are devoted and loyal -- nothing else compares. ... Less
About the Acorn Brand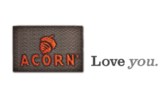 Verified Buyer

Reviewed by Antonia from Arizona on Monday, September 5, 2016

I love Acorn slippers. I usually wear a 9.5 but ordered these in a 10 and they fit perfect. Very comfy. Excellent quality and the orange is a great color

Verified Buyer

Reviewed by Blue Ridge Hiker from SC on Saturday, September 3, 2016

Pretty shoes that are very comfortable. The picture does not do justice to the jute top, will probable order a second pair.

Verified Buyer

Reviewed by Lilly from Minnesota on Wednesday, August 24, 2016

I like Acorn Sandals, but not these. There're too narrow to be comfortable.

Verified Buyer

Reviewed by juju4of5 from California on Tuesday, August 23, 2016

These did not run large as stated in other reviews. I ordered a size up and had to reorder because they were way too big. The size 3-4 fit me, women size 7.

Verified Buyer

Reviewed by Patti from Binghamton on Thursday, August 18, 2016

I wanted a summer slipper that wouldn't make my feet too hot. These work great. They are fun too. The fit is slightly big but not a problem. I wish the acorn emblem on the heal was softer but it's not a big deterant. I like them!

Verified Buyer

Reviewed by jj from dc on Wednesday, August 17, 2016

Arrived used/unsanitary. The reason I did not return them is because of the cost, I would have ended up paying more for something I had to dispose of.
This was the first bad experience I have had with Sierra after shopping here for over 10 years.

Reviewed by GreenKayak from Pennsylvania on Monday, August 15, 2016

What a deal these are! I love espadrilles for summer for the comfort of them and the classic look and these pink and blue flowered shoes match several casual outfits and sundresses I have, also look great with faded jeans. I wear a size 8 medium with a somewhat narrow heel, wider ball of the foot and high instep -- the size 8 was true to size. Nicely made and finished (soft inside with no rough spots to chafe) and even have an arch support quilted into the well-padded fabric insole. You can see that the soles are hand stitched, like traditional espies so I expect they will hold up better than the usual glued ones you find nowadays.. The rubber textured sole gives good grip on wet pavement. You can replace the ankle tie with another ribbon if you like as another buyer suggested but I kind of like the natural color that matches the soles and trim for now.

Verified Buyer

Reviewed by aj from ny on Monday, August 15, 2016

i ordered a 7m and received a 7w(they were at least1 1/2 too long) . I wish I had taken the time to read the online reviews. The shoes were huge,hard with no support.

Verified Buyer

Reviewed by Summer from ID on Tuesday, August 9, 2016

Super cute shoes, just not if you plan to walk around in them. I have narrow feet and they still cut in on my heel on one side and across my toes. Weird...and they were loose because I got a 7 and I'm a 6-6.5. Definitely NOT tight on me but just inflexible. :( Bummed, loved the look.

Verified Buyer

Reviewed by ellenpb from Ellicott City, MD on Monday, August 8, 2016

Cute and surprisingly comfortable. I'm not usually a fan of espadrilles but the soles of these are flexible and even a bit cushy. The only thing I would change is to make the laces a different color-- if you're wearing lace-ups, you probably want the laces to show! The tan color just fades into skin color too much.