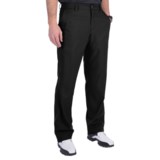 Closeouts. Adidas' Golf Climalite® flat front pants are quite the gentlemanly mix of dressy and athletic, thanks to easy-draping and breathable Climalite® fabric.
Average Rating based on
10
reviews
4.600000
0
5
Verified Buyer

Reviewed by coerron from IL. on Friday, September 18, 2015

The product is fine But Sierra Trading Post has a very serious problem that even 3 calls and numerous returns haven't corrected. They are in a habit of sending pants that are not correct in size by this I mean they black marker the factory size in the garment and send size 34 waist when I order size 36 waist.I have no idea why and have complained numerous times but still they repeat the same procedure. Why they feel the need to ship a 34 in place of what was orderd is beyond me I have givin 2 new pr of Adidas pants away for wrong size sent by them.and still they send what size they want. I thought about ordering them in size 38 and maybe by chance get a size 36 as I wanted but I just give up on Sierra and will never order from them again. Its too bad A company such as this cant fix a problem such as it is someone in their buss. is hurting them more then helping them the factory size is what it is and a black marker over the real size don't change the size and their not fooling anyone but themselves So BEWARE when ordering .

Verified Buyer

Reviewed by coerron from IL on Monday, July 13, 2015

I have made 5 orders from STP and been happy with the price and product on all but this order. I ordered in white and someone changed size on tag from 34x32 to 36x32with black marker and I reported this upon return and was told they would call warehouse and make sure the exchange would be 36x32. they also charged me another $2,10 return shipping and said I would get that amount back and never did. when my new order came it was the same deal 34x32 under a black marker. I was so displeased I called and told them I would keep these rather then go thru the same again knowing what I bought them for (golf) I could never do because of 2 sizes too small The lady just said she would check with the warehouse and didn't offer any discount or solution except sorry. I was really disappointed because I thought I found a great Co. with good prices that cared and found out different. I removed myself from their E Mails and will be done with them. those tags inside the pants didn't change their selves and to get the same mistake 2 times in a row shows the care the warehouse has .

Verified Buyer

Reviewed by Marc M from Michigan on Thursday, July 2, 2015

Love the Adidas golf pants. Very comfortable and cool on the golf course or at the office.

Verified Buyer

Reviewed by Webfoot from Seattle on Monday, September 15, 2014

Very nicely tailored, material is stretchy and comfortable, lightweight and cool, tempted to wear these instead of my other slacks to work and church.

Verified Buyer

Reviewed by Zen Golfer from Chicago,IL on Thursday, June 12, 2014

The pants are light weight and comfortable. Definitely summer wear. The white pants are a little too sheer. Grey and black are great.

Verified Buyer

Reviewed by Steve from New Hampshire on Tuesday, April 15, 2014

These pants are light weight and comfortable to wear. They have deep pockets too to hold tees and an extra ball or two. I just played in some muddy conditions here in NH and had mud splaters aroend my shoe area and then washed the pants later in the day. The mud was gone and no stains either. Looking forward to wearing them again on my next few rounds.

Reviewed by MW from Iowa on Monday, March 31, 2014

I've only tried them on but can't see anything wrong with these pants. At the STP price, they're a steal.

Reviewed by Bowbenderman from Georgia on Thursday, March 27, 2014

Played my first round with the golf pants. Great fit, true to size, perfect weight material for my southern climate!

Reviewed by SCSteve from South Carolina on Tuesday, March 25, 2014

Very good for golf, lightweight and comfortable

Reviewed by AnnaLaurie from Arizona on Monday, March 17, 2014

I'm a tall female and need pants longer than most women's pants. These pants have the extra deep pocket common in men's pants, but the overall pant is not grossly "man" -- I can wear them and not look like a woman wearing men's pants. Very well made and comfortable fabric.