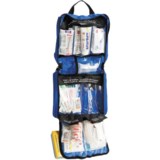 Closeouts. Designed for up to 8 people for up to 14 weeks, Adventure Medical Kits' Mountain Series Fundamental first aid kit is ideal for camping and backpacking with a group.
Average Rating based on
11
reviews
3.636363
0
5
Reviewed by Kelly from Minnesota on Friday, July 3, 2015

I was nervous about the reviews about missing items. I received mine today and the first thing i did was pull it apart and run through what was in there. Came EXACTLY as advertised. I am continuously impressed with STP and is why I keep coming back. Completely satisfied customer.

Verified Buyer

Reviewed by Ted the Bear from Hokkaido Japan on Wednesday, February 11, 2015

With the STP discount, it is a real bargain. It has pretty much everything you would need except meds, in a folding case with clear partitions to make locating specific items easily and each section is labeled. I teach outdoor classes and this kit is about right for most trips for a night or a week. This is great for me as I am getting older and cannot remember well and it a real emergency in bad weather, in the dark and so on, it would save time. I am in Japan, so not having the meds included was great, because it did not get held up in customs. I will add my own meds based on the local rules.

Reviewed by Jimmy from Texas on Saturday, January 17, 2015

If you enjoy missing 1/3 of the items that it says it has then go ahead and get this First Aid Kit. My kit doesn't have any of the medications and I'm not 100% sure all of the bandages are sterile, but luckily I have extra bandages to replace them. If you were to buy this kit, I wouldn't pay more than $40-50. I like the bag and the separate compartments, which keeps all my (own) medical supplies organized. I did get this on sale so maybe that was the reason I didn't get everything that the description says it has in it, but the things that are missing don't cost as much as paying full price for this kit.

Reviewed by brandon from arkansas on Sunday, August 24, 2014

Well... the kit it self is a nice kit. I like the layout and size. I know it says at the bottom they can change the amount of medication etc. but I did not receive any medications, ointments, lidocaine, etc. I guess take a gamble on it and see how much stuff you are missing.

Verified Buyer

Reviewed by AlaskaMatt from Alaska on Monday, July 21, 2014

1. They removed all the medicines, since this is an older kit that expired. All the ointments are still included. I replaced the medicines with sample sized bottles from the drug store: aspirin, ibuprofen, Tylenol, dramamine, etc.

2. The kit is large, like a football. It fits snugly in a 10 Liter dry bag.

3. I do not have medical training, but the kit seems to have good quality, and the instruction book looks helpful.

Reviewed by Tom from Maryland on Thursday, July 3, 2014

This is my 3rd Adventure Medical Kit, going back a couple of decades. I bought this to replace my 8-year old kit that served us well--but many components were used or expiring. However, the first time I pulled it out of my pack, the zipper broke. As I tried to repair it, the zipper tore and split from the surrounding fabric. It's obvious the old bag--from the old kit from the same company--is far better built, especially the zipper and fabric. So I transferred the contents of the flimsy new bag into the sturdy old one. That's when I noticed other problems. The inventory claims a digital thermometer--but instead there are 3 disposable single-use thermometers. The irrigation syringe and plastic flip-top vials also fall right out of the bag when you open it--there's nothing to hold them in. I haven't had time to review the new kit carefully, but it seems they're cutting a lot of corners compared to old kits. The last place I'd want lower-quality cheap supplies is a first aid kit!

Verified Buyer

Reviewed by Dr J from South Carolina on Sunday, April 27, 2014

The medical kit came in a timely fashion. All the pieces and parts were there. As an orthopedic surgeon and hiker it had a broad range of applications. A few things I really liked. I thought the way the kit was organized into sections by emergency was well done. The SAM splint can be very helpful out on the trail and is quite versatile to use in many different ways. The emergency medical book that came with it was quite helpful. The kit is light at around 2 pounds so that's nice as well. I thought it was a little bit overpriced at the original retail cost but with the discount through Sierra trading Post it was reasonable.

Reviewed by chris the brewer from Oregon on Tuesday, April 22, 2014

As long as you get this kit with a coupon that gets it to around $60 or less, then it is a great deal. You will notice that all the Meds and Ointments are missing from the kit. I assume they were pulled for being expired.

Reviewed by Trekker from USA on Saturday, April 19, 2014

It would have been a five star med kit if I would have received everything listed. Unfortunately, the following items were missing:
- all the medications were missing
- the 3 antibiotic ointments
- Aloe Vera gel with lidocaine
- Povidone iodine

The company apparently is not double checking their content...disappointing.

Reviewed by Worker from New Mexico on Wednesday, February 12, 2014

There were some items missing from the medical kit - most notably, all of the medication and a couple of other small items. I would have kept it but I decided to try to find a medical kit that was waterproof since I will be using it mostly for kayak trips.