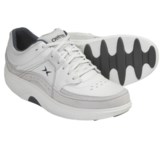 Closeouts. Aetrex's Bodyworks sport shoes are into rock and roll! The rocker sole stimulates and reduces pressure on the muscles in your lower body, and a strategically placed fulcrum point encourages both natural foot roll and natural body alignment.
Average Rating based on
10
reviews
4.100000
0
5
Verified Buyer

Reviewed by ddrescher from Bethlehem CT on Tuesday, August 30, 2016

These are my picky husbands favorite shoes. He has a short wide foot. He loves the rocker bottom.

Reviewed by Pippi Longstocking from Florida on Friday, January 17, 2014

For nearly 2 years I've been unable to walk on hard flat surfaces without having my sciatic nerve numb my right leg. These shoes immediately relieved the pain and I can walk through grocery and big box stores with little or no pain. These Aetrex shoes will allow me to postpone lower back surgery and allow me to be much more active. They are very stable side to side and only rock forward and back. Wish they weren't closing these out, but I got three more pairs while I still could!

Reviewed by David from Sydney from Australia on Sunday, October 13, 2013

The shoes worked very well for the intended purpose. I love walking and they were just fine. I purchased this pair in February 2013 and today, 10/13/2013 I discovered that both soles are cracked and it looks they will be falling apart in no time at all. So, the shoes have lasted for less than eight months. Not really happy about this.

Reviewed by David from New Jersey on Friday, October 11, 2013

The shoe looks well made and has the conservative look that I like. However I had to return them because they were too narrow. My foot is between a medium and wide and I can usually wear a medium, but I believe these were between a narrow and medium. Am keeping my eye out for the same shoe in a wide.

Reviewed by Threedbb from Phoenix on Wednesday, August 21, 2013

I was not sure how this type of shoe would perform. I tend to have sore heels, but these seem to give relief. I like the design, and the workmanship is nice.

Reviewed by SOLO from Tn on Wednesday, June 5, 2013

I got these for my husband because I wear them at work. Standing on my feet for hours caused me to have heel spurs. So he started to complain about his feet. I assured him these were the shoes to get. Now he loves them. He was glad I ordered two pairs for him.

Reviewed by Brian from Fl. from Florida on Tuesday, May 7, 2013

I bought these for $17 and I really like them! I have bad arches and these shoes are very supportive.

Reviewed by RangerXXLT from Ga on Wednesday, April 24, 2013

Good walking shoe.

Reviewed by Wildfire from Southern Plains on Friday, March 15, 2013

Walking with hand weights in these shoes is about five per cent faster than with regular shoes, with the same apparent effort. For the lower body it feels a lot like cross-country skiing. It transfers a lot of effort to the glutes, upper thighs, very lower back, and hip joints, and most people would probably need a rest day afterwards as I do. The shoes aren't comfortable for general wear, but I like them a lot for power walking.

They run a little narrow for my foot, but that's what shoe stretchers are for.

Reviewed by John Zia from Portland on Friday, March 1, 2013

Really different how these feel and the affect on legs and hips. I think I like them and they seem to loosen up muscles and tendons that get tight from my regular shoes/walking. I have plantar Faciitis and they don't seem to hurt that. I also have tight IT bands and slight arthritus in my hips. These shoes seem to actually help a bit, but I'm not completely certain they are the reason. My legs feel different, but not sore or hurt or uncomfortable. I can't walk/stride quite as fast as with my regular shoes, though. Also, the soles give me the sense I could slip on anything slippery, due to less sole surface in contact with the ground. Again, not sure as I'm being careful. Overall I think I like them.