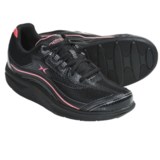 Closeouts. Aetrex's Bodyworks sport shoes are into rock and roll! The rocker sole stimulates and reduces pressure on the muscles in your lower body, and a strategically placed fulcrum point encourages both natural foot roll and natural body alignment.
Average Rating based on
171
reviews
4.403508
0
5
Verified Buyer

Reviewed by yellow from new york on Friday, October 17, 2014

I like walking in these since it feels like you are walking on air. I would say are not for everyone. If you like to have your feet solidly on the ground, I would not get these. These are for serious walkers who can utilize them to get speed.

Verified Buyer

Reviewed by Lori in PA from Pocono Mountain Region on Wednesday, July 23, 2014

I hVe a high arch and inflexible toes, and I dance a lot. These shoes are perfect for everyday walking and for post-dance session recovery. The rocker bottoms support healthy strides while taking pressure off the metatarsal arch and toes and prevents rolling outward when feet and muscles are exhausted. They are not very fashionable, especially in a larger size, but they are a wonderful therapeutic shoe at an unbelievable price.

Verified Buyer

Reviewed by Flora the gardener from Corvallis, OR on Sunday, July 13, 2014

These keep my feet in comfort all day. The structure of the rocker soles gently massages the bottom of my feet and keep me going. I've had some injuries that make it difficult to find a good fit for my sensitive size 10 med feet. I just bought a second pair and may order another because of the great price and comfort.

Verified Buyer

Reviewed by Vlad from Belarus on Monday, June 16, 2014

Pretty neat shoes. Correct size.

Verified Buyer

Reviewed by Vixenator from Oregon on Tuesday, June 10, 2014

I have high arches and these shoes are perfect for me. The rocker sole makes my feet last and last.

Verified Buyer

Reviewed by mikki from Louisiana on Monday, June 9, 2014

Was looking for something to replace my Sketchers and since these were offered at an awesome deal, I thought I'd give them a try. Much lighter than my old pair, which is nice. Not the most attractive shoe on your feet - they are a bit clunky looking - but when I'm out walking I am not looking to win Miss America. Comfort and function are more important and these fit the bill. Did my first 6 mile walk in them today, and they held up just fine. Might be a little wide if you have narrow feet, like I do.

Verified Buyer

Reviewed by Bren from North Carolina on Friday, June 6, 2014

My husband has been raving about his for the last year and says he will never buy anything else. Well, he bought me a pair and now I understand . One of the most comfortable shoes ever. Takes a day or two to get used to the natural foot roll, but then you wonder why all shoes are not made this way. Highly recommended.

Verified Buyer

Reviewed by STP Buyer from sacramento on Wednesday, June 4, 2014

these really make uneven terrain easier to walk on and are easy on the feet...the rounded bottom helps you to just roll along but the rounded bottom does allow you to roll either forward or backward sometimes when at rest which can catch you by surprise but nothing serious...plus I think they look better than the usual running shoe

Reviewed by AMH from Bay Area, CA on Sunday, June 1, 2014

I normally wear a 7.5 or 8 and have a wider foot, although I can usually wear a standard width. I purchased these in a 7.5, and found that they were extremely tight -- nearly unwearable with normal Hanes crew socks, and just barely wearable with thin socks. They seem to dip low on the ankle, below the bone to the point that you would risk seeing no-show socks, if you wore them.

Incongruously, however, they ran long. Enough that I could pinch the end, and still not get the tips of my toes. It -felt- a bit like wearing clown shoes, although in reality, they weren't long enough to actually look unnatural. I could have tolerated the length, if they hadn't been so tight across the footbed and toes.

I honestly wanted to like these; the insoles have a nice curve inside for arch support (the main reason I bought them), and I like the rocker soles. I wish they'd had them in 8 or 8,5; they might have fit better in width, although if the length remained proportional, they'd still have been a little too long. As it was, I gave them to a friend who wears (on average) a size 6, and while they were a bit too large on her, she is able to wear them, albeit laced tightly with thick socks.

My take-away from these is, if you have a shorter and/or wider feet, you might want to either order up a size, or give them a pass altogether. People with long, narrow feet would probably get the best use out of these.

Verified Buyer

Reviewed by Cindy from Nebraska on Sunday, June 1, 2014

I have plantar fasciitis pretty bad and these shoes have been a life saver. I'm thinking about buying another pair.