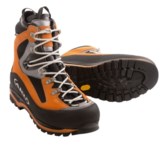 Closeouts. A lightweight and supportive boot for classic mountaineering and high altitude treks, AKU's Terrealte boots feature Gore-Tex® waterproof breathable protection, a Vibram® outsole and a performance fit for reaching the peaks and cherishing the valleys.
Average Rating based on
12
reviews
4.583333
0
5
Reviewed by Bennydahorsefarmer from Pa on Thursday, May 5, 2016

I wore these boots for two winters. I use them as work boots around the farm. They held up great and as comfortable as ever. I was going to buy an other pair before they sell out, but I think they will hold up for another few years. The best boot I have ever worn, and I have worn everything.

Reviewed by Tyler Durden from Las Vegas on Monday, February 22, 2016

These got me up and down Rainier! Very pleased with their overall fit and performance.

Verified Buyer

Reviewed by Haywire from North Carolina on Monday, February 15, 2016

I ordered the boot with anticipation and trepidation. I have had trouble with Italian boots in the past as they must use bowling balls for heel molds. The AKU, however, fits great. I mostly hike back country and really like the rigid soles, for climbing steep inclines, and the additional ankle support. The lacing is superb and the tension stays where you want. The bottom sole provides excellent traction for descents in any terrain, climbing steep slopes, and balancing across logs. The top of the boot has a mini gaiter that will help keep out the debris. I have been on two hikes and I have full confidence in the boot and would highly recommend for backpacking and back country treks.

Verified Buyer

Reviewed by Every Saturday hiker from California on Friday, December 18, 2015

feel a little bit bulky due to insulation. I've worn 5 times for day hiking range 8-10 miles. So far I like this shoes. I'll follow up in snowy condition.

Verified Buyer

Reviewed by Mtted from Montana on Sunday, April 26, 2015

I've been using these boots for about 3 days now on rough uneven terrain. They've been super comfortable since the first time I put them on. Very little to no break in time. Lace up tight and stay tight. Very stout and good traction. True to size.

Verified Buyer

Reviewed by busky 53 from ca on Friday, February 27, 2015

I actually have a large collection of misc mountaineering boots and these are at the top of the list. no break in wear nice . sorry I live in California so can't tell you much about warmth. They are actually are very heavy duty hiking boot that can easily be classified as a mountaineering boot.

Reviewed by At99sy from New hampshire on Thursday, February 19, 2015

Yesterday I wore these on a VERY much Winter hike/climb up Mt. Washington in NH. Only the second time wearing them. First was at my daughters
ski jumping practice in single digit temps for about two hours. So no break in period, period. The temps were below zero the entire time and -20 at the summit. I wore a liner sock and a pair of heavy sub zero socks and crampons most of the way. The climb was near vertical in some places for several hundred feet. Never once did my feet get cold, my toes had plenty of room and the grip on snow and ice was quite good even before the crampons went on. I wore a paid of Kahtoola K-10 crampons, which are pretty flexible. The stiffness of the boots was perfect for what I was doing. I was wary of these boots due to the low price, but am very impressed with them. I usually wear a 10 1/2 but got these in an 11 and they fit perfect. I got a little heel slip on my right foot but that was my own fault as I let the laces get loose and it was just to stinking cold at the summit to worry about it.
I recommend these very highly.

Verified Buyer

Reviewed by Beartooth Mountainman from Switzerland on Saturday, January 3, 2015

Bought these heavier boots to use snowshoeing, but had already bought a lighter pair of AKU boots for a backpacking trip earlier in the year and bought a second pair of those because I liked them so much. Right out of the box, the Terrealte boots fit very comfortably, and while I have only been able to walk for an hour at a time in these, they do not seem likely to cause a problem with blisters, and best of all the kept my feet warm in single digit temps.

Reviewed by BennydaFarrierandHorseFarmer from North east PA on Wednesday, November 26, 2014

Awesome winter boot. I am a horse farmer and I am on my feet all day, working in the fields, trails, barn, on the tractor and on a horse. These boots are ideal for my work. They are light, supportive, warm and breath easily. They are supper easy to take on and off. They easily fit in the stirrups in an english saddle. They are supportive without being stiff. Zero break in, take out of the box comfortable. Im in love with AKU boots and this boots is incredible.

Verified Buyer

Reviewed by appalachian trail nut from west virginia on Monday, November 24, 2014

The boot is top notch construction but in my case the boots were not true to size but this is the case w many Italian boot manufacturers as everyone knows

I called and emailed aku about the issue but got mininimal info at best. I wear a 11.5 usa in zamberlan and a 11 in the aku boots here were slightly larger

when measuring the sole. so my experience is the aku montagnards and terrealte boots are a great build boot but sizing was tricky. I would give 5

stars if not for sizing issue. I will tell you I called the folks at lowa because I was considering the lowa cevedale gtx boot . the staff at lowa top notch great

folks. the Aku boots are very stiff w lots of support great boot but get that sizing figured out.......the width seems to be perfect like my zamberlans.