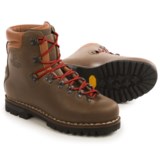 Closeouts. Handmade in Italy of Perwanger leather, Alico's New Guide hiking boots are built for years of use in rigorous alpine terrain. The durable speed lacing system ensures a supportive fit, and the leather-lined interior is breathable and nearly friction free.
Average Rating based on
317
reviews
4.608832
0
5
Verified Buyer

Reviewed by Colorado bound from Missouri on Thursday, June 22, 2017

I have been searching for Italian made all leather boots, these Alico boots were EXACTLY what I wanted. Due to extreme arthritis in my knees and hips, I require a sturdy boot. They fit great and feel fantastic. I put them on as soon as they arrived and everyday since.

Reviewed by freedeep from Montana on Wednesday, May 17, 2017

Good quality boot. 3/4 shank, so yes, they do flex in the toe which is what you need. The vibram sole is old school deep lugs that wont clog with mud and loose traction like some of todays new-age boots. Will still work with proper crampons. They do need to be broken in to allow for more toe flex. My method is to start several months before you head to the high country. Start with short walks, adjusting the fit of the footbeds if hot spots develop at bottoms of feet. I wear double socks, New Zealand marino wool with a thin poly outer sock to protect the wool. I did install sorbothane footbeds, add a second thin footbed if required. Be sure the laces are tight at every eyelet, so the boot has to flex with your foot, not the other way around.
Then lengthen the walks to wearing all day, distance at least a mile, include running some distance. Keep adding distance until you can hike all day, wear them all day.
The boots will become your best friend. With a full pack, standing on one foot, you can stand on a rock edge the width of a pencil with no problem. With the same full pack you can glissade down snow or rock scree slopes with no problem. Wade thru rivers waist deep, ring your wool socks out on the other side, and keep going. Boulder jump with the same full pack no problem.
I give them a rubbed in coat of sno-seal, nickwax, etc before each long outing.

Verified Buyer

Reviewed by MadHiker from Texas on Monday, May 1, 2017

First of all, the laces in the picture are light brown and a red on the shoes I have received, this was a disappointment.
It might help if you update the product picture on your site to reflect this important detail.

Now to the bigger problem with the product.
I know that mountaineering shoes are hard to break in, I did wear them around the house for a couple hours to make sure they fit well. To my huge disappointment, the softer leather on the side of the tongue rubbed off and cracked as you can see from the attached pictures. The softer leather seems to be aged or of inferior quality.

This is extremely disappointing, as I do like the shoes and didn't intend to return them otherwise.

Verified Buyer

Reviewed by VanDuck from Payson, AZ on Friday, April 21, 2017

There is old world quality and workmanship built into these boots that is hard to find these days. With the one-piece leather upper and Norwegian welt they will last a lifetime with a little care. Even more remarkable is the STP price! These boots are GREAT!

Reviewed by SambarTracker from Australia on Monday, March 27, 2017

I live in Australia buying online can be quite risky when it come to correct sizing, especially with heavy duty style bootts like the Alico New Guide. I decided to live chat with Sierra Trading to get the best advice I could on sizing and I tell you not those guys at Sierra were spot on. My advice would be to choose a size larger and choose wide. Mine fit like a dream, a few pressure points but nothing you wouldn't expect from a boot of this quality and style. My boot needs vary lots from alpine hunting and cold winters to the warmth of the Oz summers. I have only just received these and I expect a lengthy brek in period but straight out of the box they are causing me no problems - get out there a invest they are well worth thr moner and Sierra's service is as good as it gets.

Verified Buyer

Reviewed by Ben J. from Wyoming on Monday, February 20, 2017

Burly boots, would have loved to get them up into the Wind River range but they were a little to big for me. Seemed indestructible though. A little loose around the ankle and tongue gussets had trouble tucking in.

Verified Buyer

Reviewed by rockhound from Wyo on Friday, February 3, 2017

I used to buy a pair of boots like these every year when I was seismographing. But they are getting very hard to find nowadays. I have not had a chance to log any miles with these yet. But they fit well and now that I am not using them for work boots they should last me many years.

Verified Buyer

Reviewed by Krystof from California on Thursday, February 2, 2017

High quality boots, comfortable, with flexible lacing system providing excellent fit support.

Verified Buyer

Reviewed by ritter from ??? on Sunday, January 22, 2017

Cool is very strong I like it very much

Reviewed by Ray from China on Monday, January 16, 2017

Before the first hiking, I didn't give a break in process ,these boots are rigid and heavy(1100g per one), then i get my heel grazed. But on the other hand,they supply enough support and ankle protect. During the 2-day hiking, i trek on snowfield and small path(with rocks),they protect me well and also keep my feet warm. In summary ,they are good completely ,but i can't say excellent definitely now. Because there is no GTX layer, the waterproof ability is a very important part of hiking boots, I read some reviews,some people say "not water resistant",but some say "waterproof good" it confuse me a lot. Though these alico boots keep my feet dry during the snowfield hiking,they behave good ,but i still suspect. I think i need to test them in the rain or some other moist circumstance, then i can give my final conclusion.