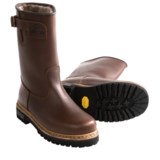 Closeouts. Alico North Cape boots feature a 12" upper for outstanding coverage and support, and with Anfibio waterproof breathable leather, protection and foot comfort are ensured. Authentic Italian fully welted construction for durability over years and years of use.
Average Rating based on
72
reviews
4.666666
0
5
Verified Buyer

Reviewed by Arbe from PA on Wednesday, November 9, 2016

The sizing on these boots is consistent with Alico hiking boots. Plenty of length and width for heavy socks. These could nearly be classified as wide. Very comfortable and warm but not to warm for PA's Oct/Nov temps.

Verified Buyer

Reviewed by Daniel from Lower Left (to be used in CO!) on Monday, July 4, 2016

These boots are EXQUISITE (¡SQUISITO!)
Simple in design, as stated in previous reviews, but outstanding quality and you CANNOT BEAT Vibram soles. C'MON WINTER!!

Verified Buyer

Reviewed by Chris T from Annandale on Friday, July 1, 2016

I ordered these boots on clearance for a very low price. They appear to be extremely well constructed and are made from very fine quality leather which appears well stitched. The souls are very thick and heavy duty and will probably last a lifetime. When I tried them on, they felt quite heavy and stiff, but I assume they will probably loosen up a bit. The lining, as was noted by another reviewer, is not real shearling but a synthetic. It is soft though. I assume it will be warm. My impression is that they may run about a half size smaller than indicated. I normally wear a 9 1/2 and that is what I ordered. They feel a little bit snug. Again, they may loosen up with time. Overall, I feel that this pair of boots is probably a fantastic value and I will be very satisfied with them for many many years.

Verified Buyer

Reviewed by Saint Richard from Pittsburgh, PA on Tuesday, June 28, 2016

Only had time to try them on. Couldn't get my foot in with heavy socks on but did manage to get them on with thin socks. Probably will break in after wearing for a while. Seem comfortable and warm.

Verified Buyer

Reviewed by Robert Lover of snow blizzards from Colorado on Monday, May 16, 2016

I was shopping for some winter Footwear when I came across these boots. I was looking for something that would be warm but also I could just slip on. I bought these boots in my normal size but unfortunately they tend to run a little bit narrow so even though boots claiming to be of the same size they fit well these were too narrow so I had to return them. In talking to customer service I decided to try the boot in a half size bigger so I ordered a half size bigger and while it was still a touch narrow it did fit better and this week was going to be used only for short trips after a snowfall. If you have a wife but this book is not for you my feet tend to be a touch on the white side but I was still able to just fit into this boat I could not wear thick socks with them but they are warm enough by themselves that even going Barefoot with them well I'm sure my feet would be fine. I did try a pair on while wearing regular cotton tube socks and actually had to get assistance in taking the boot off because the cotton material seem to stick to the liner of the Boot. I wish they made this boot in a wide butt the regular size will have to do for now, but like I said my current boots fit fine if I wear extremely thin silk type socks or just go barefoot. They are well-built and look very nice even though there is not much style to them the quality of leather makes up for that this will make a great run to the store or need to shovel the driveway kind of been quick to slip on keep your feet warm for a while but not about to do any sort of hiking in.

Reviewed by Hipster Doofus from CT on Saturday, May 7, 2016

I've been seeing these boots on the STP site for a long time now and finally pulled the pin when they got to the "right price." These are awesomely awesome boots that are awesome.

There are very well made, beautiful heavy leather, deep stitching, shearling lined, soft, supportive insoles - boots don't get better than these and everything about them is completely top-shelf including (especially?) the made in Italy label.

The tags that come with the boots say they're waterproof and breathable; it's kind of late in the season to field-test fleece-lined boots but they fit perfectly and I'm looking forward to playing in the cold next Winter.

BTW, they look really cool too and are awesome.

Verified Buyer

Reviewed by Tracy from Mountains of Utah - Desert of Arabia on Wednesday, May 4, 2016

This is a wonderfully constructed boot. That said, it isn't apres ski footwear. The sole is heavy lugged and stiff, it is a cold weather work boot. I don't know how well they will perform or last as I just got them but from the looks of the construction and the quality of the materials I think they will be around for a long time. I wear a size 10 U.S. and they run true to size.

Verified Buyer

Reviewed by John from Mid-MO on Monday, January 25, 2016

These boots are just what I needed for snowy conditions around town. The quality of the boot is excellent and the leather is thick but supple. The shearling lining is a nice touch as well. Work boot tough but to nice for that. Great for all other occasions that don't require a tie. Sizing is accurate with room for a substantial wool sock.

Verified Buyer

Reviewed by Rabid hiker from Duluth on Sunday, December 6, 2015

Premium quality. Beefy good looks. Way too nice a boot for working but it would certainly be durable. Very comfortable and true to size.

Verified Buyer

Reviewed by Doc Mike from SW Mich. on Friday, December 4, 2015

Only had a little bit of time to wear these and really haven't tested them. They are super high quality but very stiff as you would expect from High end Italian leather. These are boots that will likely last a lifetime. They do slip a little bit in the heel, which I had expected until they get more broken in. The nice thing is that STP has a very liberal return policy so if they don't pan out the way I expect them to, I can return them up to one year. (hope I don't have to). I took out the insole and put in thicker ones with more arch support and that helped the slippage. I also added heel padding to see if that helps until they break in more. They are very warm and the shearling is heavenly. I'm so pleased with these boots!