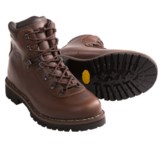 Closeouts. Nestled within the Alps, the Dolomites are known for jagged peaks and deep crevasses that have challenged the climber's craft for centuries. Alico's Summit hiking boots are handcrafted by artisans in this awe-inspiring region and built for exploring rugged landscapes. The oil-tanned leather upper is water-resistant, and the leather lining and moisture-wicking insole reduce friction and blisters.
Average Rating based on
682
reviews
4.579178
0
5
Reviewed by Flymo from New Hampshire on Thursday, May 25, 2017

I seriously didn't think I'd ever find a new boot of this quality and construction. Truly outstanding. Full leather lining is comfy. My boots which arrived in May 2017 did include a pretty nice insole, so it appears that has been upgraded.

Fit is pretty much spot on in length. The toe box is very roomy even in the D width - so much so that I am going to try a thicker insole to take up room I don't need. Very happy with these so far.

Verified Buyer

Reviewed by TerryT from Oklahoma on Wednesday, May 10, 2017

Seems well constructed. A little heavy but think it will work well for backpacking. Haven't had chance to fully break in yet.

Verified Buyer

Reviewed by Jimijam from Montana on Wednesday, May 3, 2017

I wear 8 1/2 d in shoes and ordered the 8 1/2 m, pulled put the factory insole and replaced with green superfeet insole. Boits fit great with medium weight smartwool socks. Have not hiked in them yet, have worn them for 4-7 hours at work, so far they are comfortable. Great value all leather/stitch down sole compared to $350+ others.

Verified Buyer

Reviewed by Vitalie from Philippines on Friday, April 28, 2017

Superb quality of materials and craftsmanship! Perfect fit! Excellent service from Siera Trading with super fast shipping to the other side of the Globe. Very satisfied!

Verified Buyer

Reviewed by Paul T from TX on Tuesday, April 18, 2017

These are extremely well designed boots built of the best materials. STP also has great customer service. Cannot comment on boot longevity yet. The main reason to comment is on the fit, for benefit of those readers deciding on the size. The boots have a wide design and it is obvious they are meant to have you buy your own insoles. There is plenty of room for thick insoles. They do come with a felt insole so you can try them out but the aftermarket insole of choice should be something you also consider when purchasing. (I usually use the Sole brand softec medium). The boots are lengthwise very true to size, I am an exact U.S. 11.5 on a Brannock, and these boots in 11.5 came down right in front of my toe. Large toebox side-to-side like the rest of the boot. However I wound up keeping them in size 12, because hiking most long U.S. trails involves a lot of elevation change, and I didn't want the boot jamming my toes going downhill. So I ordered 1/2 size larger in my usual medium width, a fit suitable for purpose.

Verified Buyer

Reviewed by Joe the hiker from Charlotte on Tuesday, April 11, 2017

I wear a 9 1/2 wide and that's what I ordered, they fit just right and are waterproof. The leather is treated well so it has a nice "hand" right out of the box. I took them out and wore them. I usually have to oil or wax a boot, but these are ready to go.

Verified Buyer

Reviewed by PeterCaide from California on Monday, April 10, 2017

I first purchased the Alico Tahoe Boots(wide) and after some immediate fit problems, I exchanged them for the Summit Boots (wide). As soon as I put them on, I noticed the difference in comfort. The leather lining in the Summit compared to the Tahoe was a huge improvement for me. Comparing these to my other mid-height hiking boots, the Summits are super easy to put on and take off. The Summits are also much easier to lace and to achieve a snug fit whereas the Tahoes were more of a struggle. As soon as I received the boots, I applied three coats of Renapur Leather Balsam to speed up the break in period. I think it worked but I have no way to make an accurate comparison. I have worn them out twice, and I am impressed with the comfort. The soles are still a little stiff but getting better each time I wear them. Just awesome!!! Great looking, high quality, resoleable, comfortable boots!!!

Reviewed by Archaeo_Louis from Oregon on Thursday, April 6, 2017

I purchased a pair of Alico Summit boots roughly two years ago. I was in the market for a new pair since my old boots only lasted about 6 months. I needed something sturdy for work that would stand up to the harsh treatment I give them. I do fieldwork/survey work throughout the Pacific Northwest and previous boots with their supposedly "Gore-tex" lining would maybe stay waterproof for a month or two before my feet got drenched. These boots have seen 100 degree weather through desert and shrub-steppe environments of central Washington, as well as bushwhacking through heavily forested and wet landscapes throughout the Cascades. They have worked like a dream and my feet have stayed dry even through downpours while outside for 8-10 hours. As many have noted, I did change out the thin insole on day one of receiving these.

A few tips that you may want to know: First off, maintenance! Maintaining your boots is key if you want them to stay waterproof. I'm not saying you have to diligently clean them every day but when I put them through a thrashing for a full week, on the weekend I'll brush them off and get as much dirt off as possible. Followed by a wash with saddle soap or a coat of Obenauf's LP, occasionally I would even do both. If you're pretty light on your boots I would still do it every one or two months to help protect them. At one point I slacked on this and noticed after some fieldwork that the leather had water-staining. So they will take in water if you don't maintain them!

Second, the break in period. Some have said that they didn't have much of a break in period. I wore these around for a couple weeks before using them for fieldwork and they were still pretty stiff. After a couple 10 mile days I occasionally would have a hot spot on my heal from slippage, but this can usually be fixed by proper lacing, also I would wear a medium thickness hiking sock which helped keep things snug. Play around with some lacing techniques and see what works best for you. I found that the Ladder Lacing technique, usually used on military boots, worked best for me. It essentially places lace locks on each tier and keeps everything tight. This was great during the break in period when things are softening and shifting.

Third, tongue slip. During the first month I had quite a bit of tongue slip on one of the boots, my solution was to get a pair of metal jean buttons, cut a tiny whole and used channel lock pliers to clamp them on. Then I could just lace around these and the boot tongue stayed in place. Not sure what I mean? Take a look at the tongue on a pair of Lowa Gavia boots.

Overall, these have been great boots and I feel they'll last for many more years. The only complaint I have is their weight, which I only really notice when hiking up continuous elevation gains. Then you get one heck of a leg workout. But it's the price you pay for sturdy boots. Ones that have likely already saved me hundreds of dollars.

Verified Buyer

Reviewed by Steve from Foxboro from Massachusetts on Sunday, April 2, 2017

I bought these boots because I have had a pair of alico boots for 21 years. I have resolved them twice because I like them that much. The leather is high quality stuff that does not fall apart. The summits are good fitting boots for my feet. I have narrow heels and a wide forefoot, and plantar fasciitis. The midsole and sole are very supportive and protect my arches from pointy rocks in the trail. The uppers wrap around my ankles and provide great support on rocky trails that would twist in a lesser boot. Great for backpacking with a heavy load. The leather lining is a nice change from flimsy liners in other boots that wear off over the years of use. I said years, because they last a long time. The vibram soles provide great grip on rocks that other boots just slide off. They give you confidence in your foot placement, knowing they will stay where you put them. The sole doesn't twist under your foot on uneven terrain, but it does flex just under the ball of your foot for a good stride without the Frankenstein walk from mountaineering boots. Break in takes a little while, not bad, so far 3 weekends of wet weather hiking and the creases are starting to show up. No blisters on my feet, no numb toespecially, no foot pain from 5 to 7 mile hikes. If you are looking for a boot that lasts, buy these boots. Run true to size, wide is wide and comfortable.

Verified Buyer

Reviewed by Suzie Sweat from NM on Sunday, March 12, 2017

I was fortunate enough to get a pair of size 9M men's boots before they were gone. I wear a 10 in ladies and have a wide forefoot and small heel so I was concerned about buying a men's boot, particularly with my small heel. However, I discovered after inserting some orthotics and donning thick hiking socks, the fit was perfect! I have not gone hiking yet, but I can tell you that they are beautiful, well made boots that provide excellent support and plenty of room in the toe box. Sierra's customer service was excellent and told me the correct men's size to order. If you get the chance ladies - go for it!! These are great boots at a price you won't find anywhere else!!!