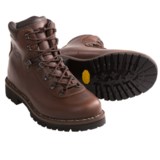 Closeouts. Nestled within the Alps, the Dolomites are known for jagged peaks and deep crevasses that have challenged the climber's craft for centuries. The Summit from Alico was handcrafted by artisans in this awe-inspiring region. Its one-piece oil-tanned leather upper was made to explore the tough terrain of rugged landscapes. Soft leather interior and moisture-wicking insole reduces friction and blisters.
Average Rating based on
643
reviews
4.569206
0
5
Reviewed by Cascade Hiker from Oegon on Thursday, March 10, 2016

I just got these and will be doing a follow up review. In the first month the boots have been fantastic. Breaking them in but they have been very wearable during this period. Multiple hours at a time, they are very comfortable (i did put some Superfeet green Insoles in straight out of the box). They are still stiff but getting better every time I wear them. Out of the box they look flawless and I am blown away by the attention to detail. Easily worth 300-400 dollars if you were looking at other brands. Use the 20% off coupon and you can get these for about $160 which is an insane deal. I will have these for many years to come. The leather lining feels wonderful, I have two pairs of Lowa's with leather lining and will never have anything else. These are bombproof and can easily be repaired/resoled although the Vibram sole is quite deep so that will not be happening for a while. I live in the Cascades and spend many days hiking through the mountains. These are probably a little overkill but i know they will handle whatever is thrown at them. I will be doing a follow up review once I get some more trail time on them.

Verified Buyer

Reviewed by Stony from Texas on Sunday, March 6, 2016

My last pair of boots came unglued so I decided to go with the stitched ones. Fit true to size with a heavy sock and store bought insole. Not nearly as difficult to break in as other reviews have indicated. Maybe because I've always worn "stiff" leather boots? Thought I'd feel the one extra pound in the Summits as compared with my last pair, but no, I couldn't tell the difference. Really like that they have the locking hooks to keep my heel in place. Tried the Tahoes, but no matter how I laced them my heel slipped. Highly recommend.

Verified Buyer

Reviewed by Tony B from Out in the desert on Wednesday, March 2, 2016

Quality is all over this boot, get a good fit and they should last for many years, especially if one lets a boot dry out for a day after wearing and rotates other boots, works for me.

Reviewed by Lawdog22 from Michigan on Wednesday, March 2, 2016

I do most of my hiking in Michigan's UP with seasonal trips to Glacier Park. So my boots have to deal with terrain that varies from the rocky Canadian shield to Michigan wetlands. I cannot comment on how these boots would handle the desert or canyon country.
When it came time to replace my Sundowners I researched other Italian made boots (for the craftsmanship) and was about to drop the hammer on some La Sportiva Pamirs when I found these Alico's. I avoid synthetic boots because I feel that leather molds itself to my foot shape over time while with the synthetic boots what you start with is what you end up with. Plus, as a tightwad I can't see running out to buty a new pair of boots every other year.
I am 6'4 and about 200 lbs. so with my pack the boots need to provide both grip and stability. The Pamir's deliver. The old style sewn on Vibram soles in my experience are the best they make and the shank in this boot provides enough stiffness without the rigidity of a full on mountaineering boot.
As non GTX boots you will need to spend some time with a water-proofer and a rag buffing in a good coat of protectant even on the new leather. (I can't get into the brand names here without alienating some partisans.)
I ordered 12 medium and can report the boots are a little roomier than My sundowners or Asolo cross country boots. The toe box is amazing. I can actually wiggle my toes without rubbing the top or sides of the boots. I have inserted a simple thin "anti-odor" insole under the Alico insole just to take up some of the volume. The length of the boot is a true 12 and the Medium width seems right. Time will tell if expensive inserts are needed but the $2.00 insoles snugged up the boots and my feet don't move inside the boots even on steep downhills.
Like any leather boot you will need to break them in on short hikes. I found that my boots were comfortable after 3 or 4 short 5 mile day hikes. This is far less mileage than my old boots required (Italian leather!) Your experience may vary.
Worries? The fully gusseted tongue is a possible weak point. It is not as nice as the old Sundowner tongue and takes a little care to ensure that it is positioned correctly when lacing up. So far no leaks, no problems.
The only other concern is that I paid full list @$200 for the boots and it look like other reviewers got better deals.
All in all a great boot. I would say I'd buy again, but I won't, I'll just have the boots resoled.
See you on the trails.



Verified Buyer

Reviewed by midshooter from west tx on Monday, February 29, 2016

Ok these are like our old 'waffle stompers' of the 1970's. Stiff as a board at first and need to be worn around the place before you do any serious trekking. Once the are tuned up they are ready for any ground grinding in the lower 48. I normally go through at least one set of good boots a year but expect these to be around a loooooong time. Premium quality for the price and they seem to run true to size. (I ordered a half size to large and returned them ) Expect to put a better set of inserts in them as the ones supplied are trash. Great boot if this is your style, great price and Sierra is tops to work with

Verified Buyer

Reviewed by DonRon from oregon on Monday, February 22, 2016

excellent boot build, just now breaking in, sizing good fit for 2 old & different feet.
Replace insole with Superfeet green

Reviewed by Math teacher from CT on Sunday, February 21, 2016

Bought these to replace my old Asolo FSN 95s. I hike about 2 hrs/wk on rocky/rooty New England trails, and figured I wouldn't mind the extra weight of these. I really like these, but they are heavy and I found them to be large in every dimension (not that long, but tons of volume in there - maybe too much). Replaced the horrible stock sole with Superfeet insert, that helped eat up volume. In the end, I don't know if these make a ton of sense as they are heavy, but I really like them. Not as snug or fast as my FSN95s, but they are beautiful. I actually enjoyed coating them in Obenaufs - great smell, great feel. In the end, the appeal is similar to a nice old steel road bike. A bit heavy, not as fast, but build to last and be admired.

Reviewed by Bosoxfan from Boston on Thursday, February 18, 2016

So I got mine over 9 years ago. I had just adopted a puppy and decided I wear them whenever I walk him to break them in. These are serous boots, heavy leather and tough to break in, So the dog is full grown, we walk 1.5 miles in the morning and 15 miles in the evening EVERY DAY! for 9 years.in northern Mass. rain, snow summer heat it doesn't matter my feet are comfy!
The heels are starting to wear some and I'd say they're breaking in nicely. They've been to Utah in 110 degree heat and the white mountains in the fall. And they just keep going....Love them so I bought a pair of the Tahoe hiking boots and pair of Nomads for the office, Needless to say I'm a big fan.

Verified Buyer

Reviewed by dakine929 from Virginia on Monday, February 15, 2016

I've been wearing out hiking/combat/backpacking boots for the last 40 years across many trails on both coasts, along with Arizona, Colorado, Wyoming,Texas and foreign lands across a few continents thanks to Uncle Smedley. Getting long in the tooth, a good pair of boots means a lot more to me than poser status. Also, who I support when buying shoes means something to a few of us.

This Spring I would like to start backpacking the Appalachian Trail in Virginia. Yeah, a veritable highway in comparison to some goat trails I frequented in my past. So why the 4 lb. waffle-stompers from Italy with so many technologically advanced, lightweight boots on the market? I have a graveyard of high-tech boots with very short service/shelf life. I also have to pony up the bucks for my boots now, having been led out to pasture. No more running with Winnebago-sized packs, and minimal noise up said goat trails in 100 degree heat:-).

The Summits are substantial in size, weight, quality, durability and protection. For size, lets just say Frankenstein was seen stomping around in old-school boots like these....no matching Gucci bag on his shoulder. They are twice as heavy as my pair of North-Face Hedgehogs. Quality - best workmanship I've seen in years, with top notch leather, soles, and construction. No glued on soles, shiny stripes, or over-hyped synthetics. With a little care, I won't need to buy another pair of boots in my advanced adventures, and I plan on having a few. Feet are important platforms for those adventures. We need to protect them. My Summits provide excellent traction, foot support, great fit (9W-yes they actually manufacture more than one width), impact protection, and ankle support.

Glancing out the window with a new accumulation of snow blanketing everything, I had a moment to ramble about my latest purchase from STP. I hope this helps some adventurous soul in making a sound decision on foot gear.



Verified Buyer

Reviewed by Long time hiking guy from Tn on Tuesday, February 9, 2016

Good quality boots. I was looking for a replacement to my old Raichle and Vasque boots, and these seemed as if they would do.

They're lighter in weight than my old boots and the leather is thinner, but the construction is solid. Unfortunately, the sizing is too large. I ordered a size 12, and even with Superfeet Green insoles, these are just too loose. I'm going to have to send them back and exchange for a different pair.