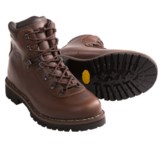 Closeouts. Nestled within the Alps, the Dolomites are known for jagged peaks and deep crevasses that have challenged the climber's craft for centuries. Alico's Summit hiking boots are handcrafted by artisans in this awe-inspiring region and built for exploring rugged landscapes. The oil-tanned leather upper is water-resistant, and the leather lining and moisture-wicking insole reduce friction and blisters.
Average Rating based on
669
reviews
4.573991
0
5
Verified Buyer

Reviewed by PLK from Pennsylvania on Wednesday, January 18, 2017

Fit absolutely true to ordered size. Toe box has plenty of room to accomodate hiking socks. Extraordinary ankle support. Takes several extended hikes to break in. Best of all...no blisters!

Verified Buyer

Reviewed by tevieboy from Seattle on Monday, January 16, 2017

Straight out of the box, these boots are incredibly comfortable. Lacing system dials in a solid fit with ease. I look forward to many, many miles in these boots.

Verified Buyer

Reviewed by Bear in the woods from Wisconsin on Wednesday, January 11, 2017

Been tired of molded soles falling off hiking boots so I thought that I would need to make my own. On a whim, I did a search for Norwegian welt hiking boots and found these. The reviews looked promising so I decided to try them and put on hold the idea of home made boots. They came almost two weeks ago and have been using them every day since. Wore them around the house on carpet just to make sure they didn't need to be returned and by day two, it was obvious that these are my boots! While some of the reviews suggested a two month break in period (agreed) they were much more comfortable than I expected right out of the box. Slipped in a pair of green Super Feet insoles and they are pretty close to perfect. My feet are slightly narrow, but no slippage whatsoever with medium width. Length was spot on for me but the thing that I really appreciate is that they're slightly wider in the toe box than other brands. Walking on uneven terrain is enhanced now since I can use my entire foot better than previously. Highly recommend these boots.

Reviewed by The boy from Illinois from Illinois on Saturday, January 7, 2017

These boots look great! They felt great right out of the box. They are comfortable to walk in. I don't know about break in time but I have walked a few miles wth no problem or discomfort!

Verified Buyer

Reviewed by Hiker Mom from Delaware on Tuesday, December 20, 2016

I bought these for my son for a three week hiking trip he is taking in January. He's been wearing them to break them in, and says they are very comfortable. We'll try to give an update after the trip to see how they perform "in action."

Reviewed by Dr. Strangelove from North Dakota on Thursday, December 15, 2016

I had a bad foot/ankle injury when I was a teenager. I've spent the better part of the three decades since looking for the perfect boot that is comfortable, supportive, and looks good. I've tried most everything out there: Danners, Lowa, Red Wings, Asolo... and a lot of them were very good. This boot smokes them all overall.

They were comfortable enough out of the box to wear around the office and just everyday wear. After a few days they really loosened up and I feel like they are pretty well broken in after a week. The back of the boot at the achilles tendon took the longest to loosen up. In fact I thought maybe it would not - just give it time and wear.

I am from the Gore-Tex generation, and had never had a pair of boots that claim to be (for the most part) waterproof without it. I have been out for pretty long periods in the snow with these with no issues of water getting in. The Spring thaw should tell more regarding "waterproofness".

I don't use these for hiking, so I probably don't have the same expectations with respect to weight. I am, however, a surveyor, so I basically hike all the time, but I guess it may be different if you are just hoofing it in the great outdoors while not getting paid for it...They don't seem too heavy to me.

They seem to hold heat in better than other non-insulated boots. I have been out in extreme cold with just a pair of wool socks on in them and my feet weren't freezing. I am waiting to see how hot they are in the summer.

The size seems like just a tiny bit larger than normal - I attribute this to leaving room for thick socks. My feet are still stable with just a little extra wiggle room when I wear normal socks.

Verified Buyer

Reviewed by HiSport from North Carolina on Monday, December 12, 2016

I grew up hiking in this type of heavy, all leather, Vibram sole boot. Still my favorite, even for short day hikes.
The Alico Summit is a great choice. Good quality leather, double sewn Norwegian welt construction. Very much like the better Vasques used to be; comparable with current top end Danner and Ososlo boots. Price is very good from STP

Having tried the newer style of (typically Chinese) "hightop sneaker" molded sole hiking shoes, I am glad to be back to old school boots. These traditional boots offer better foot and ankle protection in scree; they work better for heavy backpacking - particularly on descending trails. And, they last longer, given a little care and occasional resoling.

Summits take a while to break in; just wear 'em a couple of hours a day for a week or so. Very comfortable after a few miles.
I like gel type insoles with a bit more instep than the originals; just trace and cut using originals as templates
Regarding fit, I normally wear a 9 1/2 wide, and find the Summits to be true to this (and pretty much the same as the Alico Tahoe - another fine boot). There is sufficient room in the toebox for insoles and thick hiking socks

Also suggest that you pick up a few pairs of traditional round hiking laces (60"), as the originals are sorta slippery. Obenauf's HD leather protector will keep your boots pretty much waterproof, yet they will still breathe.

There you have it - the Summit is a genuine, high quality old school hiking boot at a great price

Verified Buyer

Reviewed by Nate from Northern Utah on Friday, December 9, 2016

I have hiked in all sorts of conditions and in several different styles and brands of boots, and these are the first ones that were perfect right out of the box. I went on a six hour hike without even breaking them in and I had some happy feet at the end where all other boots have caused me to have sore or blistered feet.

Reviewed by Zack from WA on Tuesday, December 6, 2016

Since there are too many complement. I just want to list two things which may need to improve. The first is the insole that is made of hard paper board. IMP, I think leather insole is much better for long haul. Second is the footbed, it's relatively thin, a thick one is more better.

Verified Buyer

Reviewed by Hongo Hunter from Oregon on Wednesday, November 30, 2016

These boots feel great straight out of the box and already feel broken in after a week. They look amazing as well. I applied abo-seal and they are very water resistant now. However, after a day's work landscaping in The Oregon rain my feet are damp on the evening. Still these are incredible boots and extremely well made.