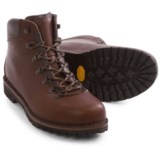 Closeouts These beautiful Alico Tahoe hiking boots are true classics. These boots are made of top quality, full-grain leather and are crafted by a small factory of artisans located in the Italian Dolomites.
Average Rating based on
581
reviews
4.533562
0
5
Verified Buyer

Reviewed by Hal Smith from Bowling Green, KY on Tuesday, July 19, 2016

Such a great I bought a second pair.

Verified Buyer

Reviewed by Kevin from Kenttucky on Saturday, July 9, 2016

These are fantastic boots. The construction quality with the Norwegian Welt makes the boots built to last. The leather quality is also pristine. This does add some stiffness at first. but you gotta keep using to break them in and conform to your foot. Should be the last pair og hiking boots I ever buy.

Verified Buyer

Reviewed by LOL from Maui on Wednesday, July 6, 2016

I just used the shoes, once, on a 3 hours mountain hike in Hawaii. They are great: light, not too hot, true to size (no blisters or pain), not too stiff, felt sturdy. The sole isn.t very thick (which contributes to the light weight), and, I will buy some insoles. Great shoes all around.

Verified Buyer

Reviewed by Musiccitybill from Nashville on Wednesday, July 6, 2016

These are great boots. Still in the break-in, but so far they are working well. Replaced insoles with my usual orange SuperFeet but the OEM insoles were more comfortable than expected. Wish these boots were taller. I should have gotten one model up the food chain, which has 3 sets of speed laces and are 5.5" versus 6.5". It's not that these aren't great boots. Could have sent them back but in a time crunch.

Verified Buyer

Reviewed by Farmer Giles from Virginia on Tuesday, July 5, 2016

These hiking boots were exactly what I was looking for. I first tried them about 3 or 4 months ago. In fact, I tried two different pairs at that time, but although the boots looked well made, they just didn't fit well. Both pairs had a distinct ridge under the insole of the boot which was very uncomfortable. Recently, when STP had a nice price reduction on these, I tried again. Third time's a charm. These fit very well, the insole is smooth. Great boots.

Reviewed by Brisket from Texas on Thursday, June 30, 2016

After having experiences sole separation issues with a several high priced boots I decided years ago to go back to Goodyear & Norwegian welt boots and have never looked back. Sometimes old tech is better than new tech. I have both the Alico Summit and the Alico Tahoe to my rotation and have found both to represent a tremendous value in quality hiking boots.

The Tahoe boots have logged more miles as they are more suited to my more frequent day hikes on rocky trails but when packing a load I would generally opt for the Summit boots. To make them work best for me I first treated the leather uppers with Obenauf's LP. Next I tossed the insoles replacing the insoles with ones from Superfeet that provide more comfort & support and then replaced the laces with Kevlar laces that are stronger and glide through the eyelets more easily.

I find the Alico boots to run more true to US size than many other Euro boots that I typically need to go up a half size with. The Dri-Lex moisture wicking liner while not as plush and sexy as the leather lining on the Summit boots does as good a job in managing the results of the Texas heat as anything else that is surrounded by a full grain leather upper. The absence of a Gore-Tex or similar waterproof membrane helps greatly in this area. Rubber outsoles always involve a compromise between grip and wear resistance and I have always found these Vibram Roccia soles to serve my needs very well.

While not the most comfortable or supportive day hiking boots I have worn the ones that come to mind that are noticeably better than these cost 2x-3x more.

Verified Buyer

Reviewed by Ken from Ohio on Thursday, June 30, 2016

Excellent boot, stitching and leather way beyond what I expected. Ordered 10 1/2 which is my normal boot size, fit was spot on. Really like the Tahoe lighter version of the summit, I soaked the boots with Obenaufs lp and day 2 could wear 8 hours no problem. NO GORTEX = no hot feet at 90 degrees. Will be soon ordering another set of Tahoe or maybe heavier summits

Reviewed by Hal Smith from Bowling Green, KY on Wednesday, June 22, 2016

I just received my Alico Tahoe hiking boots from Sierra Trading Post and they are beautiful and seem to be very well constructed.

I bought these boots after having a discussion with an orthopedic surgeon friend about trying to heal my relapsing plantar fasciitis which causes me considerable nausea inducing pain and anguish. He suggested I look into finding a well made old school Norwegian welt stitched sole hiking boot which will conform to my feet as they break in. I started my research about a month ago, and examined boots from my local outdoor sporting goods store, read every review I could find. I looked at everything from Danner, Limmer, Vasque, Zamberlan and even a few obscure brands that were way out of my price range.

Years ago as a young photojournalist working in the mid-west, before my damaged feet started taking their toll on my recreational activities I wore a pair of Vasque Sundowners until they literally rotted off my feet after roughly 12-years of daily use and two resoles. Those boots were comfortable and well made unlike the newest version which seemed flimsy and poorly constructed. Since then I've tried a succession boots from various manufacturers: Asolo, Merrell and Danner. The last being the military version of Danner's Crater Rim which I found extremely uncomfortable.

The Tahoe for the price was too good to pass up, and I'm glad I didn't. The boots are as comfortable out of the box as my old Sundowners, the leather is thick and supportive yet supple. Though these boots are not leather lined the fabric lining used seems to keep my dogs dry. I'm a bit worried about the thin outsoles, but these boots can be resoled at my local shoe repair shop with a thicker Vibram sole when that time comes. Right now my new Alico Tahoes are a bit stiff, but they will break in given time and care.

I'm very pleased with quality of my new boots, and hope to get many years of service from them.

Verified Buyer

Reviewed by tlsharb from New Hampshire on Wednesday, June 1, 2016

Let's face it, buying boots online is a little spooky. But when you deal with STP, it is always good, even if you have to do an exchange. The Alico Tahoes showed up last week, and wow, these are the real deal. I'm just tired of replacing boots every couple years-- these look like they will last a very long time. The leather is gorgeous, the stitching superb, and the fit seems very good. I usually vary between a 10.5-11. I got these in a 10.5 and they are just right (lots of room in the toe box and a snug fitting heal). I'm taking them up Mt. Chocorua this week, so we'll see how they do on the trail. I get a sense these might take a bit to break in, but that's OK. I'm in it for the long haul with these boots.

Reviewed by Newfman from WI on Saturday, April 16, 2016

Overall I would give them 4.5 stars. I bought these boots in Dec of 2009 after being tired of other hiking boots wearing out in a couple of years and then having to throw them out. They are very well made and do an excellent job of protecting your feet and have good ankle support. Right now the middle lugs on the front of the sole are almost worn down but I still have good grip from the outer lugs. I anticipate I will get them resoled next year. I think they are true to size since I wear a 10 D dress shoe and I bought 10 1/2 M in the boots and they fit fine with a midweight hiking sock. They do take time to break in so don't expect to buy them and go on a long hike a couple of weeks later. I wear them almost daily Nov to April to go for walks or snowshoeing and then whenever I hike during the other months. They are not waterproof but do keep out water well with treating the leather 2-3 times a year. The only time I have had them soak through is on a spring backpacking trip when I was walking through slush and puddles for 2 days. I see many boot now have Gore Tex liners to keep them waterproof but I have found that the "breathability" is all marketing hype. I have had Gore Tex and Precip raincoats and have worn them over just a base layer in the rain when it is just above freezing with a hat so the hood could be down and zipper at least halfway down and within 15-20 min I am half soaked with sweat just walking much less hiking or something more vigorous. The provided insoles are not good so you will need to replace those. I have found Sof Sole Airr insoles work well for me. The only issue I have had is the cloth liner has wore away in the heel area, although that hasn't effected the function of the boots. I just bought a pair of Alico Summit boots and they are very well made given the lining on the Summit's is leather and likely to be more durable if you can afford the extra cost you might want to consider those. There is a 1 lb difference in listed weight between the Tahoe and the Summit but I can't feel much difference. It also looks like with the 3rd lacing hook on the Summit's you will be better able to lock you foot in to keep it from sliding forward when going downhill although I haven't been able to test that yet.