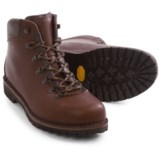 Closeouts Artisan-crafed in the Dolomite mountains of Italy, Alico's Tahoe hiking boots embrace classic leather functionality and durability. The glove leather collar and lugged Vibram® outsole will provide the dedicated outdoors enthusiast years of dependable wear.
Average Rating based on
595
reviews
4.532773
0
5
Verified Buyer

Reviewed by Garden Spirit from California on Wednesday, January 11, 2017

Really nice boots.
Very comfortable, I wore them 3 days straight right out of the box.
They are very slim and not as clunky as some of my other hiking boots.

Verified Buyer

Reviewed by Jake from Milwaukee on Sunday, January 1, 2017

After much research I settled on these boots. My last pair of boots were North Face sneaker boots that the sole fell apart on me within the year. So I decided I needed to up my boot game to something that would last and work for daily use and hiking year round. These boots appear to completely fit the bill so far.

I wear a size 12 typically, and these boots fit me perfectly. The are comfortable with just enough room to spare in the toebox to completely wiggle my toes with a pair of smartwool light hikers. They have enough room to wear a thick boot sock over that as well and not feel too cramped. Despite warnings about a long break in time these felt pretty great from the start for me. The only thing that took some time was the ankle/tongue to get a little flex. The arch support is great, but I suspect that an insert would give these the ultimate comfort. They are just fine without it, though.

As far as function, they are surprising light and do not seem to add extra fatigue to my back after all day wear. This is after wearing very light boots for daily wear and hiking, and this transition was pretty painless. They have been waterproof with just the factory treatment thus far, but I have not put them through the ringer yet. I plan to treat them with some obenauf's after they get some wear.

Overall, these are excellent boots (especially for the price). The look is great, and the quality is evident immediately after unboxing, It is refreshing to find some old school craftmanship and looks, especially with the trend of overly busy and technical aesthetics that boots are trending towards these days.

I have only had these for two weeks, but so far I have never been happier. I expect these to last a long time.

Verified Buyer

Reviewed by Steve from New Mexico on Thursday, October 20, 2016

Boots fit perfect and look really great. The break in period is turning out to be shorter than I thought it should be. Haven't been on any long hikes yet. They seem to be very well made and look great

Verified Buyer

Reviewed by ADK Hiker from NY on Monday, October 10, 2016

This is my second pair of Alicos - I already had the Summit and wanted to try the Tahoe for shorter, less challenging hikes and I am very pleased. The Tahoe is 8 oz. (each) lighter than the Summit, but still has all the support, great soles and Norwegian welt that the Summit offers. I'll see how the interior lining holds up (Summit is leather, Tahoe is fabric) with different insoles, but overall a great buy for the price.

Verified Buyer

Reviewed by redeyehawk from New Hampshire on Saturday, October 8, 2016

Well made boots, old world craftsmanship in a traditional hiking boot. I wear an 11.5, 2e in a good quality boot, mostly I have to go to a 12 2e(wide) in the more typical boots. Having read many of the comments on the Tahoe, I ordered an 11.5 w.
With a medium sock (Wigwam Volley xl) the boot fit with the included insole (which is very thin), upon replacing that insole with one half again as thick, the fit tightened a bit. I would have needed at least this thickness or more to be comfortable. Walking around the house I found the left boot to be a problem, where the boot flexed with each step, pressed downward into my toes from the middle of the boot to the outside left, pinching with every step. Had to return them, unfortunately.
After reading many comments and trying a pair, I'm thinking the brand is not a half size larger than other boots, more like a quarter, which does figure into the size one should plan on.

Verified Buyer

Reviewed by Karl from MN on Tuesday, October 4, 2016

I got a pair that's a half-size larger than usual to make room for heavy hiking socks - perfect.

Verified Buyer

Reviewed by Caseeburgie from Iowa on Friday, September 23, 2016

This is my second pair and they are fantastic! Great versatile boot!

Reviewed by Dave M from Idaho on Sunday, September 4, 2016

After always wearing Whites boots I thought I would try these boots for extensive backpack trips, but have been sorely disappointed! Usually have no problems after a proper break in and wearing liner socks etc. but I have been on three trips now and received some pretty deep blisters on both heels and last trip on my toes. Shouldn't have to load up on moleskin to go out into the wilderness. I am going back to paying 450 bucks for a pair of Whites boots. Never had blisters with Whites.

Reviewed by Anon from New Mexico on Wednesday, August 17, 2016

I don't need to repeat the other positive reviews here. These are highly rated for good reason.

That being said, there are several things you should be aware of:
1)Cheap insoles. I went ahead with a pair of Superfeet Green insoles. These boots are now more comfortable for the long haul.
2)Cheap laces. These tore after 4 months of semi-regular use. I now use 3mm paracord.
3)Waterproofing. These are suitable for wet conditions, but only if you treat them with Obenaufs or Sno Seal.

These boots aren't perfect out of the box, but with some additional effort they will become your favorite pair of footwear

Verified Buyer

Reviewed by Doug from Hawaii on Tuesday, August 16, 2016

Really well put together. Should last a long time. Yet not too heavy.