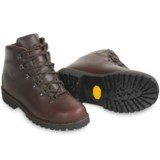 Closeouts These beautiful leather Alico Tahoe hiking boots are true classics. They are made of top quality leather and are crafted by a small factory of artisans located in the Italian Dolomites.
Average Rating based on
87
reviews
4.528735
0
5
Reviewed by lperk from Kansas on Wednesday, February 22, 2017

I've had my eye on these boots for a few months and finally took the plunge and ordered a size 8. I normally wear a 7.5 in athletic shoes and like to have some extra room for heavy socks in my hiking boots. The 8's were too big and I exchanged them for a 7.5 which fit perfect. There's plenty of room for heavy socks and foot swelling. To date I have worn them on 2 4-mile hikes and there was little to no break-in needed. The leather does squeak a little bit, but less noise each time I wear them.
I work an event where I walk 6-10 miles a day for 4 days on concrete. The Tahoe boots keep my feet comfortable and surprisingly they weren't too hot in 85 degree weather.
I'm impressed with the craftsmanship and was worried about the weight of the boots, but they do not feel heavy. There is not much cushion in the insole, as some other reviewers have said, but the sole is sturdy and therefore not much padding/cushion is needed.
I debated about using a leather softener, but based on research, decided it was best to not use any. And there is no need for it. The boots are comfortable as is.
Oh, and they look great! Many synthetic hiking shoes have wacky colors and I really wanted a classic leather hiking boot that could be worn for other occasions.
P.S. Thank you to the STP community! I posted my concern about the weight of these boots and had immediate response.

Verified Buyer

Reviewed by Holly from Bethlehem PA on Tuesday, January 17, 2017

These hiking boots are of superior quality and the fit is spot on. I have not gone on an official hike yet so I am not able to rate them in that respect. I have hiked in more flexible hikers and twisted my ankles multiple times...in the depths of the Adirondaks. I feel that these boots will stop that from happening due to the great supportive structure.

Verified Buyer

Reviewed by ADK Hiker from NY on Friday, December 30, 2016

I own a pair of Tahoe and Summit boots, and I bought the Tahoe for my hiking companion. The Tahoe is an excellent boot for the price: Norwegian welt, fantastic sole (super grip and traction), comfortable and lightweight. You will not regret your purchase.

Verified Buyer

Reviewed by David from New Zealand on Thursday, December 1, 2016

The boots are for my wife. She says she is very happy with these boots although feels a little bit of stiffness.

Verified Buyer

Reviewed by Sadie in Seattle from Washington on Monday, November 7, 2016

These boots are just what I've been looking for! Nice one-piece leather boots with stitched sole. They're sturdy, yet light-weight. Yes, it's true they have little cushioning or arch-support, but I simply put in a cushy innersole that has decent arch support. Comfortable from the gitgo. Sizing seems very good. I wear an 8 1/2 shoe and 9 boot. I ordered a 9 in these and they're just right.

Verified Buyer

Reviewed by Dabarlo from Northern New York on Wednesday, October 26, 2016

My daughter who loves to hike the Adirondacks recently had a blow-out with a older pair of boots so I surprised her on her birthday with the Tahoes. She loves them and is breaking them in wearing them to work and around town. They seem to be very well put together with high end leather,soles and craftsmanship. So far 5 stars...Fit is true to size.

Verified Buyer

Reviewed by I love skiing!! from Pennsylvania on Wednesday, October 26, 2016

Received the boots. They are truely a good looking, well made boot at a really great price point. Only problem was the toe of the right boot has a black mark on it and some scuffing. The box they came in was damaged. STP no longer has size 11 so I will most likely keep the boot and try to figure out how to get the spot off.

Verified Buyer

Reviewed by Soledad from New Mexico on Saturday, October 15, 2016

From her husband: Purchased these as a gift for my wife. These truly are great boots; construction, leather, design. They have a one-piece full-grain (thick!) leather upper, gusset tongue, and a Nrwegian welt; eyelets and lace hooks are solid, Vibram sole. I have have or had Danner, Mt. 10, Vasque, Lowe, and Meindl boots. These remind me of some the Lowe, Meindl's, and Mt. 10's, I had many years ago..construction, quality, leather, etc., sturdyness. I purchased a pair about 4 years ago to supplement my Danner's - Danner comfortable, but leather a little thin - and subsequently wore them more and more and now my primary boot. Purchased a set for my brother, too. Pro's: Excellent in every way, very affordable, runs true-to-size. Con's: Just one...this is thick leather, so break in for a few days before you hit the slopes. Tips: Small feet/big feet - 1/2 / 1 full size up for...two pair of socks! (thin liner sock, thicker wool sock), saddle soap them and use leather conditioner first 3-5 days of wear, walk about 5-10 miles in them, and they feel like old baseball gloves on your feet...very comfortable. Personally, I like them better than my Danners, my Vasque's. Great 3 season boot, handle mixed terrain with ease...COMFORTABLE!

Verified Buyer

Reviewed by quiacato from clancy, MT on Wednesday, October 12, 2016

I bought these boots for hiking in the hills/mountains around my house. For the price, they are excellent quality but not as comfortable as my Danner boots of course they are not as expensive either. As others have said these boots do not have any padding in the footbed and the sole is very flat - no arch. This is fine for my feet although I do plan on buying inserts, They do require some serious break in to be comfortable for hiking. I have been wearing them around the house and to do errands in. Overall they are well made basic hiking boots that should last for many many years.

Reviewed by emmief from Rochester, NY on Monday, September 19, 2016

The Alico Tahoe is a beautifully built classic hiking boot. Out of the box, I loved the look of these boots and really wanted to like them but they did not work for me. As others have noted, they are stiffer and heavier than most and there is almost no arch support (which could be fixed with a good insole). The real deal breaker however was they cut into the front of my shin with each step. No break-in period would fix that. If you are a taller person you might love these boots but if, like me you are petite with short legs, probably not. Sadly I had to return them. Great boots however for the right person.