Alico Wind River Hiking Boots - Leather (For Men)
Item #6289V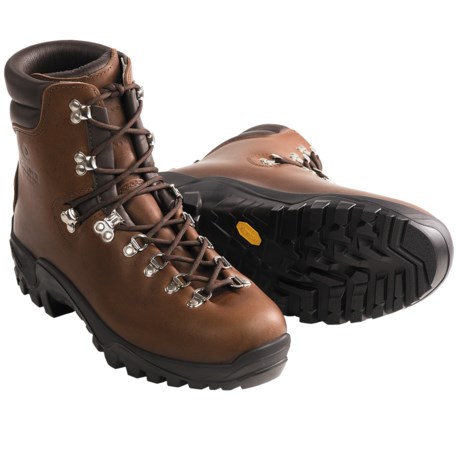 Overview
About Alico Wind River Hiking Boots - Leather (For Men)
Closeouts. Alico Wind River hiking boots are handcrafted in Italy for terrain that's as rugged as their namesake Wyoming mountain range. The one-piece, full-grain leather upper and a leather lining makes this time-tested design a reliable performer, year after year.
One-piece, full-grain leather upper
Napa leather collar and tongue lining
Leather lining
Reinforced heel with leather overlay
Rust-resistant nickel D-rings and lace hooks
Nylon shank for support
Removable insole
Stiff, lugged Vibram® Zebru rubber outsole is crampon compatible and features high-profile sidewalls for traction and stability
Made in Italy
Specs
Specs about Alico Wind River Hiking Boots - Leather (For Men)
Waterproof (All)
Waterproof materials: Waterproof materials and construction
Gusseted tongue
Upper: Leather
Lining: Leather
Removable insole
Midsole: Ethylene-vinyl acetate (EVA)
Outsole: Vibram® rubber lugged
Height: 6"
Heel height: 1-1/2"
Weight (pair): 3 lb. 14 oz.
Made in Italy
Reviews
Do you own this product? Write a review and help others with their buying decisions!
Write a review
4.714285
5
Overall Rating: 4.7
Based on

14

reviews
Most Helpful 5-Star Review
Reviewed by Todd the Trail Guy from Bozeman, Montana on Tuesday, September 15, 2015
I just purchased a pair of Alico Ultra and a pair of the Alico Wind River hiking boots to do a side by side comparison in the woods.
I ordered both in size 10.5. My street shoe is a 9.5. I like the extra room for a heavy wool sock, added insole and inevitable shrinking of the leather over time.
...
Read More
Your search for "" returned reviews for Alico-Wind-River-Hiking-Boots-Leather-For-Men
Verified Buyer

Reviewed by sampete from washington on Wednesday, August 10, 2016

a huge relief to get hiking boots that actually fit instead of Chinese junk

Verified Buyer

Reviewed by Balletblacksmith from Connecticut on Thursday, June 30, 2016

These boots are built well, heavy and sturdy. Provide great support while carrying a heavy pack. Feel similar to my la sportivas. Perfect boot for heavy hiking.

Reviewed by Nev Gill from Centerville OH on Tuesday, June 28, 2016

I replaced a pair of well worn Merrell Perimeters with these. I have always been impressed with Italian leather but thought that they were too expensive to own. I saw this pair and I liked the clean construction, very few stitch borders to allow water, moisture and cold intrusion. I have not been dissapointed. I broke these in for about a month before leaving on a 14 day trip to China that included Tibet. These boots made the grade in style and substance. Even without Gore-Tex lining the aniline leather controls moisture well. The tongue is attached to the body so nothing leaks in. The leather was initially stiff, to be expected in a quality leather and it is slowly getting supple in the areas that count. Use an application of Mink Oil regularly. Ankle support is excellent and with heavy hiking socks I found the fit about right. All in all a [...] good shoe for a decent price.

Verified Buyer

Reviewed by Starkhola, RC Momma from California on Tuesday, February 2, 2016

I am a female and I bought these for me to wear because I have really very wide feet. I am not a long distance hiker per se but I have been going with my son trekking through the mountains while he has fun in his remote control car club. We go up and down lots of rocky mountains and over limbs and I wanted something that secured my ankles and was thick because we go in summer and I wanted something to protect me from snakes too! (I am serious) I wore these for the first time over weekend and I loved them. They felt really solid and secure both on me and on the ground. I think I am going to be very happy. I would have given them 5 stars but they are a tad bulky.

Reviewed by Todd the Trail Guy from Bozeman, Montana on Tuesday, September 15, 2015

I just purchased a pair of Alico Ultra and a pair of the Alico Wind River hiking boots to do a side by side comparison in the woods.
I ordered both in size 10.5. My street shoe is a 9.5. I like the extra room for a heavy wool sock, added insole and inevitable shrinking of the leather over time.

Out of the box visual comparison:
1. Both models are similar in size and weight, except the Ultra is slightly shorter at the top of the boot cuff on the back. It curves downward about 1" lower than the Wind River.
2. Tread pattern is different but both feel like a similar sticky type rubber with good, deep traction. I like the taller wrap-around rubber rand to protect the leather on the Ultra.
3. The Ultra has black eyelets and their smooth inner shape would minimize the wear on the shoe laces. The Wind River eyelets are more of the traditional loop with sharper edges.
4. The Ultra leather feels slightly thinner and the boot flexes forward and side to side easier when hiking. This could be the thickness of the leather, the shape of the boot, the stiffness of the sole, or combination of the three. In any case, this results in a slight increase in comfort and easier break-in with the Ultra, but slightly less ankle support.
5. The height of and the padding in the tongue of the Ultra is less than the Wind River, but adequate and I had no issues with pain or rubbing. The Wind River has a two piece tongue with the inner one being padded and the outer layer just a protective piece of leather.
6. Side ankle padding in the Ultra is less than the Wind River as well. This may contribute to the slightly less side to side stability, less resistance to a side impact, and could result in slightly colder feet under cold weather conditions. I think it would have a minimal effect however.
7. The inner boot lining of the Ultra is a cloth material with a waterproof membrane beneath. The Wind River has a full leather lining with no membrane.
8. The Ultra does not have the groove for a crampon attachment as does the Wind River.
9. The insoles are the same in both models and are of average thickness. I plan to add an extra insole

On the foot comparisons:
1. Both felt of similar weight and volume within the boot.
2. The Ultra flexed forward and side to side easier than the Wind River. Slightly less support, but will be more comfortable hiking uphill with the forward ankle flex. The Wind River will give you a slight advantage during side-hilling with the stiffer feel of the leather and increased ankle padding.
3. The smoothness of the Ultra eyelets allow the shoe laces to slide much easier and pulling the laces was much quicker and pressure spread evenly throughout. The Wind River took more time and effort to lace up with tightening at each level of eyelets.
4. The overall feel of both boots was wonderful. The Wind River does feel stiffer and more supportive throughout but not significantly.
5. Size feels similar to other boot models I've purchased. I have moderately wide feet but the medium width fits fine and will stretch out after the first hike as well if it's a little tight.

In the field comparisons:
First, I will explain that I am a Trails Design Engineer and spend almost every day in the woods locating and surveying trail locations throughout southwest Montana. I am also an avid hunter and outdoor recreationalist, so a majority of my hiking is off trail and side-hilling in heavy timber, rocks, deadfall, talus, etc. Adequate boots are my life, so I take them seriously and have numerous pair for different situations and a number of back up pair as well.
So to truly compare the difference between the two models, I wore a new, out-of-the-box Ultra on the left foot and a Wind River on the right for 9 hours of non-stop hiking in the mountains at 9000' elevation yesterday.
I was hiking in open grassy meadows, willow and alder brush, heavy timber with significant deadfall to crawl over, and side-hilling in talus and rocky soils.
I added an additional insole under the stock one, that was of about the same thickness. This definitely felt more comfortable and cushioned.
I wore a pair of Smartwool heavy cushion trekking socks.

1. The most noticeable difference when hiking is the easier forward flex of the Ultra. Especially going uphill. It was extremely comfortable right out of the box. The Wind River did not flex forward quite as easily but was not uncomfortable at all in my opinion. If comfort out of the box is your number one concern, go with the Ultra.
2. The side to side stiffness of the Wind River made side-hilling slightly easier and safer as my ankle did not roll and the edge of the boot dug into the hillside better. The ultra still has good support and functioned adequately, just not quite as well as the Wind River in that situation.
3. The Ultra's rubber rand around the boot definitely protected the leather better than the Wind River. At the end of the day, the toe of the Wind River was scuffed up significantly while almost nothing noticeable on the Ultra toe box. I certainly like that feature on the Ultra, but I doubt I would wear out or through the heavy leather toe box of the Wind River within a few years of use either. So functionally maybe not a big deal as long as you kept the Wind River leather treated or waterproofed regularly.
4. I walked on a number of logs and climbed on some rock ledges to try to compare the traction of the soles. I was unable to tell a difference at all and both worked very well in all conditions.
5. I was in wet conditions for only the last few minutes, so I will not compare waterproofness of the boots. However, both are full leather and with regular waterproofing, should perform similarly and shed water quite well. The added waterproof membrane may help a bit on the Ultra, but I doubt one would notice if both boots are waterproofed as well.

Bottom line... I had no issues with either boot and both were pain free and worked wonderfully through an entire day of strenuous hiking right out of the box. I had no blisters or hot spots at all. I was quite impressed and very satisfied with my purchase. These two boot models are so similar in performance, that I am having a hard time deciding which I like better.

I think I will choose the Ultra for the rubber rand around the boot and the slightest increase in comfort out of the box.
I will add any significant updates if something changes after a couple months of use.

P.S. Some people will certainly disagree with this, but every boot I purchase is a full size larger than my street shoe. This allows for a cushioned hiking sock, an added or thicker insole, and shrinking of the leather boot. Additionally, I never cinch a boot up very tight. With a cushioned sock and larger boot, my foot can move around just a bit without rubbing and creating hot spots and blisters. Just my opinion of course... Enjoy the hike! Todd Orr. todd@skybladeknives.com

Question & Answer
It is not specifically listed, but it feels as though it is.

We do not currently have this item in wide width. We suggest signing up for the My Updates as the best way to monitor incoming products. You will receive email notifications of our newest stock items.

I don't have the Backcountry but have this boot and found it to fit true to size. I also have the North Cape Wellies and think their sizing is pretty consistent (definitely a different fit with the Wellingtons but overall consistency is there). Hope this helps.

The wind river boot fit my feet in length. Perfect amount of room for me in the toe box. It was the tongue and gusset that did not fit over the top of my foot correctly. The gusset would not fold into the boot leaving a large lump on top of my feet which caused much pain. In addition to the pain the boots caused, because of the tongue, the boot looked bad. It was very obvious they were ill fitting on my feet.

I ordered the same size in the backcountry as I did in the wind river boot. The shape of the toe box in the backcountry boots did not fit my feet correctly. My middle toe and my big toe were ok in the boots, but the next three toes in each boot hit the side of the toe box as well as the end of the boot. In other words, there was too much curve on the outside edge of the toe box of each boot. I put them on, laced them up, stood up and that is as far as I went. Walking in them would have been wasted effort.

I returned both pair of boots. I liked the way the boots were made and I wanted to be able to wear them, but they just did not fit my feet.

Yes, they are Anfibio leather

R and M width are the same size.

To Greg: R and M are the same width? That seems improbable, can you explain further?
About Alico
Nestled within the Italian Alps, the Dolomites are known for jagged peaks and deep crevasses that have challenged climbers for centuries. Alico boots are crafted by artisans who have perfected their craft in this awe-inspiring region. This rugged terrain has inspired a rugged line of boots designed for trekking, cross country skiing and telemarking. Alico hiking boots are made from oil-tanned, water resistant leather with moisture-wicking linings and state-of-the-art comfort. Alico ski boots for Nordic touring are equally robust and well-crafted. Whether your outdoor sport takes you to the highest alpine peaks or snow-covered forest trails, Italian-made Alico boots are sure to provide the superior stability, support and traction you need to go the distance.