Terramar

Sizes

Special sizes (Big-Tall)

Gender

Base layer weight

Sleeves

Features

Style

Sock weight

Sock height

Colors

Reviews

Events

Prices

Popular Terramar Products

Search Within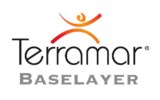 About

the

Terramar

Brand
The individuals behind Terramar clothing understand that spending time outdoors is a great way to have fun and get exercise. Of course, the weather isn't always ideal. To help outdoor enthusiasts stay comfortable in a wider range of conditions, this brand has spent decades perfecting the science of layering systems. Crafted using advanced fabrics, Terramar base layers, shirts and underwear provide excellent thermal regulation and moisture-managing performance, whether you're carving up the slopes, snowshoeing, hiking, climbing or cycling. Plus, when the mercury drops, Terramar long underwear is available in multiple warmth ratings, so you can find the right layer for almost any activity.
Verified Buyer

Reviewed by Shelby from Los Angeles on Friday, December 9, 2016

I own another pair of silk bottom layers from Terramar (the name of the pant wore off or I would list it) which fit great, size small. These sportssilk are extremely tight. I actually had to check the label to make sure I didn't buy xs or xxs. Weird that their sizing is not universal.

Reviewed by Dylan from Michigan on Friday, December 9, 2016

I've had this sweater for about a year now and, for <$30, it's a steal. That's why it gets 4 stars. It's warm, cozy, and light, I love how stretchy it is, and so far has held up pretty well (no holes, etc). However I have a few issues with it as well (which I guess should be expected with such a good deal).
-It pilled up like crazy after only wash/drying it a few times. It says that tumble dry low heat is ok, but that's definitely not true. It still functions fine, but is no longer "nice looking," which is a bummer, because I like my technical wear to be able to pull double duty.
-It's not fitted - I tend to size between medium and large. The medium's shoulders (& neck, when zipped up) were way too tight, but the large is pretty baggy in the arms and waist. As something that functions as either a light midlayer or heavy baselayer, I would expect it to be significantly more tapered in its fit.
-The thumbholes are weirdly rotated to the inside of the sleeves, instead of the front.


Verified Buyer

Reviewed by MariposaGirl from New York on Friday, December 9, 2016

Too thin! Not at all what we were expecting! Returned.
Receive email updates for new Terramar items