Timbuk2

Colors

Events

Prices

Search Within
Originally created in 1989 by a San Francisco bike messenger named Rob Honeycutt, the Timbuk2 messenger bag is still an iconic example of entrepreneurial spirit and innovation. Easily recognized by the rugged, stylish design, Timbuk2 bags were initially made to order in Honeycutt's basement before the company opened its first shop three years later. Timbuk2's signature three-panel, tri-color design and "Build Your Own Bag" order form first debuted in 1994 and remain extremely popular today. After more than two decades, this brand still constantly evaluates its products for performance, durabil
... Learn more about Timbuk2
ity and environmental impact, ensuring that all Timbuk2 messenger bags, backpacks, laptop bags and accessories are held to the highest possible quality standards. ... Less
About the Timbuk2 Brand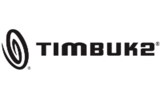 Regular $17.95
Compare at $29.00
Closeouts
Verified Buyer

Reviewed by luvsplants from Idaho on Sunday, September 25, 2016

I fly on small commuter planes that don't have space in the overhead compartment for standard-sized carry-on luggage. This convertible backpack is just the right size to stow easily. It has enough space for my travel essentials, but it doesn't allow me to over-pack--which keeps the backpack light and easy to carry.

Verified Buyer

Reviewed by Red from Colorado on Monday, August 29, 2016

I got the grey/yellow bag. I got this bag for work because a backpack is too "casual" and I don't want my handbag shredded. It is sturdy, roomy and durable. I like the colors. I don't like the bulky buckles on the front, but it isn't supposed to be all elegance. It is supposed to be a good bang around bag.
The pockets are good. I can put my work keys on the loooong key leash and unlock the store door without unleashing them which is very handy for me. Definitely recommend.

Verified Buyer

Reviewed by Bill H from South Florida on Monday, August 29, 2016

I'm a long-time lover of Timbuk2 products. In this case I wanted the smallest possible bag that would hold my laptop with some other wares. In searching on the Timbuk2.com site it said I needed a medium for my XPS 13. As such, I picked the medium in this awesome bag (great material and design, btw, hope it comes back). It works, but unless the small is much more tiny, I feel the medium was a bit overkill. Still happy with my bag.
Receive email updates for new Timbuk2 items