Tin Haul

Sizes

Style

Gender

Sleeves

Colors

Reviews

Prices

Popular Tin Haul Products

Search Within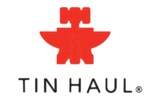 About

the

Tin Haul

Brand
Founded in 2008, Tin Haul western clothing is taking the industry by storm with a fantastic selection of cowboy boots, shirts, jeans and hats that are anything but standard-issue duds. Tin Haul is well-known for crafting slightly edgy, totally fun-loving western apparel for people who aren't afraid to "wear their metal," and Tin Haul boots can frequently be spotted at rodeo events, country and western shows and anywhere people are cutting loose and having fun. Check out Tin Haul shirts, boots and jeans, and add some rockin' country attitude to your wardrobe.
Compare at $44.00
Closeouts
Compare at $38.00
Closeouts
Verified Buyer

Reviewed by ranchhand from ND on Saturday, January 14, 2017

This shirt fit true to size.

Verified Buyer

Reviewed by cmt from Central Illinois on Monday, December 12, 2016

Fits well, very nice

Verified Buyer

Reviewed by STP buyer from California on Friday, November 18, 2016

I bought the large as I usually wear a size 12/14. The arms were tight and at least 10 inches too long. The body of the shirt was wide enough for two people -- seriously! It was so short you couldn't even let it drape. Granted, I bought this for almost nothing - but that is what is was worth: Nothing. It went straight in the Goodwill bag as it wasn't worth my time to return it. I bought the dark colored version also. It had the same ridiculous sizing.
Receive email updates for new Tin Haul items