allen allen

Sizes

Style

Sleeves

Gender

Colors

Reviews

Events

Prices

Made in USA

Search Within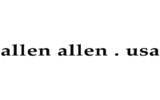 About

the

allen allen

Brand
For thirty years, allen allen clothing has been helping people feel good about what they're wearing -- because what they're wearing just feels right. Taking inspiration from the beautiful Southern California landscape and easygoing West Coast culture, allen allen USA has established a reputation for gorgeous colors, luxurious fabrics and modern looks. To ensure the best possible fit and long-lasting comfort, every roll of fabric used to craft allen allen pants, shirts, dresses and skirts is shrink-tested to safeguard quality and offer customers an absolutely superb fit. Many products from allen allen are also proudly manufactured in the USA.
Compare at $88.00
Closeouts
Regular $29.99
Compare at $68.00
Overstock
Regular $29.95
Compare at $78.00
Overstock
Reviewed by ebevie from Oregon on Friday, November 25, 2016

The sweater is light and long. If it buttoned down the front it would look really great, showing its nice vertical lines. However, no closures so it always hangs open, not quite as classy. It runs pretty close to size. I wear a 4, bought the small which is a 4-6 and it's a bit large, but no so much that I'll exchange for the XS.

Verified Buyer

Reviewed by anphant from Washington on Friday, October 21, 2016

Fits nicely in the upper part of the sweater. No itchiness in the cotton knit and the neck is comfortably roomy but not overly so. My arms are short and the sleeves are a little long for me but I can cuff them a little more than usual. That's the good part. I ordered the Med/Lge. The knit is loose and stretchy and over my hips but instead of draping, the knit tighten at the very end of the ribbing making it wanting to cuff under. It doesn't just fall into place as the top does. It's not difficult though to arrange so it's acceptable.

Verified Buyer

Reviewed by funkymama from New England on Monday, August 22, 2016

Finally! Closer-fitting sweatshirts are apparently a thing at the moment, so it's been harder to find a decent roomy one. This is it! The fabric is nice, substantial and soft. The fit is super-easy without looking like a shapeless balloon. Sleeves are nice and long. And the tie-dye cloud print gives it enough interest to still feel presentable.
Receive email updates for new allen allen items