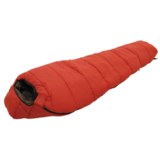 Closeouts. Stay warm through chilly backcountry nights in the Echo Lake sleeping bag from ALPS Mountaineering, comfort rated to 20°F thanks to cozy polyester fiber batting insulation.
Average Rating based on
110
reviews
4.063636
0
5
Reviewed by Wizzer from Colorado on Wednesday, August 17, 2016

Good Value / Great price (got it for under $30 with all the additional sale discounts). This is a decent 20 degree bag for car camping, primitive cabin, or even in a pop-up camper. Note the product is not excessively large or heavy but it is not for backpacking (the 3lb 12oz item weight should've been your first hint..... a 20 degree backpacker should weigh 2lb 8oz or less, be of compressible material like down or primaloft, and cost around $150 to $200). This bag is also for people under 6 feet tall, if you are pushing that limit you may want to opt for a different bag. I bought this bag primarily for my 5ft 0in middle school child to take on a class field trip into the Colorado mountains for a few nights. This sleeper does have a draft tube along the inside part of the zipper but there is no tube across the chest/neck area. The inside touchable material is like the outside (not flannel). My only real issue with this bag is that there is a designed hole at the bottom of the zipper towards the feet. There is material there meant to hide it but one can stick their finger through this hole/passage from the outside of the bag to the inside..What the heck?...... I guess the spiders need to keep warm too!
Bottom line: If you need a 20 degree (this is more of a survival rating than a comfort rating) bag for wife or kids and/or male that is not too tall and it is not for backpacking, then this is a pretty good bag relative the $29.96 that I paid. I may even try to use it myself if car-camping before my next 14er instead of risking a tear in my zero-down bag. (i'm 5'11'' and I would not buy this bag for myself if I was any taller.
NOTE: You will NOT need a compression sack. It comes with a nice sack that can be used for transport or storage. This is NOT a down or down-alternative bag which must be stored loose to maintain loft and transported in a stuff sack for backpacking..

Verified Buyer

Reviewed by Josh the Canper from South Carolina on Friday, June 17, 2016

Quality products

Verified Buyer

Reviewed by David G from California on Sunday, May 22, 2016

I was looking at several other bags but did not have the opportunity to test this bag at a retailer. When the sale price came up at Sierra Trading i thought I would buy it because at that price I could always use it for car camping if it did not meet my needs for backpacking. I have not had a chance to use the bag overnight yet but I can tell you it is comparable to all of the other bags I looked at that and they were all at least $100 dollars more. It looks like a very well made bag for the money. I did buy an ALPS Cyclone Medium compression bag (It does not come with one, only a stuff sack). The sleeping bag fits nicely into the compression bag and looks like it will work for backpacking although with my 48 Liter bag I will probably externalize it.

Verified Buyer

Reviewed by Jeanne from NM from New Mexico on Sunday, May 1, 2016

Good quality

Verified Buyer

Reviewed by Sampson from Indiana on Thursday, April 7, 2016

Very comfortable sleeping bag, fits someone up to 6' tall.

Reviewed by Kayla from California on Sunday, March 20, 2016

How in the world is this bag recommended for backpacking? The volume of this bag is ridiculous for backpacking; it would take up 75% of your pack! I couldn't even fit it into a large compression sack. I'm sure this bag is fine for car camping, but don't even try it for backpacking. I ended up giving this to a friend.

Verified Buyer

Reviewed by Camper from Ohio on Monday, November 9, 2015

Good bag for the money when used with a coupon.
I am 6 feet tall 165 lbs, the bag is a snug fit for me.

Reviewed by SK from Austin on Tuesday, October 20, 2015

This bag weighs roughly 2 kilos with the included stuff sack - i.e., 4.4 pounds. The manufacturer claims 1700 gms or 3 pounds 12 ounces.

Now the weight is only one issue. The volume it occupies is too much. I had to put it in the main compartment of my backpack, and it took up the entire space. I did not use a compression bag - I tried using a small compression sack I have, but felt that would tear if I tried stuffing this in.

In comparison the Suisse Sport bag, although seems to be less sturdy and there have been complaints about the zip breaking off, is much lighter, and packs small enough with the included compression sack into the sleeping bag compartment of my backpack.

Quality wise, the bag seems well made - but this is probably a good bag for car camping.

Verified Buyer

Reviewed by Wannabe camper from SoCal on Wednesday, August 26, 2015

Haven't tried it yet outdoors! Look forward to using it in the Fall or Winter. I am 5'3" and 125 lb and it is just right for me. It may not be roomy enough for bigger people who need to move around more when they sleep. Love the rich, orange color!

Verified Buyer

Reviewed by Cdaler from CO on Monday, August 24, 2015

These were on sale so I picked up 1 for my son, liked it so much I got 2 more for the other kids. The zippers and bag is nice and heavy. Hasn't been cold enough to see if its warm to 20 deg but I bet it will be good for us.