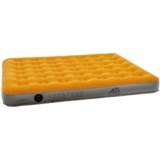 Closeouts. Who says you have an uncomfortable night's sleep when you're roughing it? Not us! ALPS Mountaineering's Queen air mattress infuses your camping trip (and the guest room in your home) with convenient, comfortable luxury.
Average Rating based on
53
reviews
3.792452
0
5
Verified Buyer

Reviewed by Alessandra from San Diego on Thursday, October 13, 2016

Bought this for camping and it worked great! Just charged the pump and it inflated the mattress easily. Very easy to use. Used it for one night and it didn't lose any air.

Reviewed by Amy from Vermont on Thursday, July 28, 2016

We traveled cross country with this air mattress last summer; it is comfortable and quick to inflate. The car charger worked well getting the pump charged between campgrounds. However, the pump only works when it has a full charge (there is no plug in and pump option) so charging the pump for a few hours before you need it is essential. And now we're ready to camp again and the pump wont hold a charge at all. I am hoping to get the pump replaced. We have purchased more air mattresses than I care to admit.

Verified Buyer

Reviewed by Maris from San Francisco on Sunday, June 12, 2016

Went on a camping road trip (different stop each night). The bed was fine for the first two nights (inflated, deflated correctly each night) - the third night it had a leak, we couldn't find the source and the bed was dead. It was comfortable while it worked, but it left us sleeping on the ground the majority of the trip.

Verified Buyer

Reviewed by Wild 1 from California on Thursday, April 28, 2016

This is such a sturdy (but not super heavy or bulky), comfy car-camping mattress that we just bought another! The first finally sprung a leak (from misuse) after three years of much use and I'm hoping to find and patch the leak. Handy cig-lighter power cord or wall plug provides recharging options when you're on the road or off the grid.

Reviewed by KC camper from Kansas City on Friday, December 25, 2015

I bought this for car camping at music festivals. Love it. The pump inflates quickly and efficiently and has plenty of power if you need to top off after a few nights out (temperature changes can make any air mattress stretch and feel slightly deflated). I fully recommend it.

You should know that you need to charge the pump in advance. I advise charging it once, running it down for about 10 minutes, and recharging. Instructions seem to indicate you need to recharge every month -- but I think that only applies if you need it ready at a moment's notice.

The pump is great -- compact and powerful. Catch is that the pump won't help you fill up your buddy's air mattress. And if your pump goes dead, there's nothing else that will pump up yours. It's all proprietary stuff. But I'm convinced that with a minimal of planning, this is my very best solution for car camping.

This is too heavy for backpacking. And, as will all air matresses, there's always danger of a puncture and a leak. (It does give the usual patch kit.)

Verified Buyer

Reviewed by Tim from TX on Sunday, December 13, 2015

Pros: stronger pump with both outlet and car charger. Locking system allows for easy inflating and deflating by pump.

Cons: like many air mattresses there is little insulation so can get cold. Also there is a small amount of leakage so that you have to put air in daily to keep firm.

Verified Buyer

Reviewed by robertclimbs from los angeles on Wednesday, November 11, 2015

I am very happy with this product. The included re-chargeable air pump is very quick and can be recharged easily with either wall plug or car adapter (both included), but the pump adapter is specific to this mattress and won't work on other brands. The mattress inflates easily, although I wish it had an additional or multi-port for a manual pump (as sometimes these type of mattresses need a "top off" after the electric pump reaches its limit). The mattress material seems very durable and comfortable and I am looking forward to many very comfortable, "car camping" nights ahead. Also included are a duffle bag and a repair kit.

Verified Buyer

Reviewed by Echo's mom from Mammoth Lakes, CA on Saturday, August 29, 2015

My husband and I finally broke down and bought this mattress for a multi-day camping trip. Luckily, we didn't have to carry it in (hired packers) because it's a little heavy, but it literally saved our backs! We didn't experience much loss of pressure after 6 days out and it being new and never broken-in. The rechargeable pump lasted for us the entire trip. It was comfortable, too. What more can you ask for?

Reviewed by NHB from NH on Wednesday, July 22, 2015

Regardless of the weather conditions, this does not stay inflated overnight. Would not recommend. Unfortunately STP would not exchange/return.

Verified Buyer

Reviewed by AT Section Hiker from SC on Tuesday, June 16, 2015

Got this for guest sleep overs and possibly for SUV camping. The materials used are thicker and much more rugged than other air mattresses. I also ordered this mattresses in a twin size. The air pump has worked flawlessly!