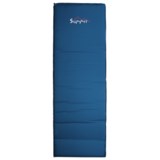 Closeouts. Enjoy many camping seasons with ALPS Mountaineering's extra large Summit sleeping pad. Self-inflating nylon pad has PVC dot bottom to keep pad from sliding while you sleep.
Average Rating based on
157
reviews
4.273885
0
5
Verified Buyer

Reviewed by Agrip from Agrip on Wednesday, January 11, 2017

Nice pad. Needs some help inflating the first time. Fits the ALPS Mountaineering Camp Cot - Extra Large.

Verified Buyer

Reviewed by Bike H from Charlotte NC on Wednesday, August 31, 2016

We got 2 of these and went on our first ever (car)camping trip. Worked really well. We followed the instructions. After receiving these from Sierra, we opened them up and let them self inflate, and then blew more air in and capped. Let it sit for 24 hrs, then loosen the caps and store in that manner. We rolled them up to take to our camping trip and then unrolled when we got there. Blew a little more air in before securing the caps. Slept great. In fact I deflated mine a little bit in the middle of the night because I made it just a bit too firm for my taste. Looking forward to using them again for our next camping trip.

Reviewed by Otto from Washington, DC on Sunday, August 21, 2016

This pad looks solid but once inflated it had uneven lumpy bubbles where the cover was separating from the core material, right out of the box. STP's return policy made everything right but it would be frustrating, useless purchase otherwise.

Verified Buyer

Reviewed by Andy the Explorer from Seattle on Thursday, August 11, 2016

So, I bought 3 of this for our family and very happy with the performance.
It self inflates and keeps me warm and comfortable when sleeping in the tent.
However after 2 usages, one of them shows sign of internal breakage.
The air chamber inside hold air pock seems to be busted and start swelling like a balloon when air was in.
However, Sierra Trading Post had a great customer service which replaced it at no cost for me.
Thank you STP!

Reviewed by Mika from NJ on Monday, June 27, 2016

This is the one! You can blow it more to make it firm. So comfortable and keep all the moisture out. Bye bye air mattress.

Verified Buyer

Reviewed by lea swims from ontario on Tuesday, January 12, 2016

t.hey are large, great guest beds and car camping.....most people will love them, personally i don't like foam in my sleeping pad, wish i did cause they are so wide at 30"..... i have purchased 3 so far for family and they do love them

Verified Buyer

Reviewed by Woodman 1 from Catskills, New York on Monday, January 11, 2016

They call it self-inflating, and it does, sort of. There's foam that stretches out by itself, and then you blow in air to finish it off.

Verified Buyer

Reviewed by josh from Wisconsin on Saturday, November 28, 2015

They are big, cumfy, and two of them are the size of a queen bed. That being said Less then two months both of the pads I order delaminated. Just imagine a price of wood fired pizza with a giant air bubble in it that's what these looked like. They got returned and so did the third one we had on order. We will opt for somthing more rugged.

Reviewed by Shelby from Maine on Sunday, August 9, 2015

First, I have a severe back injury and because of that almost wrapped up my camping days. No air mattress on the market would handle my back issues especially after a day of camping type work. This thing, well, it has saved my camping days! It is so comfortable, wide enough to sleep on my side, long enough to have my feet on with the rest of me, and thick enough to sleep on top of tree roots, rocks, or holes in the ground under the tent. I loved it so much that I thought I would love another product even better so I bought a fancier more expensive competetors pad - supposed self-inflating with the same dimensions. Not only is the more expensive one slow to inflate but you also have to bring a stupid pump to make the [...] thing fill up with air. And, I like this one much more. Having the small slope of the pillow adds just enough to take the pressure off my spine. Basically, this Summit pad is a dream.

The only thing I don't like about it is that the material doesn't grip a sleeping bag well and therefore it is slippery. My solution to this works perfectly: I have a very thin fleece sleeping bag which I unzip and put over my Summit pad, as if the fleece bag were a fitted sheet. I then open my bag but keep just the bottom of it zipped and lay directly on the fleece with my feet in my bag but the rest of my bag is open like a comforter. It's THE BEST camping sleep situation I have ever experienced. I spend about 4 weeks in total each summer camping remote sights in Northern Maine with this sleeping arrangement. I even take all of this with me to water access only sites. Some say they would never take this hiking - I would. I would rather not bring any clothes than sleep on a mat that hurt my back! Anyway, I cannot say enough good about this thing. I love it!

Verified Buyer

Reviewed by Julie, Camper/Cyclist from South Dakota on Saturday, May 16, 2015

This pad inflates easily and is very comfortable. I love the extra room! The nonslip surface is especially appreciated as I was constantly slipping off my old Thermarest pad. This is not a backpacking pad, but it is perfect for my long bike tours. It makes sleeping on the ground after a long day of pedaling a piece of cake.