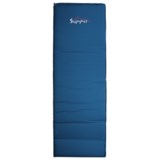 Closeouts. Enjoy many camping seasons with this ALPS Mountaineering Summit sleeping pad. Self-inflating nylon pad has PVC dot bottom to keep pad from sliding while you sleep.
Average Rating based on
207
reviews
4.164251
0
5
Verified Buyer

Reviewed by Sue of Kalamazoo from Michigan on Thursday, June 22, 2017

I bought this sleeping pad to lie out and sunbathe; it works well to provide comfort in the breast area while lying on one's stomach. It does need a dozen breaths blown into it to start with (per another reviewer), which is not a big deal. I throw a towel over it, add a pillow and can actually fall asleep on it.

Verified Buyer

Reviewed by Mel from Wisconsin on Monday, June 19, 2017

I'm more than happy with the ALPS Mountaineering Summit Sleeping Pad. I've always had the Thermarest and hesitated at first because of the price... seemed too inexpensive and I was concerned about the quality. I am very happy! Slept on it camping this past weekend and had no issues. Worked perfectly! Will most likely be purchasing another!

Verified Buyer

Reviewed by RunningToBliss from Santa Fe, NM on Saturday, May 20, 2017

Took this on a backpacking trip into the Grand Canyon and it was very comfortable. The reviews that say you do have to use a bit of breath to fully expand it are correct; I had to give it about 12 puffs and then screw the stopper closed, so not a huge amount of effort. Very comfortable - had great rest in spite of rocky ground on Horseshoe Mesa the first night. Second night was on sand in the Cottonwood Creek area below Horseshoe Mesa. I strapped it to the bottom of my pack for the hikes in/out (in the provided stuff bag) and had no problems with branch snags etc., although I'd think twice about doing the same in denser brush.

Verified Buyer

Reviewed by Birdergirl from North Carolina on Tuesday, May 9, 2017

Had Thermarests all my camping life but when I needed to update, I bought alps summit. I like it better and even bought a second one. I've only had it a short time but am thoroughly pleased. Great self-inflation, thick but not too heavy. Also good value for cost.

Verified Buyer

Reviewed by RedEyedMama from Bay Area, CA on Thursday, March 23, 2017

My last mat purchase was in the early 90's (short thermarest) and that little one has been great. But my daughter is now claiming that one and I wanted a bigger one anyway. This one is great. It partially self inflates and then I blow to fill it up tight. Holds well. I think the key to keeping these mats forever, is to store open, not rolled. Luckily I have an attic but even an under bed will work. This is in small print on instructions, but it is the key to keeping a long time. Just roll for the camping trip.

Reviewed by Trav from Virginia on Thursday, January 12, 2017

Used it about 8 times, then the inner bladder started separating from the outer liner. Resulted in one big air bubble that continues to enlarge, thereby making the entire sleeping pad unusable.

Verified Buyer

Reviewed by Lynn from Connecticut on Tuesday, September 20, 2016

My 20 year old self inflating sleeping pad has served me well and is still going strong. I purchased this new pad for my boyfriend and now I think I'll use this one and give him my old one. It's just as compact as mine and inflates to a nice thickness but the "no-slip" side is key. I don't think that feature was available when I got mine.

Verified Buyer

Reviewed by Just hiked NMI from Michigan on Tuesday, September 13, 2016

Ready to pack and use. One inch of padding isn't much. Should've known.

Verified Buyer

Reviewed by The New Backpacker from Montana on Tuesday, August 2, 2016

First I thought it was 'self inflating' as the title implies so the first night I just unscrewed the cap and waited for it to fill and screwed it close when it stopped making noise... well its not self inflating, you actually have to blow air into it. I had a bad first nights sleep on the ground but I blew it up the second night and it was like sleeping on clouds! Awesome product :)

Reviewed by Camper John doe from WNC on Wednesday, July 27, 2016

Used once and upon next time going to blow it up it was already done for, wouldn't hold an oz of air and was already separating. I couldn't be more disappointed.