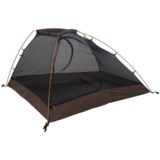 Closeouts. The improved design of the Zenith 2 AL tent by ALPS Mountaineering offers maximum weather protection and more headroom for sitting up during a downpour.
Average Rating based on
184
reviews
4.288043
0
5
Verified Buyer

Reviewed by Diana Prince from California on Thursday, September 8, 2016

Just got back from first trip with this tent and I will be buying another for my son. We were out in the Eastern Sierra and it held up very very well in an overnight wind storm that gusted hard enough to make it difficult to stand up straight. Night time lows in the 30's and I had very little condensation/ice inside my tent compared to everyone else. It is quite roomy. I had head room to spare when sitting up and ample space to stretch out, though I am 5'5"so I don't require a lot of height. It's totally comfortable for 2 average sized people. And the double doors mean no crawling over your tent mate! The tent was REALLY easy to set up. After the third setup I was getting it up in under 2 minutes and once set up in the dark almost as quickly.
Downside: It is on the heavy side, but then again it doesn't claim to be lightweight. When I had taken out extra stakes, etc. The bag, tent, fly, poles and 5 stakes weighed 4.9lbs. Also it does not come with a footprint and I ended up re-purposing an old tarp which added another few ounces. But for the money - I'm not complaining.

Verified Buyer

Reviewed by eowens from Colorado Springs on Tuesday, August 30, 2016

This tent was easy and fast to set up, i was elk hunting at 13,000 ft and got to my site in the Hail/Snow/Rain and had it up in 1 minute 30 seconds. It retain heat good and is very spacious for this 6'3 220 lbs man and 80 pounds of gear. This tent makes you want to bring more comfort items to enjoy the outdoors.

Reviewed by TTF from USA on Saturday, August 20, 2016

The tent is decent enough but is fully one pound heavier than stated. It is 5 lbs 8 ozs. I just weighed it.

Reviewed by SplashingB from Ca on Friday, August 19, 2016

This tent is NOT 4 lbs. 8 oz as it says. It is at least a pound more, around 5 lbs. plus 8 to 10 oz. Too heavy for this backpacker. And it really is a bit small for 2 people. Maybe fine for 1 plus gear. I returned it. It was easy to put up, I'll say that. It also came with 15 tent stakes. I didn't stake it out or even put the rain fly on, but that seems like an awful lot of tent stakes to carry around.

Verified Buyer

Reviewed by Corn the Dog from Michigan on Tuesday, August 16, 2016

This tent is bigger than I thought it would be! Plenty of room to be comfortable, I can sit up and everything, but still lightweight. I'm just the occasional backpacker/camper so I didn't need anything too hard core. This is perfect for me and my needs.

Reviewed by T. Whitlock from Oregon on Friday, July 29, 2016

I really like this tent. I know there are others that are even lighter, but I really appreciate each person having their own door and gear area. When you sit inside it, it feels as large as the rain fly with the ample vestibules but as snug as the mesh tent. Space to sit up for both people is awesome. The vestibules are big enough for my pack + two pairs of shoes, plus there is room at my feet for another item or to bring the pack or shoes inside when needed.

I haven't been out in the rain much in this yet, but I did notice that being careful about the orientation of the tent being mindful of where rain was going to go is an issue.

Verified Buyer

Reviewed by bill from folsom on Friday, July 29, 2016

most of the weight is in the fly. makes a great bug tent without the fly. :-)

Verified Buyer

Reviewed by George from White Mountains on Tuesday, July 5, 2016

Easy to set up, just roomy enough for a 6'4'' person and his partner, roomy vestibules, cool design, but it leaked in the rain. Heavy rain caused water to come through the zippers. This was remedied by putting our rain coats on the inner tent under the zippers. There was also slight spray coming through towards our heads, but I'm not sure where that was coming from and it wasn't a big issue. We woke up dry so we will not be returning the tent. It did it's job with a little help from us.

Verified Buyer

Reviewed by knitting hiker from Oregon on Tuesday, June 14, 2016

This tent had all the qualities I was looking for - a relatively lightweight two person tent. However, on its maiden voyage it rained, and water pooled in the triangular flat top and leaked into the tent. This is a non-starter for me and the tent unfortunately needs to be returned.

Reviewed by Sunshine in Menasha from Menasha, WI on Monday, June 13, 2016

I bought this tent a couple of years ago and thought I'd toss up a review. Not mechanically inclined and not a particularly rugged outdoors chick, this tent kinda makes me want to go camping when I initially had no interest. I Initially purchased it with the intent of putting it up on the roof of my house (which is obviously flat, lol). I needed a freestanding tent that didn't require staking, and this worked great. No sagging, and the rain fly fits great. It is so easy to put up, even for me, that I've added some more gear and I'm ready to venture further out into the world. I was really surprised that it stayed completely dry inside during a very hard and sustained rain, so yay. And I will be car camping, so I am unconcerned with the weight. All in all, for the $$ I don't think you could do better! Really nice tent!