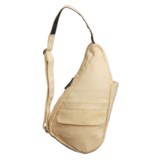 Closeouts. Toss in your planner, keys and other daily staples and set off with the comfortable style of AmeriBag®'s extra-small Healthy Back Bag® in tow. Ergonomic design reduces stress on your shoulders, neck and back by contouring to your body's natural shape and redistributing weight through the length of your back.
Average Rating based on
132
reviews
4.704545
0
5
Verified Buyer

Reviewed by ILA THE OCEAN LOVER from VIRGINIA on Tuesday, November 18, 2014

This is my third Ameribag!
I LOVE these bags and have used them for at least the last 10 years. Perfect size and compartments to keep your stuff organized! I love the green poly suede, it is my second of this color!
Love, love , love this bag!! Get one and you'll be hooked!!

Sheila C Richmond, Virginia

Verified Buyer

Reviewed by Dar from New York on Thursday, November 13, 2014

loved the bag I got not the color, olive, not my thing, I will in the future keep my eyes open for a good deal for the same bag, just a different color!

Verified Buyer

Reviewed by Lucky Linda from Oregon on Saturday, October 18, 2014

I have used a variety of AmeriBags for many, many years. They are so easy on your back, no matter how full they are, and are great for travel, as a result. This bag is a lovely nuetral colo r(goes with all other colors) and the fabric is a marvelously interesting texture. And as with all their bags, it is set up for the most disorganized persons to become organized.

Verified Buyer

Reviewed by Big Ds Bees from N.W. Pennsylvania on Thursday, April 17, 2014

This is the third Ameribag that I have owned, testifying to the fact that I really like the design and functionality. However, this particular bag was listed as extra small. I already have an extra small and this is much bigger. In fact it is the same size as the other "small" that I own. Also, the color is described as olive green, but I don't know that I've ever seen an olive quite this color. Avocado green might be a better description. On a different note, I have found the material from which this bag is made to be very durable and washable (wonderful feature - wash it in a mesh bag in the washing machine and air dry it).

Reviewed by Alice from Chicago on Monday, March 31, 2014

This style of bag is very comfortable to carry and for an extra-small style it is very roomy. It holds my husbands items along with mine and there is plenty of room to spare.

Reviewed by LoisB from Maine on Thursday, March 20, 2014

Love the color, love the style, love the functionality.

Reviewed by KA from Santa Cruz on Sunday, January 19, 2014

I have been using this bag exclusively for maybe 6 months or more now and it still looks new. The size is just right to fit most things I need on a daily basis, including a water bottle, but not a sketchbook. I was concerned about it looking dirty or dingy, but I am amazed at how clean it still looks. I don't baby it or worry about it at all. I set it on the ground and throw it around on a daily basis and it still looks like the day I bought it. My daughter even got a large mark from a ballpoint pen on it and it came out using Resolve carpet cleaner with no lingering effects at all. You would never know it was there. I was nervous getting the microfiber, but there was no need to be.
The color is really nic ein person as well... more like avocado than olive or khaki.


Reviewed by Berkshires Biker from Boston on Wednesday, December 4, 2013

My wife was doubtful, but she is wearing this bag to work everyday. Very attractive, and you can't beat the price

Reviewed by careful shopper from Iowa on Tuesday, September 10, 2013

I am wanting to buy non-leather quality purses and shoes (to promote non-cruelty) and this purse is great, looks like suede but is manmade, and is just the right size for carrying all I need in an ergonomic way.

Verified Buyer

Reviewed by Travel junkie from Hampton, NH on Tuesday, January 29, 2013

Once upon a time my children wanted to give me a Healthy Back bag. I declined the thoughtful offer. But then Sierra Trading Post offered the bag at a price I found irresisible, and I discovered that the bag really did provide the solution to the toting of a bag without discomfort. I was hooked and I now have and use 7 of these bags in several sizes. They are so versatile, especilly when traveling.