Andrea Jovine

Sizes

Style

Sleeves

Gender

Length

Colors

Reviews

Prices

Search Within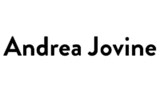 About

the

Andrea Jovine

Brand
Inspired by her artistic father and mother, Andrea Jovine cultivated an interest in fashion at an early age and spent countless Sundays creating her own patterns and sewing on the dining room table. Shortly after graduating from the Fashion Institute of Technology in New York, Andrea launched her own apparel label in 1983, which has since expanded into several distinctive clothing collections, including AJ Andrea Jovine, Core, Weekend and Workshop. From dresses and skirts to shirts and sweaters, Andrea Jovine clothing is equal parts modern, comfortable, elegant and inventive.
Compare at $219.00
Closeouts
Compare at $88.00
Closeouts
Compare at $48.00
Closeouts
Verified Buyer

Reviewed by Winter Wild from Colorado on Monday, November 21, 2016

Feminine and flattering. Comfortable for throwing on in cooler temperatures. My wife loves the natural fabric and feel. Looks great if she wears it out or perfect for being comfortable around the house.
Sweater would be better if had pockets and a couple of buttons.

Verified Buyer

Reviewed by DuluthAnn from Minnesota on Tuesday, November 8, 2016

While the cashmere on this sweater is very soft, the fit is very, very odd and unflattering. The front is quite short, which is shown in the image, but what isn't shown is that it's pieced on in such a way that it sits on the sides of your hips awkwardly, sticking out in an ugly way. The arms are also very, very tight, making it nearly impossible to wear with anything but a tank top underneath.

Verified Buyer

Reviewed by Angoraagogo from Santa Fe, NM on Monday, October 17, 2016

This is a nice, medium weight fabric. Heavy enough not to let undergarments show through, light enough to wear under a sweater or jacket. I have two dings against it. First, there is no button on the collar, which I miss aesthetically, even if I don't often button it. Second, the buttons down the back end a little high, and the shirt can be breezy at the waist. I am long waisted, so this may not be an issue for others. I am a size 10 and the size Large shirt is a good fit on me.
Receive email updates for new Andrea Jovine items