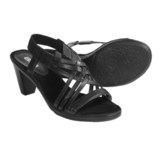 Closeouts. A beguiling array of thin, criss-crossing straps gives Ara's Rosso sandals a graceful demeanor that looks smashing with career or after-five wear.
For more than 50 years, Ara footwear has caught the fancies of discriminating comfort-driven shoppers
An exclusive European brand known for its modern classic styling, exceptional quality and foot-friendly fit
Soft leather upper with elasticized leather heel strap
Cushioned suede-lined footbed
Non-slip rubber outsole
Stacked heel: 3"
Medium width
Made in China
Average Rating based on
33
reviews
4.121212
0
5
Verified Buyer

Reviewed by Marcia from Brookfield wi on Tuesday, November 10, 2015

Gorgeous and comfortable! I have plantar fasciitis & I didn't think I could wear a great looking shoe like this. Terrific price too. Not my first pair of shoes from Sierra. I have bought 25+.
I love Sierra trading!

Verified Buyer

Reviewed by Northwest mama from Vancouver WA on Wednesday, November 4, 2015

Surprisingly comfortable for such a sexy beautiful pair of sandal. I have wide feet, and usually wear 6.5. Since 6.5 was not available, I gambled on size 6.0, and the gamble paid off. Love these sandals.

Reviewed by Momof3ontherun from illlinois on Friday, April 17, 2015

I ordered these in the metallic color and I really wanted to love them. I ended up returning, however, for a few reasons:
1) the color is a little strange - kind of somewhere between gold and silver
2) they weren't as comfortable as I'd hoped they'd be
3) although they do have a considerable heel, the style looks like it's meant for an older person - like something my mother might wear

Overall, I think these might be great shoes for some people, and the color might actually turn out to be pretty versatile, but they weren't what I hoped they'd be for me.

Verified Buyer

Reviewed by Zeuscat from Connecticut on Thursday, December 11, 2014

Nice quality, love the color, kind of between gold and silver. But they are too wide so my foot felt insecure in them, slid down off the front end. probably good if you have a wide foot.

Verified Buyer

Reviewed by Road Walker from Marin County, CA on Tuesday, September 30, 2014

I couldn't make these work for me, so I returned them

Verified Buyer

Reviewed by harmelsr from Iowa on Thursday, June 12, 2014

I really like this shoe. My foot does slide forward a bit, but nothing I can't handle. I have a wide foot, so I would expect this to be more of a problem with someone with a narrower foot. Other than that, I love them! So comfortable!


Verified Buyer

Reviewed by Alex from South Fl on Thursday, April 24, 2014

So I bought these sandals for my girlfriend a while ago and we were out one night and she was wearing them and commented how much she loved them and how comfortable they were and how much she would love a pair in black so back to Sierra to purchase another pair in black. The price is good, the comfort great and they are very nice looking. Win Win.

Reviewed by ISki2 from Colorado on Sunday, February 2, 2014

I really like these sandals!

I will agree that your foot slips forward in these sandals, however it's not the back strap that's the problem.

I have normal shaped feet (even though they are small), I purchased a size 5. So, I know it's not that I have an unusual shaped foot.

Yes, I agree the back strap looks short in the picture and also in real life. However, the strap is very stretchy, and is NOT the problem.

I believe there are 2 things causing the forward slippage: 1) the front strap is a little too wide, which doesn't completely hold your foot in place, and 2) the oval company logo under your heal is made of slick black leather.

I will purchase some anti slip pads (heal and under the ball of of my foot) and these sandals will be perfect.

Even though these sandals were not perfect out of the box, the problem can be easily fixed, and I'm glad a bought them,



Reviewed by Sunshine Maui from Forestville on Monday, July 15, 2013

Ara is a good brand and this is a great price. I found them comfortable from day one and had no problem with the heel strap as some others reported. Ran true to size (I am a 9 but sometimes need to buy a 9 1/2). I bought the silver, I think they are a good neutral color (not too shiny) and they are somewhere between casual and dressy. I like them!

Reviewed by NataliesMom from Princeton, NJ on Wednesday, July 10, 2013

I got the black leather ones. However, the back straps are too short (you can see it from the side view in the picture) and the other straps are tight also. I have boney feet and they barely fit. But I'm keeping them because they look great and I think some anti-slip insert will help.