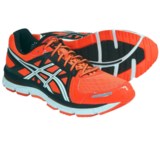 Closeouts. Conquer the track or the matrix of the streets of your neighborhood in the high performance of Asics' GEL-Neo33 running shoes. These lightweight shoes provide mild stability, a wider, less-restrictive toe box and full-length GEL® cushioning.
Average Rating based on
37
reviews
4.567567
0
5
Verified Buyer

Reviewed by The Swede from Masshole on Thursday, October 23, 2014

These shoes are not true to size as stated ordered a 10 and they fit perfect. The shoes have great cushioning and roll very well. I would recommend them to a friend! The neon orange is a little bright though, but you cannot beat the price!!!

Verified Buyer

Reviewed by Grammie from Massachusetts on Tuesday, September 9, 2014

Good looking and comfortable.

Verified Buyer

Reviewed by Dogman from Northern California on Thursday, August 28, 2014

Great shoes at a good price! Very comfortable with good support. Follow advise to order up in size and you will be happy!

Verified Buyer

Reviewed by Dobra from Everett,WA on Tuesday, July 29, 2014

I purchased these for my husband. I originally ordered a 10 as that is his normal size, and have proved to be so with Sierra shoes. The 10 was extremely tight overall and too short in the toe. I reordered in a 10.5 and they are perfect. He loves these shoes and would recommend them to others. Just be aware that you might have to go up 1/2 size. He says they are very comfortable and the GEL feels great on his woefully flat feet.

Verified Buyer

Reviewed by Dobra from Washington on Wednesday, July 23, 2014

I purchased these for my husband. I originally ordered a size 10 as that is the size he has always worn, and tens from Sierra have always fit him. I had to send them back for a 10.5 as they were short in the toe and extremely tight overall. The 10.5 fit perfectly and he is very happy with the shoes. Great quality shoes.

Verified Buyer

Reviewed by Trails Guy from South Dakota on Tuesday, July 22, 2014

I bought a pair of these shoes for my grandson last spring. He loves them, says are the most comfortable ever, but is growing out of them over the summer. So have bought another pair (a size and a half bigger!) so he's ready for the new school year.

Verified Buyer

Reviewed by John from Ohio on Tuesday, July 15, 2014

Run true to size. Great support and cushioning. Just got my second pair.

Verified Buyer

Reviewed by avidjogger from illinois on Thursday, June 26, 2014

Did not like the shoe, on the contrary to what I had read, it had very little arch support and very little sole. I could feel the ground on my feet.
I am returning the shoes.

Verified Buyer

Reviewed by JoséR from Costa Rica on Wednesday, June 11, 2014

I needed good and inexpensive running shoes so after doing quick research online; ASICS consistently came highly recommended.
I came across these; they looked great and the price was exactly what I was willing to spend.

Verified Buyer

Reviewed by Great Hat from California on Sunday, June 1, 2014

Wore the shoes in the house for a couple of days to make sure the fit was right. Wore them to work and back, thought I had made a big mistake. My feet and lower legs ached.. Two days later, I wore them again, not sure what happened but these turned out to be one of the most comfortable pair of shoes ever. Perhaps, it took time for the insoles to mold to my feet. I will definitely buy Asics GEL again. These will be going with me on a trip to Brazil.

Verified Buyer

Reviewed by NC HIKER from North Carolina on Thursday, May 29, 2014

I purchased these for daily runs that include lots of pavement. The cushioning is great. The shoes were a bit more narrow than other brands. Loosing the laces a bit more was needed.

Verified Buyer

Reviewed by Gasguy from Seattle on Wednesday, May 14, 2014

Shoes are true to size and are very comfortable. We ordered the Orange and they are very neon bright.

Verified Buyer

Reviewed by Lee Lefton from Santa Fe, NM on Thursday, April 17, 2014

I've never bought shoes online before as I'm very difficult to fit. These fit perfectly right out of the box and cost me 1/3 of what I normally pay retail.

Verified Buyer

Reviewed by 54over14 from Western Slolpe of Colorado on Wednesday, April 16, 2014

So I am new to running but I find these shoes very comfortable for my typical short distance runs, usually around 2-3 miles. I'm generally running about 3 or 4 times a week, and found that breaking these in was pretty much done in that first week of running...or right out of the box. True to size, I find the toe box to be roomy, and the support to be spot on for my slightly under pronating gait.

Reviewed by old grizzled veteran from Florida on Monday, March 3, 2014

As advertised, these are very light and seem to have good support. I walk more than run, so not sure how much support for hard running. As with most Asics I have purchased, these are a little narrow for me, but snug is comfortable (ordered 9 medium).

Reviewed by Kiwi from Madison, WI on Wednesday, February 19, 2014

I bought these for my boyfriend. Unfortunately, they were too narrow and I had to send them back. He was sad because they are really nice looking shoes.

Reviewed by Linda from RI on Tuesday, February 4, 2014

these sneakers are very comfortable, but do not provide the support of other Asics that I have owned

Reviewed by Part Timer from illinois on Wednesday, December 11, 2013

Happy with this shoes.

Reviewed by GM the outdoorsman from Coastal Massachusetts on Sunday, November 17, 2013

I've owned numerous pairs of Asics running shoes and have purchased all of them through STP. While I wasn't as enthused about the style of this particular pair, it was a very good deal. However, as is the case with all the Asics I've purchased, the sizing runs very small. I take a size 12 shoe and have previously bought size 13 Asics. That size was not available in this model, so I tried a 12.5. They were too small and unfortunately, I had to return them. I did like the style and feel, although the tongue is funky.

Reviewed by Irene from Brookfield on Tuesday, November 5, 2013

I bought a pair for my son who ran on the cross country team this fall. After they took a pounding six days a week for four months, they started to split a little on the sides, but he liked them so much, I bought him a second pair.

Reviewed by Duck hunter from Memphis on Tuesday, November 5, 2013

Great pair of shoes for long runs. I bought these to train for a half marathon. This is my second pair. My first lasted over a year.

FIt true to size

Reviewed by rodg1 from Florida on Friday, November 1, 2013

Male 6'1" 205lb
Got the shoes and went running right away, they fit perfect, there's ample toe space and at the same time the foot feels held together and supported.
I have 2 other brands of running shoes: NB and Nike Air and like the story of the 3 bears, the NB are too firm and can hurt the foot in long runs, the Nike Air are soft but you don't feel a lot of support. Never had a pair of Asics before. They have the perfect balance of comfort and support.

Reviewed by CRD from NC on Wednesday, October 16, 2013

I am now officially NOT an Asics fan. This shoe claimed to be for neutral foots, but it had NO arch support. It also felt cheap to me. Maybe that is the norm for shoes today, but I like more cushioning and support.

Reviewed by Popping Blood Blisters from Indiana on Friday, September 27, 2013

After looking all over the internet for the perfect running shoes I came across these at Sierra Trading Post. I have an obsession with orange so they were a no-brainer. Considering the price, I feel like I stole these. Great fit, perfect feel. Enough flex mid sole, but not too much. Great cushioning. I run 5k's. 35 years old, 6' and around 195. Far from a professional runners body... These give me great support and I feel great after running 3-5 miles in them. Best running shoes I've ever owned.

Reviewed by Yankintheswamp from Louisiana on Tuesday, September 10, 2013

Comfortable, great stability. Light-weight, good arch support, all around excellent shoe.

Reviewed by Luke from Pittsburgh on Tuesday, September 10, 2013

I bought my first pair of GEL-Neos a year ago, as I transitioned from the Brooks Beast, for stability and arch support, to a more basic (more minimalist) shoe. Despite flat feet and years of running in a high motion control, etc. shoe, I quickly fostered a new allegiance to the GEL-Neo.

It is a solid, basic, yet attractive shoe that provides ample cushion without restricting your feet and encasing them in TOO much cushion or control. Great for high weekly mileage, though after about 500 miles, the toe rubber wore out.

Reviewed by ETN Hiker from East Tennessee on Thursday, September 5, 2013

Comfy

Reviewed by P from NY on Thursday, September 5, 2013

true to size

Reviewed by Mike J.M. from Ohio on Wednesday, July 3, 2013

What else can I say? Gel soles are the best. Am happy to have purchased these at a discounted price.

Reviewed by Poingdexter from Dayton, OH on Sunday, June 23, 2013

I have been buying the Asics Gel-Cumulus 12, running shoe for years. Since it is no longer available, and my brick-and-mortar running store has closed. I purchased these totally on customer feedback.

I put them on and was disappointed, they felt nothing like the the Cumulus soft pillow that makes ya wanna run. Initially, they felt hard, almost like a dress shoe!

And then I started to run, wow, these shoe seamed to transform. It was like I had a totally different shoe on my feet, all the support I as hoping for and more. These are not a walking show, they are a running shoe. Would buy again... if still in stock.