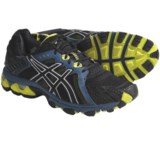 Closeouts. Hit the trails like a pro in Asics' GEL-Trail Sensor 5 trail running shoes, made with Rearfoot GEL® Cushioning and an Impact Guidance System to help control pronation and optimize your gait.
Average Rating based on
42
reviews
4.357142
0
5
Reviewed by Stevo from KS on Tuesday, April 22, 2014

These have been incredible shoes. I don't run...I walk my dogs several miles. The arch support is perfect IMO on these for walking if that's what you're lookings to use them for. These are extremely durable shoes. They took me many, many miles and I just wish they had some more in size 12. Kind of ugly but who cares if they feel this good. If they have your size buy them!

Reviewed by BigJon from Marietta on Saturday, March 22, 2014

Vietnam does not know how to make running shoes. As soon as I saw Vietnam on the box I knew there was a good chance I was going to be disappointed - and I am. All my other Asics have been made in China, and fit my foot perfectly. When I put these shoes on the heel and toe box fit right but there is there is (improperly cut) loose material in between. All my other Asics between the heel and forefoot follow the contour of my foot, narrowing just a bit to follow the arch and then flaring back at the toe box. These are as straight as can be, as if designed for flat feet. Also there's a lot of mesh on the shoe (good) but the inside liner material does not breathe ( bad). My feet felt warm within the first couple of miles. They are super cushy, but beyond that I wish I hadn't waited until I really needed shoes to order - because I would have sent them back. One other review mentioned feeling constricted on the toes, and the right shoe felt a little snugger that the left to begin with but luckily that loosened up.

Reviewed by Yadmit from Byron, Michigan on Saturday, February 15, 2014

As always... Perfect fitt

Reviewed by jon from Florida on Wednesday, December 4, 2013

Great shoe. Very, very comfortable on the trail. A little slick on wet pavement though.

Reviewed by Steve from Watervliet on Tuesday, November 26, 2013

I bought these for some hiking I'm planning on doing next summer but I took them out this morning for a run in a fresh inch of snow and they gripped pretty well. They're pretty much standard Asics running shoes with a beefier sole.

Reviewed by actual trail runner from California on Wednesday, August 21, 2013

I have semi-wide feet, and I can attest that these shoes are comfortable, top-notch trail runners. I laugh when I read some of the negative reviews. How sensitive are some of you Princess's feet?

Reviewed by T from Limehouse, canada on Sunday, July 14, 2013

Great cushioning...good fit...awesome traction.


Reviewed by Steve-A from San Jose, CA on Thursday, July 4, 2013

These are the sixth pair of ASICS shoes I have purchased in the past ten years or so. Four of these ASICS were the Gel Kahana 2, 3 and 4. Thanks to the great closeout offer from Sierra, plus an extra 35% discount on these Gel-Trail Sensor 5 shoes, I was able to step up to the upper end of the ASICS line for less than half the list price.

I have worn my new Trail Sensor 5 shoes for a couple of weeks now on several hikes in our local hills and am very pleased with them. I would have preferred them without the yellow accents, but their feel and performance puts them superior to the Gel Kahana's that I have liked very much. The deeper tread on the Trail Sensor 5's is a definite plus on the dirt and gravel trails.

The previous comments about getting a half size larger is pretty true, especially if you prefer to wear a bit thicker socks like me.

Reviewed by Jpotz from Charleston,sc on Wednesday, June 19, 2013

Fit true to size not bright colored provides good support.

Reviewed by Tarheel Chemist from Texas on Saturday, June 15, 2013

I am on my second pair of Gel Nimbus for running on a treadmill and hard surfaces and love them. However, I needed something for running on dirt paths and rocky trails. I have a heel spur, so I am not up to a minimalist shoe. This led me back to Asics and the Gel Trail Sensor 5 in particular. The soles are agressive with knobs and deep grooves. Surprisingly, the soles are still very flexible due to deep grooves. They do feel slightly heavier than my Gel Nimbus, but have great cushioning. I ran 4 miles first time out with them and found them responsive, but not able to plow through loose dirt as well I hoped. Overall the soles managed well on dirt trails. One warning is that the shoes are slippery when wet on smooth surfaces, such as tile. The uppers are very sturdy and the black color should serve me well on dusty trails. The upper did not bind and was very supportive. This is a good shoe, though not perfect. It is very comfortable and well constructed.