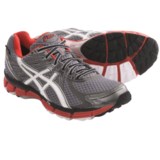 Closeouts. With adventurous good looks and a Gore-Tex® waterproof breathable membrane for fearless splashing and dashing, Asics' GT-2000 trail running shoes offer moderate cushioning and support.
Average Rating based on
6
reviews
3.833333
0
5
Reviewed by Bamagir goes to Nepal from Alabama on Wednesday, March 19, 2014

This is a great shoe. The only thing that you have to get used to is the crunching sound of the Gore-Tex when you walk.

Reviewed by Typhon62 from Chicago on Tuesday, February 25, 2014

I normally wear a 11 in the ASICS GT-1000 & GT-2000 shoes.
The GT-2000 Gore-Tex was WAY too narrow. Had to send them back.

Reviewed by Rockpick from Kentucky on Wednesday, February 12, 2014

I was looking for a nice GTX shoe and I found it here. As others have said, they're a tad snug at the set size so, if you're between sizes, order up. Width is typical (from my experience) with Asics - not exactly narrow but certainly not 'wide'. Overall, a great shoe that is packed with features.

Reviewed by terryr from connecticut on Friday, February 7, 2014

I got these primarily for golfing,and with a foot or two of snow here, haven't been on the links yet...BUT, They fit perfectly (ordered one half size larger), are quite light, medium stiff, the tread pattern looks aggressive enough for golf, and they are waterproof.
My only regret is they are a bit "loud".
Look forward to smacking my first drive of the year wearing these.

Reviewed by SJG from NYC on Thursday, February 6, 2014

I love ASICS. I've been running in GT series shoes for more than 15 years with a couple ill-advised tries with some other brands and other ASICS styles. I do most of my running now in the non-Gore-Tex GT-2000 and I love that shoe. This shoe is exactly what it says it is. It's the GT-2000 with a Gore-Tex upper and a very slightly deeper tread. So what does this mean? First, the waterproofing is good. I've worn these in snow and rain and my feet stay dry and I've been out in 15 degree days and my feet were much warmer than in a non-Gore-Tex shoe.. The trade-off is that the upper is much stiffer than the regular GT-2000. It fits OK but expect a longer break in period and some hot spots. This might have been avoided if they altered the design a bit to account for the Gore-Tex material and tongue design but they chose to stay very faithful to the GT-2000. Once you hit the road, they run the same as the GT-2000 although they are noticeably heavier. The tread is a little deeper than the GT-2000 but they didn't really do anything else to make this a trail shoe. I would say this is great if you expect to do mostly road running but want a shoe that will keep your feet dry and warm. If you're looking for a dedicated trail shoe, this might disappoint. I had a pair of Montrail Mountain Masochists that had a sole that was both softer and more protective, plus a much more compliant upper that together gave a better ground feel and grip. The GT-2000 Gore-Tex has the same plastic truss system as the non-Gore-Tex version and I'm not sure you'd want that hard slippery plastic under the mid-foot if you're doing a lot of trail running.

Overall, I'd say this is a great shoe but best if you're using it primarily for road running in cold/wet weather. Expect a break-in period but your feet will be dry and warm.

Reviewed by Me and Harpua from Chicago on Thursday, January 30, 2014

Well made, light weight, extremely breathable waterproof running shoe. I wear size 12 and ordered 12s and these are a bit snug but seem true to size for Asics. Super comfy right out of the box, but maybe not made for extreme trail running, lack toe bumper and mesh sides and upper feel could easily get snagged.