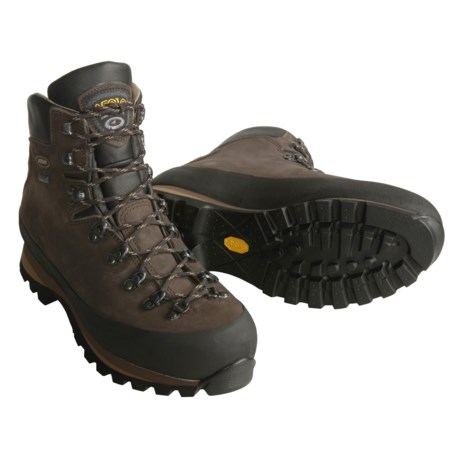 Wow what a boot
Verified Buyer
Reviewed by bodaski from Oneida Co., NY on Thursday, January 26, 2012
I had tried on a friend's pair of the Asolo TPS 520 GV, which is a very popular model. They felt great, and they are GREAT boots (as I suspect all Asolos are.) Super, super comfortable with great flex along with their great support, but the amazing price I was able to "engineer" through Sierra Trading Post compelled me to order these Sasslongs. Most of the reviews were very positive so I had to give them a fair trial, which TSP's shipping policies (and occasional FREE shipping) make especially easy. These boots lived inside for a few weeks while I "tried them on." They fit well, but still were leather clamps on my feet, not so obviously comfortable as the TPS 520 GV (admittedly already broken-in.) The Sasslongs never irritated, but they became a little uncomfortable as my feet simply lingered in them.

Then I took them outside and put them, and my feet, to work, and . . . wow.

Since snow is drastically absent so far here in the Northeast U.S., last week I just had to get out the back door for a hike rather than the usual X-C ski. The hill behind my house is 600-800 vertical ft. It's a combination of pasture, forest, and steep-sided, forested gullies with plenty of creek action, lots of loose limestone, and currently frozen, semi-frozen, and unfrozen ground (sometimes mud.)

To borrow a phrase from my kids, these boots are SICK! They are so ILL! That is to say: they are SO SWEET!

Okay, they are stiff. I think they're supposed to be. That's how I can walk diagonally across the steepest parts of the gullies on very variable and even unstable ground, with the laces less than tight, and feel totally secure. My ankles historically are far from Olympian, but the platform provided by these boots is rock-solid.
I'm sure with a good load on my back, simply tightening the laces is all I will need to maintain that great support.

On the trail or in the field, keeping the laces a little looser than when truly "booting" hill- or mountainsides was all it took to experience true comfort. The Sasslongs have a great "stride," and, even though the sole is stiff (awesome for "toeing" up a steep grade) they are surprisingly easy when walking along. They work well with socks of varying thickness, thus making them truly year-round boots. I was skeptical of some of the glowing reviews that claimed minimal break-in period, but now I've experienced it myself. These boots, though so rugged, feel so light, especially compared to similar boots I owned years ago. Boot-building quality seems to have come a long way, and Asolo seems to dwell at the top of the heap. Amazing.

My hiking so far has consisted of a few of these 3- to 5-mile round trips up and down. I put the boots through their paces and have only praise. I am sure that, when it comes to carrying a sizeable pack on rough, steep terrain, they will shine.

Be aware that all of this experimenting was done AFTER I had replaced the stock insole with a trim-to-fit Superfeet hiking insole. Also key for me was the availability of the WIDE width. It's taken many years for me to realize, with my feet which are far from beefy, that width relates to the forefoot. I look forward to a future of increased shoe comfort now that I accept that I benefit from the Wide, and these boots have helped confirm that.

I still plan to acquire, when the opportunity is right, the TPS 520 GVs. Seems like a supreme boot for trails and for covering a lot of moderate miles. I plan to use them as on-trail boots that can handle off-trail. However, in the meantime, and when it comes to no-nonsense trekking on challenging terrain, thanks to STP and their great shopping experience, I am going to greatly enjoy these "off-trail" boots that also can eat up the trail.
Arch Type: Low Arch
Best Uses: Harsh Terrain, Heavy Loads, Light Loads, Long-Distance Hiking, Wet Conditions
Describe Yourself: Casual/ Recreational
Pros: Ankle Support, Comfortable, Great Traction, No Break-in, Sturdy/Durable, Water Resistant
Sizing: Feels true to size
Was this a gift?: No
Width: Feels true to width
Similar items and more information in the following areas: