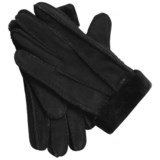 Closeouts. Auclair's classy sheepskin gloves will keep your hands warm and toasty this winter.
Average Rating based on
156
reviews
3.820512
0
5
Reviewed by bri from MA on Friday, January 29, 2016

Basically, you get what you paid for with these. I tried on a friend's shearling gloves, and loved them. I wasn't willing to pay top dollar, and settled for these. They have an overwhelming smell of mildew. I thought it might have been the leather dye, but it is a gross musty smell. Also, the shearling is not the warm cozy shearling you might be thinking of...more of a stiff hairy shearling. I would totally believe you if you said it was pig fur. Other than that, the sizing was dead on. I have a hard time finding gloves that fit, and these fit perfect. They are very, very warm, and great for a bitterly cold day/night.

Verified Buyer

Reviewed by DL from New York on Monday, January 4, 2016

These gloves are very warm and elegant! Definitely worth the price.

Verified Buyer

Reviewed by Randi from NYC on Sunday, December 27, 2015

These gloves are perfect, great fit and quality. I like the fact that the cuff can be turned up keeping the wrists warm. Shearling is thee best for keeping hands and feet toasty. Now all we need is some winter weather and I'll be all set. LOL

Verified Buyer

Reviewed by Roxanna from Pennsylvania on Thursday, October 29, 2015

I read the reviews on these and looked at all the photos. Shocking how different the shearling lining appeared color to color. I bought the caramel ones which appeared real and are. Now to see if all the seams unravel as was reported by one customer. Worth the $15 I paid, but can't comment beyond.

Verified Buyer

Reviewed by eperry from Upstate NY on Friday, April 3, 2015

I bought 3 pair of these gloves, 2 brown and one black. They are all different. The first brown pair seemed very nice, but within 1-2 wearings the stitching unraveled, so now the entire sides of both gloves and some of the fingers are split. I got a second pair of the brown and the shearling is totally different , a beautiful soft furry feel, but they arrived with one cuff not even sewed. together. The do not ask me why ,I got a black pair, they are sewn together, but the shearling is a long itchy hair type lining, the outside leather is discolored in areas, and the fingers are not sewn straight. Take your chances, but I do not think I could recommend. Problem is they were so inexpensive, not worth the shipping to return. Probably should have paid more for one well made pair of gloves. Gave two stars because if that second pair was sewn together I would have been happy.

Verified Buyer

Reviewed by Leslie from Washington, D.C. on Tuesday, March 10, 2015

Great gloves, not too bulky and very warm. Love the soft fur inside and the color is perfect, dark and rich as seen on the screen.

Verified Buyer

Reviewed by biff from Dandridge on Thursday, February 26, 2015

Warm and toasty gloves. Perfectly sized. Look and feel fabulous.

Verified Buyer

Reviewed by Wtangler wife from Southeast of Siberia on Thursday, January 29, 2015

thinner than what I anticipated, but still good gloves for the money. Keeps my hands warm while waiting at bus stop. Soft leather. Has a sheen I didn't expect but I'm ok with it

Verified Buyer

Reviewed by ninimaine from maine on Friday, January 23, 2015

These are warm enough for Maine winter, lovely to look at. But had been stored in mildewy environment, and needed cleaning and airing out when they arrived.

Reviewed by mary from bitter upstate new york on Friday, January 23, 2015

i was looking for a black pair to match my coat. These look nice and the cut is uncomfortable and roomy. i already had a brown pair of shearling mittens that were nothing special, but they are warm. these are fairly warm too. I could have kept wearing them if they were not so itchy. i wore them for 2 days back and forth to work and on the second day, i took them off, even in the cold. I could just not take how brittle the insides felt.