August Silk Reviews

Popular August Silk Products

Popular August Silk Searches
It is no accident that August Silk is named thus... for it is their luxurious silk fabrics and knits which define the major portion of this company's infinitely feminine clothing line. August Silk is involved in every conceivable facet of its silk business in China, from growing cocoons to spinning yarns to designing fashions. It is said that silk was invented when an ancient Chinese empress dropped a cocoon into her tea and it unraveled into glorious silk threads subsequently sought after by royalty all over the world. Whether or not this legend is true, it is most certainly true that silk is
... Learn more about August Silk
one of the most luxurious and lustrous fibers in the textile industry and August Silk is among its most accomplished purveyors. ... Less
About the August Silk Brand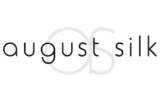 Verified Buyer

Reviewed by Hiking mom from California on Wednesday, July 20, 2016

I got this for my mother, but am thinking about getting one for me too. It will look really nice with straight leg jeans or slacks. However, it will require gentle care when washing.

Verified Buyer

Reviewed by vivbeau from Las Vegas on Tuesday, July 19, 2016

This dress is great......fits great and hangs gracefully. I like it so much I am going to order another one.

Verified Buyer

Reviewed by Southner from S Carolina on Monday, July 18, 2016

Front is sweate, back silky material. Hand washed with some pressing made it look great!! Very stylish with black or white pants and white jean jacket. I wear 12 and ordered large which hangs perfect without revealing my lumps. Back has a pleat which really adds to fit.

Verified Buyer

Reviewed by wink711 from Maine on Wednesday, July 13, 2016

Very soft and comfortable. Still shows your shape without it being snug. It has a slight little flare and comes to the knee. It can be dressed up with a cardigan or casual with a jean jacket for Fall... Great summer dress.

Verified Buyer

Reviewed by Shoppergal from Mi on Sunday, July 10, 2016

Nice lightweight sweater. The only reason I didn't give 5 stars is because the one I received had a strange seam at the back of the neck. Black threads show on the white stripe. It wasn't worth sending it back. It would not be visible if you wear the sweater with a collared shirt.

Verified Buyer

Reviewed by So. Cal. Hiker from California on Wednesday, July 6, 2016

Very pretty sweater with lovely detailing in the back. Quality material and construction and correct sizing.

Verified Buyer

Reviewed by Leslie in Lakeland from Florida on Tuesday, June 21, 2016

I love this blouse! It is knit in front and lightweight fabric in back. The white is an off- white, not quite cream. I am size 10-12 and it fits beautifully. I have a long waist and it comes over my backside just right. I am familiar with this brand and it is usually very well made. This is no exception.

Verified Buyer

Reviewed by Sailor from Easts coast on Monday, June 20, 2016

Originally purchased this top to pop on over my yoga clothes when going from home to class and back, but have found it also useful for taking along to venues where the AC is likely to be frigid.

Verified Buyer

Reviewed by Business Casual Worker B from Seattle on Saturday, June 18, 2016

Super-comfy and has a nice, different design. This will go with *everything* in the winter work wardrobe.

Verified Buyer

Reviewed by sparklepup from Pittsburgh on Saturday, June 18, 2016

This would make a cute undershirt but I would not wear on its own: for me, too slim-cut (for my less-than-buff midriff)), too low-cut (showing cleavage), too see-through (in white), and the ribbed fabric just looks like an undershirt to me. I wanted a stand-alone top so I returned.