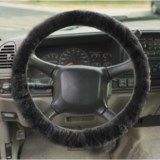 Overstock. Nothing feels quite so welcoming as the plushness of Auskin's sheepskin steering wheel cover, a delectable treat for your hands on every drive -- especially in colder months.
Average Rating based on
302
reviews
4.281456
0
5
Verified Buyer

Reviewed by Linda from San Jose on Friday, July 1, 2016

I love the wheel cover. It makes the wheel easier to grip and is never too hot. It also washes well.

Verified Buyer

Reviewed by Paralegal1999 from Long Beach, NY on Tuesday, June 7, 2016

I bought this for my mom who has cold hands in the winter. It's comfortable and fits the steering wheel of a Mercury Mariner very well. She loves it!

Verified Buyer

Reviewed by jayv from NJ on Thursday, April 7, 2016

I did think the wheel cover would be fluffier, but this one works for me.

Verified Buyer

Reviewed by WMD Mtn Mama from W MD on Thursday, February 4, 2016

I LOVE this steering wheel cover. This purchase is my 5th and all from STP. Each car I have owned in 10 years had one. I have given one to my parents. It is a very tight fit but it will fit so keep working it. It provides a warm, cushioned grip in winter, a cool cushioned grip in summer. I have chronic pain in my hands and this eases my pain for driving, especially for an extended time on the road. I appreciate the color options. I also buy the shoulder straps and wrap the steering wheel for my extra comfort. This cover is durable. Mine last 3-4 years.

Verified Buyer

Reviewed by TB from MN on Tuesday, January 19, 2016

Purchased this for my new used car. It came with heated seats which are a first for me and so very
nice in cold northern MN winters. But my hands were still cold until the car warmed up. This fit the steering wheel
great and is very soft without being bulky. Have many other sheepskin items so I know it will clean up well and last
forever. Only reason for not giving the fifth star is that I wish it would wrap around the steering wheel just a bit more.
Took a while to get used to the 'feel' of the edges while driving.

Verified Buyer

Reviewed by Rrrrr from Colorado on Saturday, November 21, 2015

If your steering wheel is on the "thick" side the cover might not cover the inner part but its good quality and great in the winter

Verified Buyer

Reviewed by Gumby from NoCo on Thursday, November 5, 2015

Yes, but will the plushness hold up? Fits very snugly - just needs some oomph to get it there. A little slick to the barehands that takes some getting used to. I think I'm going to like it over the winter my only concern is if the fur will keep its softness and not get clumpy or matted - feels good and after two weeks still pretty nice.

Reviewed by Squirrel Girl from Virginia on Wednesday, October 21, 2015

I bought one and it goes on much easier than the ones I buy at the auto shop. It still remains tight, though. Now my hands won't burn in summer, nor freeze in winter.

Verified Buyer

Reviewed by Jacob the bf from washington/utah on Monday, September 28, 2015

People compliment this thing to no end. Super soft and warm. Great for people who love life.

Verified Buyer

Reviewed by Pine Hiker from Pine, CO on Tuesday, September 1, 2015

I bought this for my previous car and loved it. So, when I got a new car, I had to get a new steering wheel cover, and this is an awesome product at a steal of a price ! I hope STP continues to offer this product, because I will definitely be purchasing it in the future. It is excellent quality, and lasts a long time.