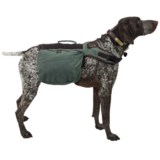 Closeouts. Perfect for hiking and backpacking adventures, Aussie Naturals' canvas dog backpack will let your canine companion share the load next time you hit the trail together.
Average Rating based on
9
reviews
3.222222
0
5
Reviewed by traci M from Colorado on Saturday, March 7, 2015

Has anyone used this on a long hair dog? I have an irish setter

Reviewed by BW from Utah on Monday, March 31, 2014

I haven't gotten out on the trail with this pack yet but it seems to be built pretty solid. The mess that other talk about is thick, if it rips I'll just sew it up. The pockets are large enough they will be useful. Can't wait for warmer weather so we can get out on the trails.

Reviewed by Whomper CPA from Northern California on Tuesday, October 29, 2013

Well made, good value for the money. We don't know if we will use our dog for packing, but good for training puppy.

Reviewed by Iva from Taos on Wednesday, September 4, 2013

During 2 days backpacking the pockets ripped off half way. The zippers open themselves during running and due to that we lost one watter bottle (which was crucial). Also the dog got his leg stuck in the open pocket and I'm thankfull it didn't happen when he was alone.

I wrote a positive review before (just after several short hikes in sagebrush area) and I'm taking it back!


Reviewed by Iva from Taos on Monday, August 12, 2013

Geee ... I was so happy about the backpack but now I'm worried to take it for our overnight backpacking. Thank you for sharing the experience.
2 stars for taking it in no-rain days.

Reviewed by Ther-a-dog.com from Arizona on Sunday, August 4, 2013

My golden wore this a couple times and the bags tore away from the material after it got wet. Definitely not recommended for hiking if has a chance of getting wet. Material is good but the construction is not meant for durability.

Reviewed by Iva from Taos on Thursday, July 25, 2013

The 'mesh' part is not really mesh, it's more like a web of yarn. I feel like this would really easily tear if it caught on something, and being that it's made for hiking, there will be many twigs, branches, etc. The mesh doesn't seem sturdy either. But, hey, the vest doesn't have to last forever, does it?
And I'm glad it does have a mash!

Sometimes the bags flap, as the dog walks. But it's OK, the vest stay in place symmetrically. Only be sure that the bottles inside are closed very tightly; otherwise the bag's bottom gets wet.

The vest is easy to put on and I so much prefer buckles to velcro!!!

I like the natural material and the color. If you need the vest to be visible - just safety-pin reflective strips on the sides. I didn't sew them on for letting the vest be versatile. I tested it (to be ready for a hunting season) and it works and looks great. It crossed my mind to write my phone number on the orange strip in case the dog got lost but above that purpose I was impressed with the look. It looks like your dog is some kind of a working dog, let's say SAR or police...

Despite those 2 negative things I mentioned above, IT'S A GREAT VEST for us !!!


Reviewed by 42hipp0 from las vegas on Saturday, July 13, 2013

a comfortable easy to use doggie backpack. my dog loves it and so do i.

Reviewed by Caitlyn from NE on Sunday, June 30, 2013

I've got this long ago in a different place. I've just noticed it on STP, so decided to write a review. The canvas is pretty good, and so are the buckles. The D-ring looks ok, although I prefer to still use the collar to clip on the leash. It'll have enough space in the pockets for a 0.5L bottle of water in each, and enough for a folded canvas bowl.

You've gotta make sure that the weight is even on both sides, otherwise it will tend to slide onto one side. I haven't figured out a good "weight" to put there for actual weight's sake. And sometimes the bags flap, as the dog walks. So for this - 4 starts.

The mesh on the top is a great plus - it really helps to keep the dog cool. And - overall, the backpack is made with minimum material, so the dog has good range of motion and stays cool.