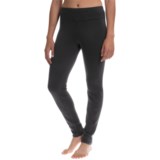 Closeouts. Wear Avalanche Wear's Mogul fleece base layer leggings under your ski pants as a warm, midweight shield against the cold, or wear them on their own on a run during a brisk day. Either way, the built-in four-way stretch and soft, moisture-wicking fabric will keep you comfortable all day long.
Average Rating based on
251
reviews
4.262948
0
5
Verified Buyer

Reviewed by Lauren the Spontaneous Adventurer from Northeast on Monday, August 22, 2016

I came upon these a few years ago prior to my trip to the ice hotel in Canada. They have become my favorite winter legging. I wear them to grocery store, taking dog for a walk in the snow, and any other errands that force me out of the warm house. They are great for active wear and lounging. So warm and comfortable. Not restrictive. Will buy a couple pairs anytime I see them!

Verified Buyer

Reviewed by Happy camper from Littleton, CO on Monday, July 18, 2016

Wore these camping to sleep in and they kept me warm in 30 degree temps at night.

Reviewed by warmforaminute from portland,or on Tuesday, June 28, 2016

These are very thick, VERY WARM, but very very thick. the waistband and waist-area cut was not very flattering, but this may have been an issue because of my petite size. These are not going to make you look sexy, but they will keep you warm. I returned them because of how unflattering they were.

Verified Buyer

Reviewed by Tiny home in hiram from Maine on Tuesday, May 31, 2016

I vary between a small and medium in leggings, so I went with medium. They were too large. I am 5'3" and 135 pounds and have average hips and Viking thighs. The small fits great. They are very comfortable, and I think they will be perfect for cross country ski treks with or without a top layer and playing games after our sojourns. I had a pair of North Face fleece lined leggings that lasted about 6 years. I hope these last as long.

Verified Buyer

Reviewed by Loulabelle the hiker from Arizona on Sunday, May 8, 2016

I have been looking for quite a while for a good medium to heavy fleece leggings for walking around ski resorts in the evening without getting my legs frozen off. These fit the bill. I have a long torso, and it is hard to find pants and leggings that fit me, but this pair did. The size small fits perfectly. I am around 106 lbs. and 5' 3" tall. It is May now, so I won't have a chance to test them for a while yet, but I can already tell that they will do the job!

Verified Buyer

Reviewed by Ana from Antioch on Wednesday, April 27, 2016

The most comfortable, smooth and shinny looks these pants are. For both the leggings and the boot cut. I bought 4 pairs, 2 of each color and type. Yes, I recommend this product. Do not buy the one from Columbia because it will not fit your butt, and you'll never stop pulling them back up. Very annoying.

Verified Buyer

Reviewed by Rainy day from Oregon on Thursday, April 14, 2016

Warm and well fitting. These are my favorites. I can ;layer them under rain pants or wear them over thin long underwear for extreme weather. They are true to size and hot around waist to keep out he cold.

Verified Buyer

Reviewed by sandy from California on Thursday, March 24, 2016

nice warm tights for the cold weather...fit is great

Verified Buyer

Reviewed by norcal mountaineer from Sierra Nevada, California on Monday, March 14, 2016

3 Pairs Ordered:
Size SMALL
Color BLACK

Size MEDIUM
Color BLACK

Size SMALL
Color CHARCOAL GREY

My Stats:
5'2
140 lb
34D or 36C/D
28.5 - 29 in inseam

I've been looking for fleece lined thermal leggings for snowshoeing, snowcamping, backpacking and hiking and thought these might be the perfect ones, but the sizing and function are a bit hit and miss.

PROS: The fabric for all three are a soft, plush and warm fleece on the inside with a smooth knit face on the outside, which makes it friction-free and easy to pull on a rain shell over the leggings.

CONS: Sizing is off. I initially ordered a MED BLACK pair, but it was way too long in the torso (3 inches above my navel and the general fit was loose, but followed my body shape. The legs were also long for me by roughly 2 inches.

So I tried again and ordered a SMALL BLACK and a SMALL CHARCOAL GREY. These two pairs are totally different in sizing. The SMALL BLACK pair were still long in the torso, and reaches 2 -3 inches above my navel. The SMALL CHARCOAL GREY pair are just right and sits at my navel. As for the length, both pairs are fine, but again the SMALL BLACK pair are an 1/4 to 1/2 inch longer, so if you are taller, with a longer torso and longer legs, the fit may work for you.

The most significant CON is that there is a seam that rubs on the sides and the top of my knees and shins when ever I bend my legs to sit down or even when walking casually around town. (The seam runs down the sides from the top of the hips, across the top of the knees and down the front of the shins to the ankles). It's a rough feeling that I never quite adapt to when the leggings are on next to skin. The fit is still slightly loose, so it's not because the leggings are too tight, but that the seam does not 'give' as the rest of the fabric does when you're moving, so it kind of cuts into you when you bend and flex the knee joint.

Since I've already washed and worn one pair (no shrinkage), I will keep it, but the others are going back. And as another reviewer commented, the fabric pills. After one day of use, I had pilling in the crotch area.



For the

Verified Buyer

Reviewed by Nancy from Wisconsin on Friday, March 4, 2016

The leggings are unbelievably comfortable, warm, awesome!!! Love 'em.