Baci Milano

Colors

Reviews

Events

Prices

Search Within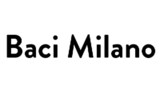 About

the

Baci Milano

Brand
Looking for the perfect harmony of aesthetics, convenience and peace of mind for your dinner table? Baci Milano break-resistant acrylic glassware may be just what you've been searching for. Available in several stunning collections and a variety of colors, Baci Milano tumblers, glasses, plates and pitchers are crafted of high-quality acrylic that is virtually indistinguishable from glass, extremely durable and dishwasher safe. Ideal for families with young children, weddings and other events, Baci Milano glasses and dinnerware allow you to set a beautiful, elegant table without worrying about the possibility of broken glass. Get the sophistication and style you demand without the concern of fragile glassware. Choose Baci Milano.
Reviewed by Claire from CA on Wednesday, December 7, 2016

This is sold in numerous locations online at a much higher price. So, I bought a glass but like I suspected, there is a less appealing affect with warm drinks and I wanted this for hot dark drinks; maybe I am just not accustomed to the material or acrylic for drink ware.

Verified Buyer

Reviewed by sandy from CT on Saturday, November 19, 2016

Don't like to use glass for the bathroom, so these are very nice

Verified Buyer

Reviewed by DeniseS from WA State on Monday, October 24, 2016

The only drawback to this glass is the tapered bottom - it seems like it could tip easily, although this hasn't happened yet. Otherwise, it's a classy-looking glass, not super-thin.
Receive email updates for new Baci Milano items