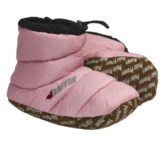 Closeouts. With an ultra-squishy footbed and a sleeping-bag-inspired insulated design, Baffin's Cush bootie slippers are like mini clouds for your feet -- yes, walking on clouds is now possible!
Average Rating based on
10
reviews
3.800000
0
5
Reviewed by nm from phila on Monday, February 10, 2014

wifey loves them. they probably wont last more than a winter or two giving the sole is just cloth with some grippy text printed on it. not expecting to be able to take the trash outside in these will make you easier to please. they are warm and comfy enough that i considered getting a pair for myself

Reviewed by SN from New York on Wednesday, December 18, 2013

These booties are great! I wear them all the time. They are super plush and comfortable. The ankle portion is a little narrow, which is great for me, but I would recommend going up a size if you have wider feet/ankles because these are narrow.

Reviewed by soCalNoMore from soCalNoMore on Friday, November 8, 2013

My foot is small and narrow, couldn't even get my foot into these slippers. Bottoms seemed slick and was fearful of slipping. Returning mainly because the fit.

Reviewed by Shoe girl from Denver on Wednesday, September 25, 2013

I ordered these to wear indoors in Northern India in the winter where there won't heat. I had to order a half-size smaller than I would like (it was all that was left) but I decided to risk it due to great sale price. They fit just fine and seem like they will be cozy and warm. Of course, I haven't tried them in India or even in winter with hear yet.

Reviewed by UrbMtngirl from Longmont, CO on Monday, May 13, 2013

I love these slippers. I wear them around the house in winter, cool weather camping, etc. and they keep my normally icy cold feet toasty warm.

Reviewed by Lil Miffed from earth on Sunday, May 12, 2013

I'm writing this review AFTER I unsubscribed from al communications so I hope this will stop it oncw and for all.

The slippers are great albeit a little tight for a womans medium, they feel like a 6 and I wear a 7. They are quite snug.
Blah, blah, blah, 4 stars.
Now PLEASE stop sending me emails.

Reviewed by sunlover from malibu on Monday, April 22, 2013

really like these, only thing I'd prefer is a more hearty sole. but not complaining. NICE!

Reviewed by celtglass from Massachusetts on Wednesday, April 10, 2013

I absolutely love these Cush Booties, and I am now on my fourth pair....getting ready to get a fifth. The are toasty warm, hold up better than down boots I have had in the past, and I wear them any time I'm home. I tend to have cold feet, so I sleep in them as well. I keep my eye on this site because these booties ffrequently go on sale, and you can't beat the price for the product ($13.00). I have checked other sites with the same bootie and they are expensive. You can't go wrong with these Cush Booties! The fit perfectly and I love them. They do feel like walking on a cloud...please keep them in stock!

Reviewed by Cinderella's fat footed step sister from Montana on Monday, March 11, 2013

I am a 7.5 so I ordered a medium which is supposed to fit 7-8, not even close. My toes hit the end uncomfortably. Unfortunately they were too cheep to return after the 5.99 return shipping so now I'm stuck with uncomfortably small slippers that I will never wear. Will never buy Baffin slippers again, they have no idea how to size footwear.

Reviewed by Nicole from California on Thursday, March 7, 2013

My feet used to run cold all the time, so i got me a pair of these bootie slippers and there's no turning back now.