Bailey Reviews

Popular Bailey Searches
George S. Bailey founded the Bailey hat company in 1922. Bailey's goal was to produce stylish hats that catered not only to the West Coast market but also provide quality hats to cowboy hat and western hat wearers as well. Bailey's unwavering dedication to luxury and quality is what defines the Bailey hat company today. From Hollywood-inspired Bailey fedoras to Bailey's western straw hats, Bailey has the headwear for you. Put on a Bailey hat to keep it classy, or prepare yourself for a scenic trail ride in a Bailey cowboy hat. Bailey offers modern styles, and Bailey also embraces classic throw
... Learn more about Bailey
backs. Whatever style of hat you choose to top your look, you'll find it in a Bailey. ... Less
About the Bailey Brand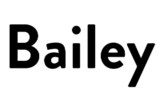 Verified Buyer

Reviewed by Tom from Paris from Texas on Tuesday, September 13, 2016

Great value,great quality! Could pay $50.00 or more for this product!

Reviewed by oper.eng. from in. on Thursday, August 25, 2016

they run a size to small my size is 7 should have ordered a 7 1/8

Verified Buyer

Reviewed by MLE in DC from DC on Friday, April 8, 2016

I wanted a stylish replacement to a Stetson to use as a rainhat. (I live in DC. Hardly any cattle to wrangle.) It's flattering and rain-repellant. If you want to femme it up, you can twist a scarf around the leather headband. It's a soft brown.

Bought the black version for my brother. He was very pleased.

Verified Buyer

Reviewed by Soricobob from The Valley of AZ on Thursday, February 18, 2016

This is a great hat, wonderful value, and arrived quickly.

Verified Buyer

Reviewed by Scott from St. Augustine, FL on Monday, February 1, 2016

Comfortable, warm. A little tall for my taste but for the price a real steal. Baileys are made in the US, another good reason to buy. Fit true to size.

Verified Buyer

Reviewed by Grandpa David from Wyoming on Thursday, January 14, 2016

She loves it! and the black color was the right pick, and "it fit like a dream" (she said).

Verified Buyer

Reviewed by Beadnik from northern NM on Wednesday, December 30, 2015

Very nice, soft hat that holds it's shape. I buy these to model the beaded hatbands I make for our co-op art gallery. Everyone loves the look and feel of the hats.

Verified Buyer

Reviewed by JB from Middle Rio Grande Valley New Mexico on Thursday, December 24, 2015

This is an attractive hat - if you like the crown style, which I do - and the chin strap is very useful when the wind blows. My XL fits comfortably, as well.

Verified Buyer

Reviewed by unc1st from sc on Thursday, December 3, 2015

I have a small head and have trouble with most hats - this was sized perfectly and is sure to help with sun protection.

Verified Buyer

Reviewed by Cwally from Wisconsin on Tuesday, September 29, 2015

Really like the looks of the hat, appears very sturdy. Only problem was the first one shipped in a soft cardboard box and was crushed. Called STP and got a replacement sent immediately which was packed appropriately.