Bear and Son Cutlery Reviews
A good knife should do two things – perform flawlessly and satisfy that little part of you that's looking for a reason to take it out. Bear and Son Cutlery follow the tradition established way back in history when Jim Bowie fashioned the knife that opened the wilderness. Bear and Son Cutlery is proud to put their name on dependable knives that outdoorsmen are proud to carry. Skilled artisans craft each knife with care, creating affordable, high quality tools that are strong, durable and ready for the field. Every step of the knife-making process, from dies to heat treatments to grinding and as
... Learn more about Bear and Son Cutlery
sembly, is performed in the Bear and Son Cutlery factory. Under the watchful eyes of the craftsmen, high carbon hollow-ground stainless steel blades become hunting knives, skinners, guthooks, and lockbacks. Damascus steel blades are worked into stag bone or mother of pearl handles for a beautiful, durable example of knifemaking artistry. When you see the name Bear and Son Cutlery on a knife, you know you're getting quality craftsmanship, field tested durability and value for your money. ... Less
About the Bear and Son Cutlery Brand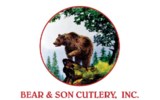 Verified Buyer

Reviewed by knife collector from Virginia on Wednesday, July 13, 2016

Pretty knife, especially the Damascus blade, however, the locking mechanism for the blade is not very good. The blade is sometimes hard to fold

Verified Buyer

Reviewed by Richard Harbert from Omaha, ne on Sunday, May 22, 2016

I bought my first Bear knife about 15 years ago from your catalog that I received in the mail. I thought the price was to high at the time but now I know I got a good deal. The quality of the product is good enough that it will last longer than me if I don't loose it. The reason I purchased a second identical to the first is my 8 year old grandson wants my Bear knife, my watch, and my flashlight when he turns 16. I'm only 70 years old and I'm not going to be without my pocket knife.

Verified Buyer

Reviewed by Jay from Iowa on Wednesday, March 16, 2016

Nice little knife for the discounted price. Does not have the fit and finish of a Case,,but good everyday carry knife. Sharp blades.

Verified Buyer

Reviewed by backpacker from Michigan on Thursday, February 11, 2016

Very nice and well made!

Verified Buyer

Reviewed by Knifeman from Kansas on Friday, January 29, 2016

Blade was dull loose and nicked. Grit and grim impeded smooth blade opening and closing.

Verified Buyer

Reviewed by Gary from Virginia on Saturday, January 9, 2016

Exactly what I wanted. Quality knife. Big enough to be useful as an adult pocket knife. Small enough for a child. Bought 3 one for me and two as my daughters' first knives. Also the wood inlays are beautiful and unique from knife to knife since they are real wood.

Reviewed by Dennis G from Arkansas on Monday, December 16, 2013

I use this as a daily carry and it is a perfect size. The Damascus steel blade is also "pretty" sharp right out of the box and the stag-bone handle is really sharp looking.

Reviewed by pj from ponte vedra beach on Monday, December 9, 2013

Excellent Product very good price

Reviewed by Blazer from Cheyenne WY on Friday, November 15, 2013

Yes, this is a small blade, but an overall quality knife. My Father used to have a "Sunday knife". This one is mine.

Reviewed by Blazer from Cheyenne WY on Tuesday, October 15, 2013

Admit it, there just isn't much made in America anymore. This knife is. That was one reason I bought two for my twin boys when they reach 16 (6 years from now). The other is, when I held it in my hands, and opened the blade, and read the history of the steel...all the more a special gift to give them on their special day. I could see why the MSRP was $140, but THANK YOU STP for the price discounts! (third and final reason for buying it).