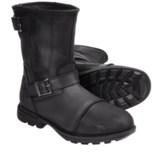 Closeouts. The ruggedly handsome and supple Crazy horse oiled leather upper of Bearpaw's McKinley II boots is accented with a raised toe seam and two buckles for added style. Plush, ultrasoft sheepskin-wool lining adds comfort and warmth.
Average Rating based on
35
reviews
4.171428
0
5
Verified Buyer

Reviewed by DR from LA on Monday, May 26, 2014

Look good, feel good, keep ya warm, great price. Tempted to get a second pair and stash 'em in the closet for a coupla years down the road when this pair wear out.

Verified Buyer

Reviewed by Gary from Huntsville on Wednesday, May 21, 2014

I bought these boots thinking that they would be perfect for my next trip to Paris. Well, initially they worked great, but after about 7 hours of wearing them the stupid sock liner started to bunch up under the arch of my foot.

I thought, what the heck!?! The sock liner should not fail especially when I am 4400 miles away from home and I pack light.

I thought, "well I guess I can glue it down"; then I said NO. The sock liner should not fail brand new out of the box.


Verified Buyer

Reviewed by Truckin' from Tennessee on Thursday, May 1, 2014

Sturdy boots, waterproof, lined, solid!

Reviewed by Nephre from Pennsylvania on Wednesday, April 2, 2014

At first I purchased a pair of these and was upset because although they fit after I struggled to get them on, I couldn't stand the effort to put them on my feet. Then I was hunting around on the web and saw the comment from someone else who'd bought these (from a different source), that you needed to by 2 sizes larger. So I decided to try again. Now I find that these boots slip on with ease and they fit (not sure how that works, but it's true). They have a great wool lining. Extremely comfortable, and as the advertizement says, "Brings out the biker in you."

Reviewed by Kurt from Central Illinois on Monday, March 31, 2014

I usually were a 11 1/2 M shoe, I ordered these in a 12 and that was a bit snug. I suggest ordering a full size larger than what you usually wear.
Very good price too.

Reviewed by Nephre from Pittsburgh on Thursday, March 27, 2014

Buy a couple sizes larger than normal. I assume for visual impact, the buckles and velcro fitting adjustments are located on the outside of the boot collar. This makes putting these on _very_ uncomfortable if they only just fit. In winter, if you wear heavy socks, you will need to buy this boot two times your normal size to make them work. I had already given up and returned these boots when I saw this advice on another site and decided to try again. After doing so, I find that the boots fit just right and for the most part just slide right on.

Reviewed by James Huntsman from Montana on Friday, March 21, 2014

I decided to try a pair of these as opposed to the military style boots I normally wear, I was pleasantly surprised to find that not only are they a durable boot, but they are unbelievably comfortable.

Reviewed by Tim from Michigan on Friday, March 21, 2014

Warm enough for long periods of snow shoveling. Stylish enough to look like shoes instead of clunky boots. Great product.

Reviewed by DaveL from PA on Tuesday, March 18, 2014

For the price these are a great buy. Shaft is fully lined. As someone else stated, there is
no really arch support, and it was easily remedied with slip ins.

Reviewed by Shuclan from Chicago on Tuesday, March 18, 2014

Not much for support just like the sockish Ugg but These are very warm, sturdy and have great treads.

Reviewed by chrisemadh from michigan on Sunday, March 16, 2014

Bought these boots for my husband and he loves them the only complaint is they rub on his leg at the top.

Reviewed by dean the concrete machine from NEPA on Monday, March 10, 2014

soles seem a little soft-havent really worn them just tries on-Dup

Reviewed by DRD from SW indiana on Thursday, February 27, 2014

The boot is well constructed yet has no arch support what so ever. I slid a pair of arch supports into the boots and that solved the problem. These boots will more than suit my needs for being in the snow- primarily shoveling and walking- suburban-urban environment.

Reviewed by Abquality51 from Massachusetts on Wednesday, February 26, 2014

I purchased a pair of Bearpaw McKinley boots and they are very comfortable. The lining feels great.

Reviewed by drlato from Madison, wi on Wednesday, February 26, 2014

Cofortable boot and good traction as well.

Reviewed by helobuff from Boston MA on Tuesday, February 25, 2014

I bought the brown which is more of a distressed brown color.. After we got them wish I had bought them in black and returned to get those. Glad I did. The black is a much better color. If the brown were just a brown it would be great but it looked ragged with the distressed thing going on with them. I recommend these boots.

Reviewed by Phoebe N from Queens, NY on Wednesday, February 19, 2014

Bought it for my husband. HE LOVES IT. He said it is soft and warm, well made, not too heavy. Perfect for this snowy, cold winter in NY.
He wears Sz 9 to 9.5 shoes. I ordered this boots in Sz 9 for him. It fits him well. It still leave enough room for wool socks.
The Velcro pops open on and off. He does not mind to buckle the top buckle. The boots are easy to slip on and off with the lower buckle closed.
The upper rims of the boots do not have any shearling. It may scratch the lower legs and cause blisters if the socks are not taller than the boots or the pants are not tucked inside the boots.
Because they are not water proof. I have water proofed it with water proof liquid wax from STP. Two layers water proof liquid wax on the whole boots and seams provided good water proofing in the snow and slush.
My husband loves the boots so much that we ordered a pair for our son in IN. Our daughter-in-law likes it and she is wearing it.
Best price we can get at STP. LOVE STP!
My husband recommended the boots.

Reviewed by Yuriy from Moscow, Russia on Saturday, February 8, 2014

Perfect boots! I like it very much, warm and cool style, true to size.

Reviewed by Mojo from Bay Area on Tuesday, January 21, 2014

These boot are nice and warm, easy to slip on and go, but as other have said but the greatest in the support. Not something I'd want to do a lot of walking in.

Reviewed by joedannyboy from Utah on Sunday, January 19, 2014

Comfortable, big and clunky, well made warm boot, not for me, sent it back, but may be nice for others.

Reviewed by joedannyboy from Utah on Friday, January 17, 2014

I like boots they were super comfortable a little different fitting but and warm. My problem is that I'm not sure when to wear these. They are comfortable but not very stylish. Not nice enough to wear to work. So if you have money to buy some comfortable snow boots that are for a casual occasion these are great.

Reviewed by Jack from Illinois on Monday, January 13, 2014

The boots are well made, comfortable, and easy to wear.

I bought them because I wanted something that I could slip on when I needed to be out in snow and slop.

Very nice boots.

Reviewed by Redleader from Indiana on Wednesday, January 8, 2014

Did not like boots due to awkward position of upper buckle. The upper lining is synthetic, only the footbed is real sheepskin. Buckles made these a chore to get on and off.

Reviewed by Val from Fayetteville, NY on Monday, January 6, 2014

Got these for my husband. He loves them, says they are super warm. He loves how they look. One drawback is the buckle on top, can be a pain, but he says it is worth it! Great value.

Reviewed by Redleader from Indiana on Monday, January 6, 2014

Top buckles are in an awkward position. Did not like the fact that you had to unbuckle every time on and off. Fit true to size and were warm when tried on. Good looking boot. The upper lining was synthetic with the footbed being the only real sheepskin material. Returned due to inconvenience of the buckle. Return was handled really well by Sierra.

Reviewed by Lisbat from Oregon- Go Beavs! on Monday, December 30, 2013

I know they are Men's, but I have wide feet, so sometimes I find they fit better. These feel like you are wearing UGHs, but look like street shoes. I hate the "slipper and sleepwear" look kids wear out today. These are every bit as comfy and look super cute with leggings and a skirt! Might buy them in brown...

Reviewed by Somelibrary from Massachussetts on Friday, December 27, 2013

My son and husband each have a pair of these boots for riding their motorcycles in cooler weather. After treating with water proofing wax, they have become the slip on boots of choice for general purpose wear this winter.

The fit is a little "sloppy" for extensive walking/hiking.

Reviewed by Georanes from Vermont on Thursday, December 19, 2013

Look good and are very warm. Great value

Reviewed by Gnome Hunter from PA on Wednesday, December 18, 2013

These boots are warm but do not look over bulky. Size is a little large. The leather is soft yet stands on its own. Great for sloppy weather. Cusioning is only from the wool lining so long hikes or walks may cause a little discomfort. A very good value!

Reviewed by D in Canada from Alberta on Wednesday, December 4, 2013

Love the boots. They are warm and comfortable. They have good grip in the snow, but they are not as bulky as Sorels. Only bad thing is that if the velcro is not done up completely it can hook my pant legs.